New mobile clinic will bring health care to patients
February 28, 2016 - 3:16 pm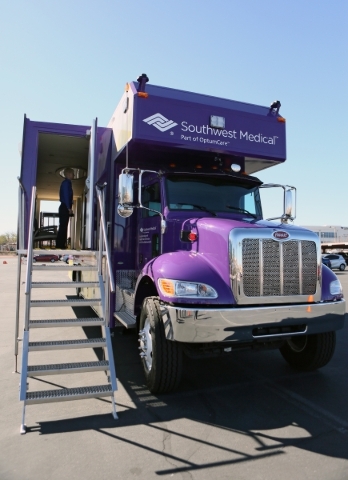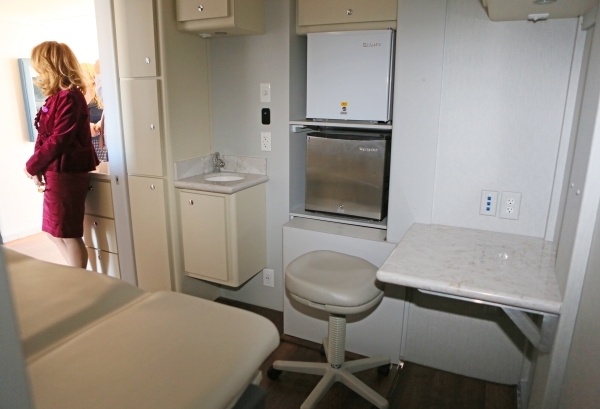 When the Affordable Care Act was signed into law in 2010, its objective was to make health care insurance affordable for everyone. However, for some low-income people, having transportation to a medical facility to receive treatment has been a major obstacle. So Southwest Medical Associates, in partnership with Health Plan of Nevada and Sierra Health and Life, revisited the idea of taking medical professionals to the people.
But, unlike the iconic picture of the country doctor making house calls, the modern approach is called "Medicine on the Move," and it's a 45-foot state-of-the-art mobile medical center built on a custom-designed Peterbilt truck frame. It is scheduled to hit the road sometime in mid-May with the primary objective of serving Medicaid patients at homeless shelters, churches, community centers and some businesses whose employees are enrolled in Health Plan of Nevada or Sierra Health and Life medical benefit plans.
The mobile medical center is equipped with seemingly everything, and in many cases, much more than what one would find in his or her own doctor's office. The radiology suite features a digital mammography unit, portable ultrasound machine, X-ray unit and four refrigerators and a freezer for storing vaccines. Patients entering the mobile facility will be able to sit in a comfortable spa-like lobby before being taken to one of two private exam rooms.
The onboard staff will consist of two medical assistants, two licensed nurse practitioners and one or two providers/doctors as needed, and a radiology technician as determined per stop. Annual physicals, immunization shots, OB/GYN exams, lab tests, pediatric care and wellness appointments will be offered.
At 13 feet, 5 inches high and 8.5 feet wide, the mobile medical center boasts having a wheelchair lift, air conditioning and heating units, and its own internal energy generation system.
"I really hope we exceed our expectations. We think this will be a huge satisfaction for our members," said Donald Giancursio, chief executive officer of UnitedHealthcare in Nevada. Southwest Medical Associates is part of the UnitedHealthcare system.
Giancursio estimates that initially between 75,000 and 100,000 people in the Medicaid population will be cared for once the mobile vehicle is operational. Staff is expected to see patients throughout Clark County during normal business hours, five days a week.
Giancursio credits Dr. Robert McBeath, president of Optum Collaborative Care Nevada and Southwest Medical Associates, with coming up with the concept for "Medicine on the Move." Mobile Specialty Vehicles in Jasper, Texas, built the custom medical vehicle.
"What this program does is lower these barriers for people trying to make it to a clinic, which often combine to put even routine checkups out of reach for many people in our community," McBeath said. "Because many patients struggle to get a health care provider, Health Plan of Nevada, Sierra Health and Life and Southwest Medical worked together on this initiative to bring the provider and clinic to them."
McBeath went on to say that this mobile medical vehicle will provide the same care that patients would experience in any of their brick-and-mortar medical centers. The modern and sterile interior of the vehicle was designed to simulate what patients would experience in a regular clinic.
Daniel Aryes, founder and chief executive officer of Mobile Specialty Vehicles, said "Medicine on the Move" is the largest and most comprehensive mobile medical vehicle he has ever built. Fourteen craftsmen and artisans worked on the vehicle around the clock for three months building it. The 35-year-old company specializes in building custom commercial vehicles.
Several unique features were incorporated in the vehicle's design that included walls with rounded edges to eliminate dirt being trapped in corners, vinyl wall coverings for easy scrubbing and special countertops that are resistant to cracking so dirt can't accumulate.
"I think this vehicle is truly one of a kind," Aryes said. "Almost any health care service that can be done in a doctor's office can be done in here. You are only limited by the types of equipment you have inside. … There's also an exterior awning that can be pulled down so people can be treated outside… There's a text-alert system (for monitoring drug storage) built in to warn people if the temperature inside changes."
"As a native Nevadan, I've witnessed the changes and challenges we've faced over the years with health care in Southern Nevada," McBeath said. "And I believe that this partnership with Health Plan of Nevada and Sierra Health and Life will help us to close the gap and improve access to quality health care in our community."
For more information and upcoming locations of the mobile medical center, visit MedicineOnTheMoveNV.com. For appointments, call 1-800-382-0870. Hours of operation and locations may vary.