New treatments give hope to patients with tumors like McCain's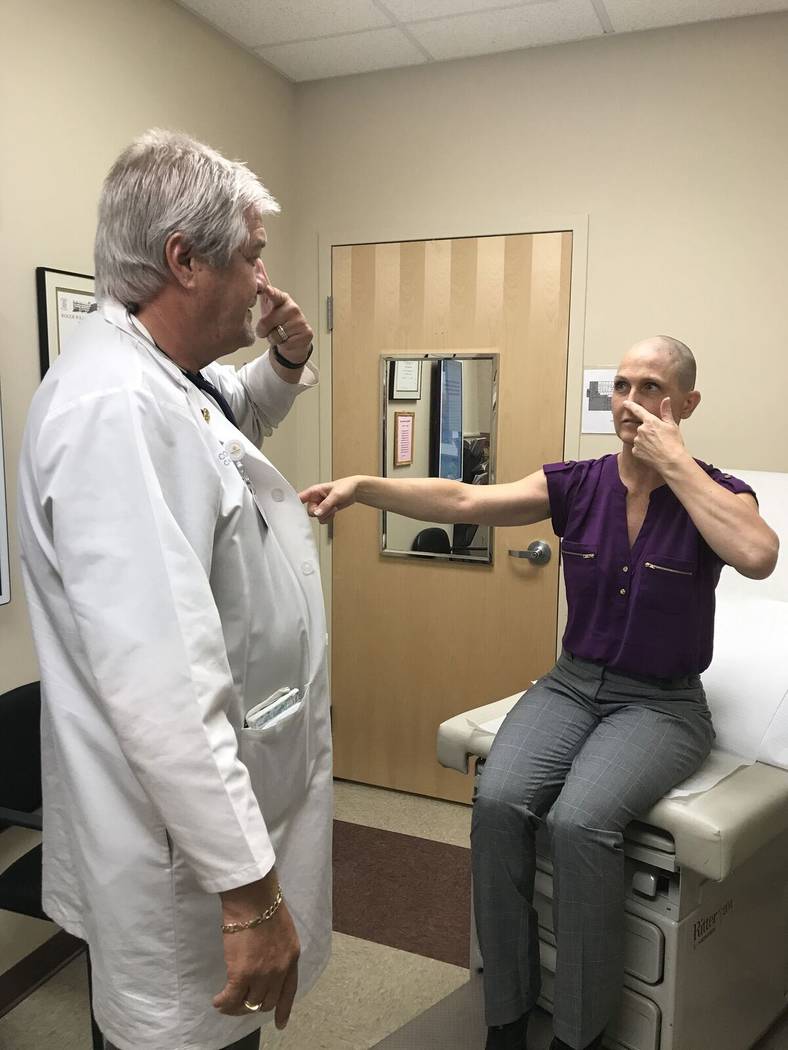 With all the nationwide attention focused on Arizona Sen. John McCain and his malignant brain tumor, Las Vegas paramedic Tricia Klein can't help but remember the day in the summer of 2014 when her doctor arrived at a similar frightening conclusion.
Headaches, shortness of breath, extreme fatigue, forgetfulness, left-side weakness, confusion — all increasing over a two month period — ultimately led to a diagnosis that she had an anaplastic glioma, a brain tumor where the median survival rate was 18 months to two years.
But recent advances have improved the odds for patients like Klein and McCain.
"I'm at the three-year mark and I feel great, " the 47-year-old Klein said Thursday after she was examined by Dr. Paul Michael at the Comprehensive Cancer Centers of Nevada. "It's definitely been scary, but I can't live in fear forever.
"I'm staying positive. I've already beat the odds. I'm hoping I'm cured."
Fighting on three fronts
Klein's optimism is attributable to the fact that her cancer is gone after being hammered by a regimen of surgery, radiation and chemotherapy. Michael, her oncologist, now has brain scans taken every six months to make sure no cancer has returned
As it turned out, she only missed a month of work as program director for the educational arm of American MedicalResponse ambulance, where she is in charge of making sure paramedics receive proper training.
Klein said she was stunned that all her neurological deficits disappeared once the tumor was removed.
"I had no more headaches, no weakness on my left side. It was amazing."
She only has hair on half her head now, but she really doesn't mind.
"That's where they aimed the radiation at the tumor — it won't grow back there," Klein said, grinning and not at all self-conscious. "Just the other day I went in a Starbucks and a guy asked, 'Did you have a brain tumor, too?' and he pulled off his hat and showed me where half of his hair was gone."
Michael noted that many individuals with cancerous brain tumors are now living longer. He said improvements in radiation and chemotherapy have largely made the difference.
About 200 people a year are diagnosed with brain tumors in Las Vegas, he said. About half are the cancerous type that McCain and Klein are dealing with.
He stressed that these are primarily cancers of the brain that begin in the head and remain there, unlike other cancers that spread from the lungs or other parts of the body to the brain.
McCain's tumor is most severe stage
Michael said pathologists classify malignant brain tumors in three grades — 2, 3 and 4. Klein's anaplastic glioma tumor was between a grade 3 and grade 4; McCain's glioblastoma multiforme (GBM) tumor is a 4, the most severe.
"What Tricia and Sen. McCain have is treated the same," he said. "Stage 3 and Stage 4 are like sisters with very fast growth. who need aggressive treatment. … You want to get as much of the tumor with surgery but often you can't get it all because it spreads fingerlike into normal brain tissue. If the tumor's too big for surgery, then you don't have a good prognosis."
Ten years ago, he said, most people with Klein's type of tumor were expected to live, at most, around 18 months.
Those with McCain's faster-growing tumor — about 20,000 people a year in the U.S. are diagnosed with it — had a life expectancy of no more than nine months. That has increased to around 18 months today for younger people.
For people over 55, the American Cancer Society currently puts the five-year survival rate for patients over 55 at about 4 percent.
While the causation of such tumors is still unknown, Michael said it is believed that many of them may be caused by environmental exposure to carcinogenic substances.
Progress expected to continue
Michael said, however, that science is making good progress against this type of brain cancer and he expects that to continue.
He said a new chemotherapy pill, Temodar, has made a big difference.
Advances in genetic testing also give physicians a better sense of a prognosis. Michael said, for instance, that Klein has the biomarker MGMT, which means chemotherapy is more likely to have a positive effect.
Trials also are going on to treat brain cancers with immunotherapy and vaccines. And injecting a virus into the brain cancer to wipe it out looks promising, he noted.
As frightening as a brain cancer diagnosis can be, Klein said she was actually relieved when she found out what disease she had.
"I had no idea what my symptoms were from and then my husband had me get some tests. Once I found out what I had I decided now we can get a plan to action to fight it. And that's what we've done. I'm going to be an outlier, one of the people who survives this and has a long life."
Contact Paul Harasim at pharasim@reviewjournal.com or 702 387-5273. Follow @paulharasim on Twitter.
Warning signs of possible brain cancer
— Headaches
— Pressure in the head
— Seizures
— Problems speaking
— Confusion
— Tingling fingers
— Dr. Paul Michael, Comprehensive Cancer Centers of Nevada