New UNLV center offers more autism therapy options
Updated April 24, 2017 - 7:40 pm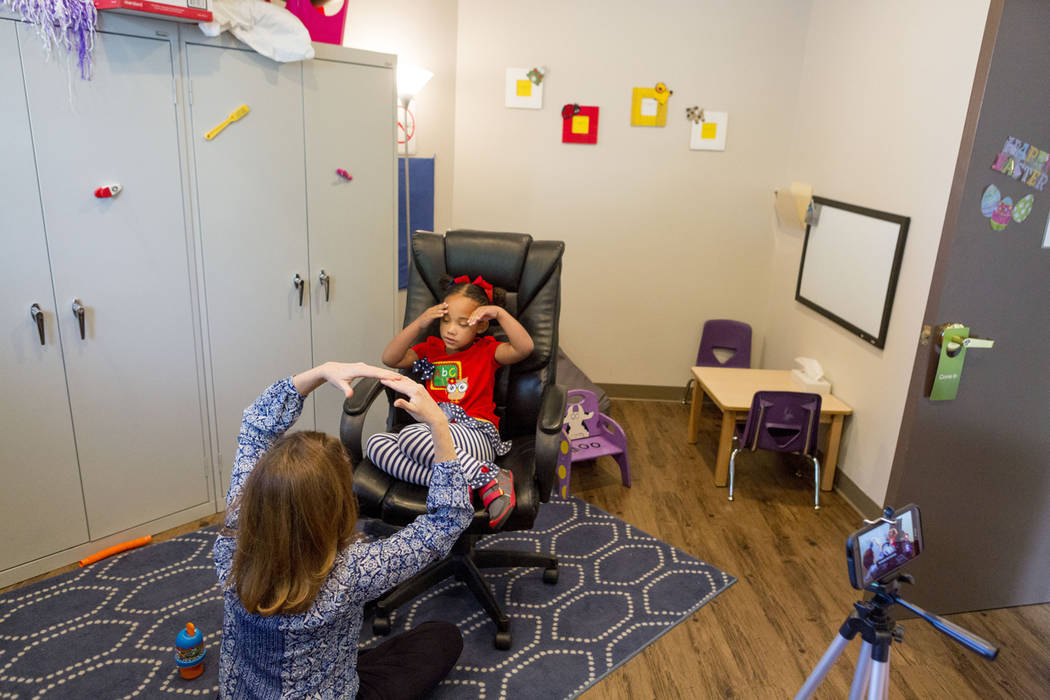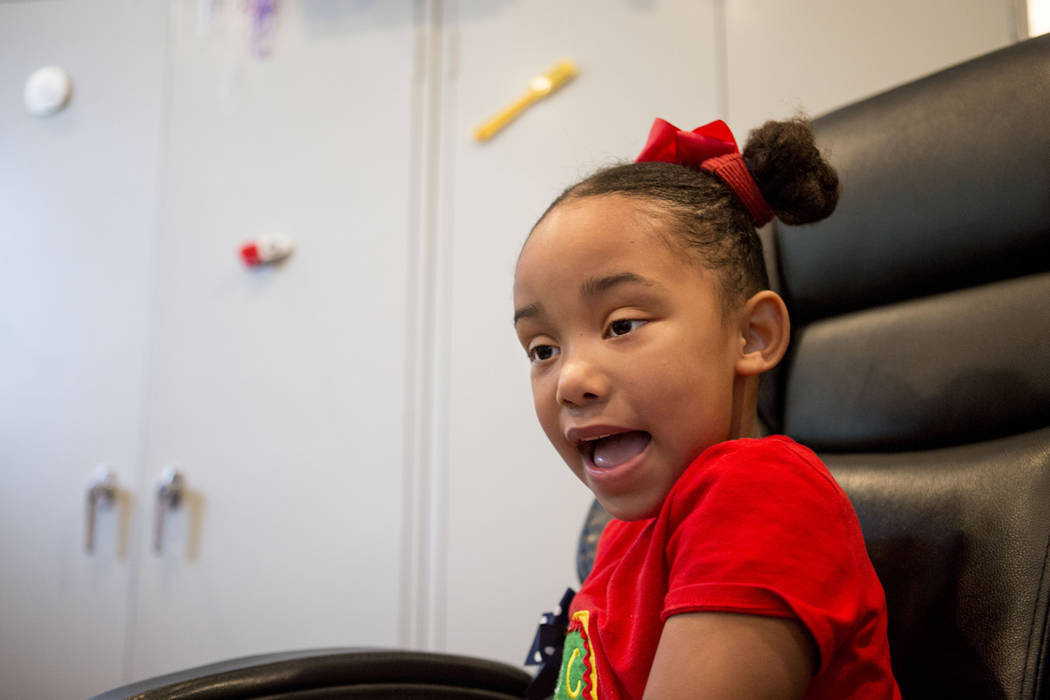 "The itsy bitsy spider went up the water spout," speech pathologist Julie Cole said to her 4-year-old autism patient, Hannah Beal.
"Down came the rain," Hannah responded, using her fingertips to demonstrate rain falling down.
The two were engaging in play therapy on a recent morning at the UNLV School of Medicine Ackerman Center for Autism and Neurodevelopment Solutions.
Since the center opened in July, 350 children have been removed from the Medicaid waitlist and placed in therapy at the clinic, said Dr. Julie Beasley, the center director and a child neuropsychologist.
Not long ago in Las Vegas, options for diagnosis were few, Beasley said.
Now, doctors at the center begin diagnosing children with autism at as young as 12 months and start treatment soon after.
"We're quicker at getting the evaluations done, we're more thorough, and we can do it younger," Beasley said.
The center provides several programs for people with autism, up to age 22. The Early Start Denver Model, the program being used to treat Hannah, is one of the newer ones.
It's an empirically supported intervention for autism that specialists at the center began implementing in January.
"For young children, it's probably one of the best models out there right now," Beasley said.
"We're looking at the social interaction, social attention, social skills, language development and then their cognitive play behavioral skills," she added.
Along with play therapy, a distinguishing factor of the early start model is hands-on parental involvement, Cole said.
"It's really important for them to be using our strategies and take them home so that the child is going to have the best outcome possible," she said.
Hannah's father brought her to her morning appointment, where her mother, Pam Beal, later watched her play. Beal is the associate dean of clinical affairs at the UNLV School of Medicine, so she is able to keep a close eye on Hannah's progress.
"Use your words. They are powerful," Beal told Hannah before hugging her goodbye and leaving her in therapy.
"I love you, Mom," Hannah responded.
It's a marker of her progress, Beasley explained, to reciprocate the statement without parroting the exact words.
"The intervention starts very quickly, and they change very quickly," Beasley said of Hannah, who has been doing therapy several days a week for six months. "The sooner we can get them going, the better they're going to do."
Hannah was retested in early April. On her intake interview in November, she couldn't sit still for standardized testing, Cole said.
This time was different.
"She was able to sit down and do everything Dr. Beasley needed her to do," Cole said.
Contact Brooke Wanser at bwanser@reviewjournal.com. Follow @Bwanser_LVRJ on Twitter.
National Autism Awareness Month 2017
April is National Autism Awareness Month. Autism spectrum disorder (ASD) is a complex developmental disability; signs typically appear during early childhood and affect a person's ability to communicate, and interact with others.
Nearly a quarter century ago, the Autism Society launched the nationwide effort to promote autism awareness, inclusion and self-determination for all, and assure that each person with autism spectrum disorder is provided the opportunity to achieve the highest possible quality of life. This year, the society is focusing on going beyond simply promoting autism awareness to encouraging friends and collaborators to become partners in movement toward acceptance and appreciation.
Source: Autism Society (www.autism-society-org)
A New Model
For children with autism, diagnosis and intervention as early as possible is key for a good outcome. The goal for the youngest patients is "as close as we can get to integration into first grade," said Dr. Julie Beasley, director and a child neuropsychologist at the UNLV Medicine Ackerman Autism Center.
Therapy has traditionally focused on older children, but with earlier diagnoses, early treatment has become a necessity.
Applied Behavioral Analysis, known as the ABA model, is a scientifically validated approach to bring about positive behavioral changes in patients with autism. Research began in the 1940s with psychologist B.F. Skinner's work.
"The techniques based on ABA principles have been proven to be effective in increasing language, teaching self-help skills, decreasing maladaptive behaviors, and teaching social skills with a variety of populations," according to the National Autism Network.
The Early Start Denver Model was developed in the 1980s by Sally Rogers and Geraldine Dawson. It initially came out of preschool programming, Beasley said. The method incorporates ABA principles, but the focus is on treating patients as young as 12 months using developmental play-based therapy.
Both models are supported by empirically validated studies, though there is less research on the ESDM as it's a newer model.
At the Ackerman Center, therapists treat children up to age 5 with a joint program incorporating both ABA and ESDM programming.
Source: National Autism Network