No new flu deaths in Clark County, but 124 more hospitalized
Updated January 17, 2020 - 6:01 pm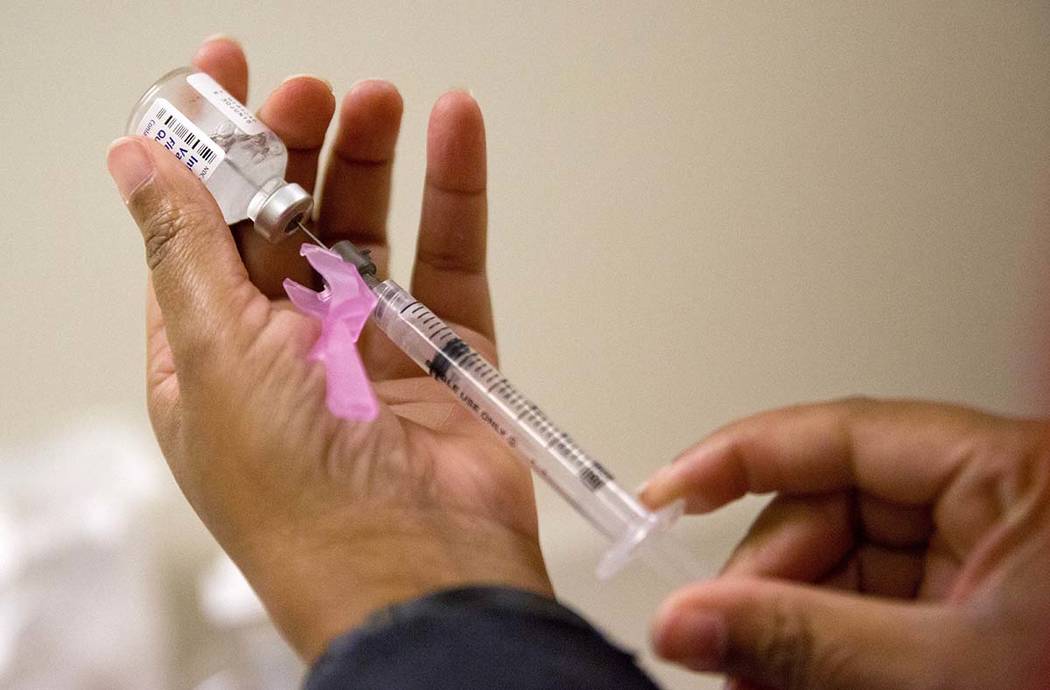 The Southern Nevada Health District on Friday reported 124 additional hospitalizations from the flu in Clark County but no new fatalities since a week ago.
So far this flu season, there have been 758 people hospitalized with the flu in the county, and 11 deaths, including that of a child under the age of 5.
Flu activity has dropped to low levels in Nevada, unlike the rest of the country where activity remains high, according to the Centers for Disease Control and Prevention.
"We're just not sure why Nevada is not being affected as much as other areas of the country," said Dr. Vit Kraushaar, medical investigator for the health district. However, he cautioned that after a dip in December, cases are again on the rise.
"Nevada saw an earlier wave of flu than the country as a whole," and is now seeing a second, smaller wave, said Martha Framsted, a spokeswoman with the Nevada Department of Health and Human Services.
Across the rest of the state, as of Wednesday, the Washoe County Health District has reported 121 hospitalized patients, three confirmed deaths and one death under investigation, Framsted said. Carson City Health and Human Services reported 36 hospitalized and one death. Rural Health Services reported 10 hospitalized and no deaths.
Very preliminary data indicates that the flu vaccine is well matched to some, but not all, of the strains that are dominant this flu season, said a spokeswoman for the Centers for Disease Control and Prevention.
"So far this season, the most common circulating flu viruses have been influenza B/Victoria and A(H1NA)," said the CDC's Kristen Nordlund. Some preliminary data indicates that the vaccine is a "very good match" for A(H1NA) but may not protect as well against the B/Victoria virus.
She noted that across the country there have been 39 flu-associated deaths of children reported to the CDC. Of these, 28 were associated with the influenza B viruses; in five of these cases the specific virus was identified, and all five were B/Victoria.
Kraushaar noted that in Clark County, influenza A cases are now surpassing influenza B cases, which was dominant earlier in the season.
He and the other public health authorities said it's not too late to get a flu shot.
"Even though the flu vaccine is not perfect, it's the best tool that we have," Kraushaar said.
Nordlund echoed that sentiment, saying, "We know that in most seasons, a majority of pediatric deaths are in kids who aren't fully vaccinated."
More data on the effectiveness of this year's flu vaccine should be available next month, she said.
Contact Mary Hynes at mhynes@reviewjournal.com or 702-383-0336. Follow @MaryHynes1 on Twitter.