Nonprofit brings comics to critical care kids during hospital stays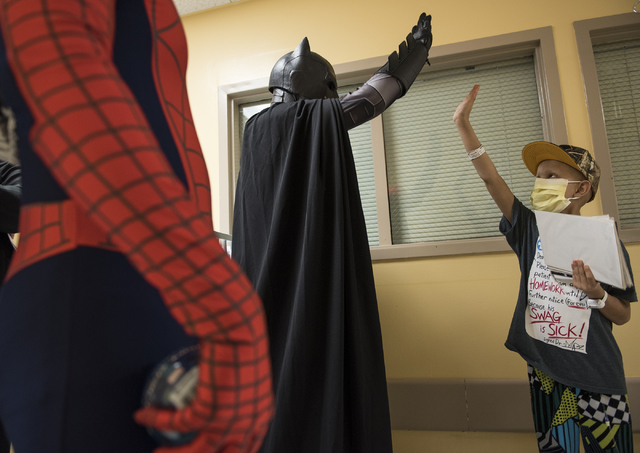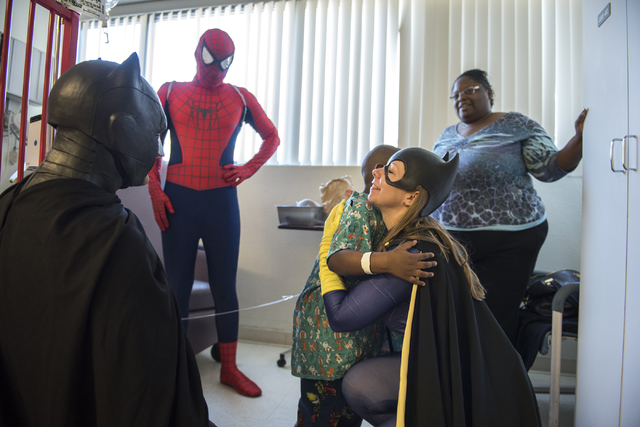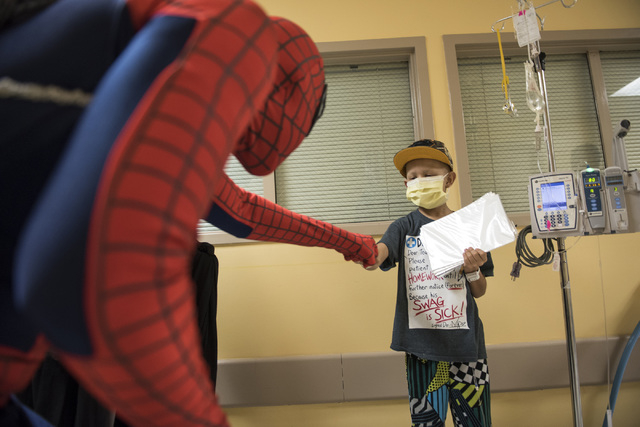 As Wonder Woman, Batman and Spider-Man roam the Children's Hospital of Nevada at University Medical Center, 1800 W. Charleston Blvd., children and nurses stare in awe. The superheroes are there on a Saturday afternoon in April to fight the larger-than-life villain that follows children who are sick and stuck inside the hospital environment.
These protagonists belong to Critical Care Comics, a nonprofit dedicated to delivering comic books to children and adults with hope of helping them escape the discomfort and stress of being in the hospital.
"Being able to make kids smile is priceless," said Cody Strohl, aka Batman. "Our goal is to make them forget about their situation."
The organization is the brainchild of Centennial Hills resident Jason Golden, who spent a significant amount of time in the hospital after being diagnosed with acute nonlymphoid leukemia near the end of his sophomore year of high school.
"When I was diagnosed, I was always in and out of the hospital getting treatment," Golden said. "During my stay at the hospital, my mom would drop off my comic books. Those moments were an escape for me, if only for 10 to 15 minutes. The beeping from the IV machines would fade out, the pain from the chemo would subside, and for just a moment, I would stand side by side with Spider-Man, Captain America, Wolverine, Batman or whatever other title I was reading."
After clearing out his garage one day, Golden, who works as a press operator, decided he wanted to pay it forward and donate comic books for people in the hospital.
The characters are now regular visitors at the University Medical Center and Summerlin Hospital Medical Center, 657 N. Town Center Drive. They also appear at various events throughout the valley.
While the masked characters speak to the children, Golden will find out the age, sex and favorite hero of the patient and pick out a handful of comic books that best fit his interest.
"I think what they're doing is fantastic," said Caysee Nitta, 17, a patient at University Medical Center. "Superheroes are amazing. They can make anyone feel great."
Though some patients become timid at the sight of the comic book celebrities, Golden's wife, Tia Golden, aka Wonder Woman, has become a professional at striking up a conversation.
"I work as a retail store manager, so naturally, I'm a people person," she said.
Nothing stops the heroes from making contact.
If a patient doesn't speak English, the trio shows up with smiles and uses hand gestures.
"Smiles are universal," Strohl said.
As the day goes on, it shows.
When 4-year-old patient Victor Guarin sees Spider-Man, he is all smiles. His happiness soon spreads to his mother, who welcomes the visitors for a moment of relief.
"I've been so stressed out after my son ruptured his appendix," said his mother, Irma Solis. "Having these guys is a release from the stress. They are wonderful for doing this. My son's smile says it all."
Having superheroes in the room doesn't just give patients a chance for photos and small talk. Cancer patient Jonathan Avila-Martinez, 6, took the opportunity to sing Spanish love songs in front of the visitors.
"This is the third time he's sang to us," Jason said. "He loves it."
Children and teens aren't the only ones who receive comic books. Parents and other family members who are waiting with the patients are also offered the distraction.
"We usually have two or three people in costume visiting the patient because we don't want to overwhelm them," Jason said. "I have everything from Ironman to Thor and Little Orphan Annie. You name it, I got it."
Other characters who have been known to participate in the visits include Supergirl, Batgirl and Captain America.
At the end of the hourlong visit, it becomes apparent that the organization benefits not only the patients and nurses but also the volunteers who don the costumes.
"Everything that we do here comes out of our own pocket or from donations," Strohl said. "Our costumes can cost hundreds of dollars, but it's completely worth it. I love being goofy in front of kids."
The 34-year-old is a computer specialist who was inspired to become the winged hero after playing the Easter Bunny for his church. After posing as Batman on Fremont Street, a man told him about the organization, which he joined in 2014.
Volunteer Michael Mutzhaus, 22, is a high school history teacher by day and transforms into the popular Spider-Man during the weekend.
"We're giving kids a smile," Mutzhaus said. "We try to visit as many patients as we can. Some are in isolation, but we'll wave to them from the door."
The organization was founded May 17, 2012, and Jason estimates it passes out 1,000 comic books a month.
"Sometimes we deal with tough kids, and other times, we visit kids who are just not into what we do," Strohl said. "Some days can feel like we're pulling teeth, and we question why we're doing this."
"The reality is that we don't know what these kids are going through," Jason added. "Sometimes I look back and see those same tough kids flipping through the comic books. I know we're doing something right."
The nonprofit seeks comic books and financial donations to continue its work.
For more information or to donate, visit criticalcarecomics.org or call Jason at 702-900-3987.
To reach North View reporter Sandy Lopez, email slopez@viewnews.com or call 702-383-4686. Find her on Twitter: @JournalismSandy.