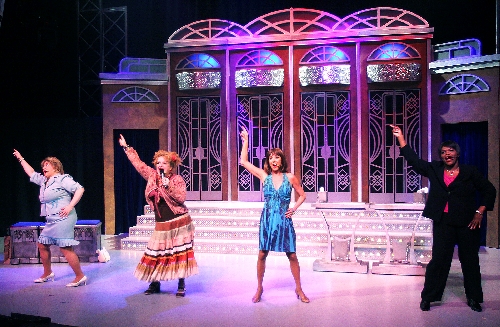 OK, so menopause is nothing to sing and dance about.
Unless, of course, you're one of the stars of "Menopause: The Musical," at the Luxor, where a quartet of representative women — from a housewife to a soap star — ponder everything from hot flashes to chocolate cravings in parodies of popular songs, from "Stayin' Awake" to "Puff, My God, I'm Draggin.' "
Or, as one of writer Jeanie Linders' lyrics puts it, "Change, Change, Change … the change of life."
The mere fact that a musical devoted to that change has been playing around the world, including an extended Las Vegas run, illustrates how "the attitude has definitely changed" when it comes to views of menopause, notes actress Paige O'Hara, who's starting her seventh year as the show's resident Soap Star.
Audiences "are so happy to come to the show and laugh about it," says O'Hara — who definitely knows the feeling, having gone through menopause herself, from stages of anxiety and depression to a denial period and finally to acceptance.
But despite the traditional symptoms, not every woman experiences menopause in the same way.
Indeed, not every woman experiences menopausal symptoms at all — at least not physical ones.
"It's very, very individualistic," says Dr. David Kartzinel , a Las Vegas obstetrician and gynecologist. Some patients experience extreme sleep loss and other signs of the change, "others go through it and don't feel a thing."
Overall, "in my practice, I find there's a little bit more acceptance" of menopause these days, according to University Health System's Dr. Misti Song, an assistant professor at the University of Nevada School of Medicine.
"People are not viewing it as a disease" anymore, Song says. "It's a phase of life."
Specifically, menopause represents a marker of a woman's aging, says geriatrician Dr. Lisa Rosenberg, assistant professor at Henderson's Touro University Nevada.
Where men experience more gradual reminders of the aging process — from receding hairlines to softening of muscles — a woman "goes from perimenopausal to post-menopausal" at a specific point, Rosenberg explains.
The medical definition of menopause — the end of a woman's reproductive years — only hints at the changes, she adds, because menopause impacts a woman's perception and self-esteem just as much, if not more, than her hormonal status.
"A hundred years ago," Kartzinel points out, "the average life span for a woman was 51," which made menopause (which typically occurs from 48 to 55) a sign of the beginning of the end.
Now, however, the average female life span is "about 81" years, according to Kartzinel.
Which means menopause "doesn't represent getting near the end of a woman's life," Rosenberg says. "It might represent the halfway point for some women."
As attitudes toward menopause have changed, so have treatments for it.
For decades, the "knee-jerk response" was relatively easy and all but automatic: hormone replacement therapy with Prempro, which combined estrogen and progestin into "a one-pill package," notes Las Vegas gynecologist Dr. Nicole Moss.
For many years, estrogen was viewed as a panacea, Rosenberg says, "to keep your heart strong and keep your brain strong."
But in July 2002, the Women's Health Initiative — a study begun in 1991 by the U.S. National Institutes of Health — released a report indicating that prolonged use of Prempro increased the risk of heart disease and breast cancer for patients, Moss says.
These days, hormone therapy is considered "much more of a mixed bag," she says. "It's not the A-plus treatment we thought it was."
As a result, the current recommendation is that patients be on hormones for the shortest period of time, Kartzinel says.
While fewer women are taking hormones as they go into menopause, Moss says, the Federal Drug Administration still considers estrogen "the best thing we have" to treat menopausal symptoms, she adds, prompting physicians to prescribe the lowest dose for the shortest feasible period.
Before the 2002 study, the common treatment "anticipated that women would take hormones for the rest of their lives," Moss says. Now, doctors try to limit that to less than five years, trying to wean patients down to lower doses in one or two years.
Overall, "the tide has turned quite a bit" regarding hormone therapy, Song says; she suggests patients start hormone therapy at the time they enter menopause, and take hormones for several months to maybe a year.
In addition to the severity of a patient's symptoms, Song cites such risk factors as smoking, blood clots or a family history of strokes as determining whether women are candidates for hormone therapy.
For patients with risk factors that prevent them from taking hormones, herbal supplements may help ease symptoms, Song adds.
But, Rosenberg cautions, "a lot of these products can be harmful." And while "I'm not at all anti-herbal, or natural heath products," the public often assumes that, "if it's natural, it's OK" — which isn't always the case, she contends. "The individual needs to talk to (her) doctor."
That also holds true for women whose symptoms warrant hormone therapy, Kartzinel maintains.
Granted, "you might be increasing your risk of breast cancer slightly" by taking hormones, he acknowledges. "But if you're going through life and you're miserable, what's the point of going through life?"
Some women, however, welcome menopause.
For every patient who worries her skin or her sex life will never be the same, Moss says, there's another who's just excited not to have heavy or painful menstrual periods anymore.
And while some menopausal women lament that they're getting old, Moss adds, Rosenberg can point to some women who find menopause very sexually freeing.
Regardless of individual attitudes toward the big change, menopause signals that "it's time to pull up your bootstraps and take good care" of your overall health, Rosenberg says.
Kartzinel recommends post-menopausal patients visit their primary-care physicians for regular cholesterol and blood-pressure checks.
And Rosenberg suggests exercise to combat weight gain, depression and fatigue, noting that "the more you do physically and mentally, the longer you'll be around to do it."
And the more you'll feel like laughing — or even singing and dancing — about the "Change, Change, Change … the change of life."
Contact reporter Carol Cling at ccling@reviewjournal.com or 702-383-0272.