Park welcomes Guinness swim attempt; resorts host silent yoga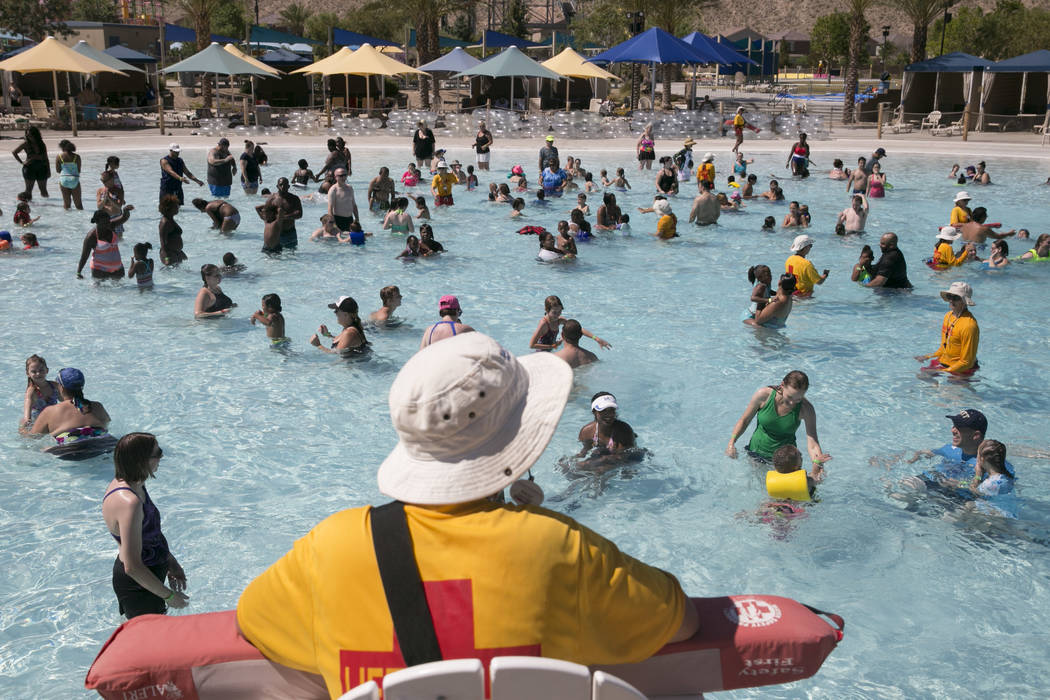 Park is a host of Guinness swim record attempt
For the fifth consecutive year, Wet 'n' Wild Las Vegas will be an official host of the World's Largest Swimming Lesson. The 30-minute swimming lesson will be at 9:45 a.m. June 21 at the park, 7055 S. Fort Apache Road. Nationwide, thousands of children and adults are expected to set a Guinness World Record while raising awareness of water safety and drowning prevention. The event will be held at the Red Rock Bay wave pool. Register at visit wetnwildlasvegas.com.
2 resorts host silent yoga by the pools
Green Valley Ranch Resort, 2300 Paseo Verde Parkway in Henderson, and Red Rock Resort, 11011 W. Charleston Blvd., continue their 2018 Silent Savasana seasons, with monthly outdoor yoga events through fall. Yogis of all levels, age 21 and older, are welcome at the free events, which take place at the pool areas of both resorts. Through Silent Savasana's signature headphones, participants will hear instruction and motivational music. Pool areas open at 6 p.m., with yoga starting at 7 at each location. Upcoming dates at Green Valley Ranch are Thursday and July 12. Upcoming dates at Red Rock Resort are June 21 and July 19.
Annual golf fundraiser seeks volunteers
Organizers of the Shriners Hospitals for Children Open seek volunteers for the 36th annual golf tournament, which will take place at TPC Summerlin from Oct. 29 to Nov. 4. Volunteers will be responsible for caddie services and admissions, and be walking scorers, Shotlink operators, standard-bearers and more. Volunteer rates are $70 until June 30, after which registration will increase to $75 per volunteer. New and returning volunteers will be invited to the Volunteer Appreciation Party, receive a week-long tournament access badge and more. Register at shrinershospitalsopen.com/volunteer1.
Xenxen offers free yoga on yoga's official day
In celebration of International Yoga Day, Xenxen Las Vegas, 750 S. Rampart Blvd., will offer free yoga classes along with complimentary Xenxen water bottles on June 21. Participants will receive a free-class card for a friend and have a chance to win a free month of classes. Guests can sign up upon arriving or register at xenxenlv.com.
Lunch & Learn series meets Wednesdays
The Cleveland Clinic Lou Ruvo Center for Brain Health, 888 W. Bonneville Ave., hosts the Lunch & Learn Educational Series from noon to 1 p.m. each Wednesday in June. Participants are encouraged to bring lunch; drinks and dessert will be provided. This week's program is "Introduction to Veterans Compensation and Pension" and will address the benefit claims process, including application, new-claim submission and eligibility.
Submit event information at health@reviewjournal.com.