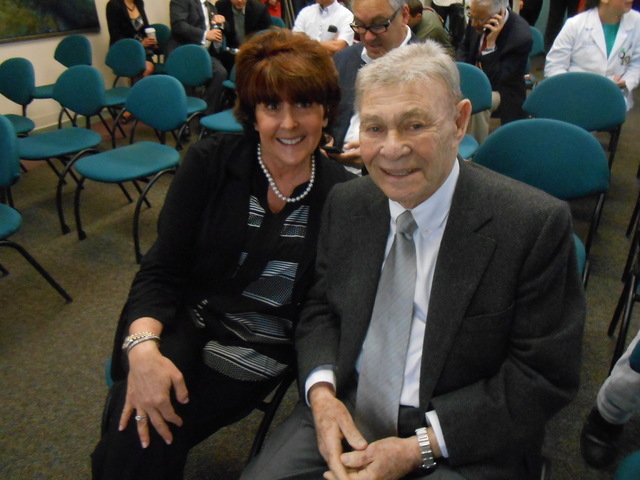 According to CommonwealthFund.org, Nevada ranks in the bottom five states when it comes to health care. Now, the American Osteopathic Association has approved Nathan Adelson Hospice for a hospice and palliative medicine fellowship program that looks to help remedy that.
To accomplish this, the hospice is partnering with Touro University Nevada, Valley Health System and the Las Vegas Global Economic Alliance. Nevada's low ranking was based on 32 indicators, including access, cost, quality of care, insurance, preventive care, potentially avoidable hospital visits and premature death (occurring before age 75).
"This is the first (program) of its kind in Nevada," said Carole Fisher, president and CEO of Nathan Adelson Hospice. "And equally impressive, it's only one of 11 osteopathic fellowships in the country. … Nathan Adelson's priority is to address the physical, emotional and spiritual needs of our patients. It's not uncommon for people to think that hospice is a place, but it's actually a philosophy of care, and our care is provided in a location that best meets the needs of our loved ones. Everything we do is aligned with our mission to be of service, and this fellowship is an example of an investment that will (result in) dividends for our community."
The hospice already serves as a training center for Touro students, and now the Valley Health System will join that operation. The alliance is expected to help boost the state's health care industry and medical educational efforts.
"Where physicians train, by and large, is where they practice medicine," said Dr. Brian Murphy, chief medical officer of Nathan Adelson Hospice.
The effort is expected to start on July 1, 2014. It will involve both of the hospice's locations, 3150 N. Tenaya Way and 4141 Swenson St., near UNLV. Since its inception, the hospice has cared for more than 58,000 patients.
Palliative medicine is one of the newest specialties in the U.S. It was approved by the American Medical Association in 2006. Like hospice care, it is interdisciplinary and looks at treating the whole patient and alleviating their disease burden as much as possible so they can be more functional.
"So, it's not aiming to cure diseases because most of them can't be cured," Murphy said. "… It doesn't just focus on the heart or the lungs; it focuses on everything — a whole team approach — looking at more than just the physical issues. There are nurses, social workers, chaplains, addressing spiritual, psychosocial, emotional issues, so the person can actually thrive, instead of being weighed down by the burdens of their illness."
There are 11 American Osteopathic Association osteopathic programs in the country. If the medical doctor pathway is included, there are more than 60.
In addition, Valley Health System has increased its residency numbers, following the philosophy that "if they train here, they stay here," and the Las Vegas Global Economic Alliance is addressing the vital connections between a quality health care workforce and economic development.
Touro graduates about 130 medical students each year. The University of Nevada, Reno graduates about 70. But, without residency programs in place, they have to look elsewhere to fulfill their requirements.
"We have a tremendous doctor shortage … in this state, " said Shelley Berkley, Touro University Nevada CEO and senior provost. "We need to keep our medical students here, practicing in this state so they can take care of our fellow citizens. The problem is, we don't have enough residency programs. Statistics show that 70 percent of physicians practice where they do their residencies. If we don't have enough residency programs in the state of Nevada, they're going to leave the state and … practice someplace else when the need is dramatic here."
The effect is not just on the medical needs of the community but also on the economic ones.
"When doctors stay here, they join private practices, they join hospitals, they join our community," said Tom Skancke, president and CEO of the Las Vegas Global Economic Alliance. "They contribute to the economy. And that's important for the future of our entire region."
The health care sector and its related industries employ more than 82,000 people in Clark County, with an average wage of about $58,000 a year.
"Right now, our region is not meeting its potential," Skancke said. "Our health care community is undersized for our population. We rank near last when it comes to physicians per capita. We don't even have the ability to train certain types of specialists. We're far from where we need to be."
He said it hinders the effort to bring new businesses to the state.
"As we recruit businesses from around the world, the top (point) that comes up in conversations is, 'What is the health care like in Southern Nevada?' " Skancke said. "It's the No. 1 question we get, next to education and water."
Contact Summerlin Area View reporter Jan Hogan at jhogan@viewnews.com or 702-387-2949.