Patients win when they keep good records
October 26, 2014 - 10:43 pm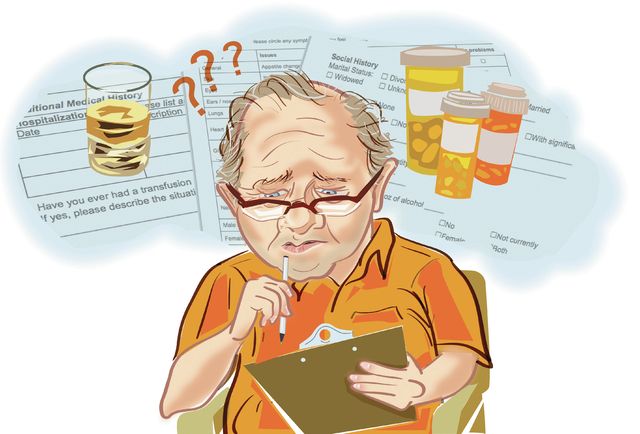 It's such a routine part of accessing the health care system that most of us probably don't think about it much. And when we do, it's probably to dismiss it as a necessary chore at best or an annoying nuisance at worst.
But providing a thorough personal medical history to health care providers — a process that begins with that sheaf of clipboarded papers received in the waiting room and continues with answering doctors' questions one-on-one in the examination room — is a key, if often overlooked, component of effective health care, and one that patients would do well to pay greater attention to.
How important is it for patients to answer all of those personal, brain-racking questions? Very.
Considered in conjunction with questions about what's happening currently, "85 percent of the time, when you take a good history, you know what's going on with the patient," estimates Cheryl Maes, a board-certified family nurse practitioner and lecturer in the University of Nevada, Las Vegas School of Nursing. "A physical exam will just, really, confirm what's going on."
As a result, she says, a patient's ability to maintain, and provide, a complete and accurate medical history matters.
That's even truer for an adult who's providing the information on behalf of a child.
"From a pediatrician's point of view, the child can't give me the history," says Dr. Mary Beth Hogan, a pediatric allergy and immunology specialist and professor in the University of Nevada School of Medicine Department of Pediatrics. "So the history is what can be obtained from the parent or caregiver."
Yet, patients' efforts to provide basics about their own medical history often fall short. Dr. Eric Farbman, a neurologist and director of the University of Nevada School of Medicine's Movement Disorders Center, says some patients will "come in with everything since they were born, and there are others who say, 'I take a white pill.' "
Complicating the process for both doctors and patients these days is that a patient likely will see several medical professionals who may, or may not, communicate with one another.
"Patients these days see not just a primary care physician, but also, probably, a number of specialists," says Maes, who adds that she'll sometimes receive notes about patients from other physicians. But when she doesn't, "I'll ask the patient when they come back, 'What's going on?' and sometimes they're not really sure, either."
In an ideal world, says Dr. Mitchell Forman, dean of Touro University Nevada College of Osteopathic Medicine, "a patient record would travel from doctor to doctor, which is something that should be universally adopted. And I can tell you it's not, for a variety of reasons.
"(So) that puts more weight on the patient's shoulders to provide that."
Yet, patients, for whatever reason, can be surprisingly oblivious about their own medical histories. For example, says Forman, a rheumatology specialist, "I would say a third of patients do not know the names of the (primary care) doctor who referred them to me.
"(Some) don't know what operations they've had," Forman continues. "They can have a scar literally from their neck down to their belly button, and didn't know the procedure that was done."
It's surprising, but, maybe, understandable, too. The more procedures someone has undergone, "the sicker someone has been, the more they've interacted with the health care system, and the more complicated it is," Forman says.
Also, Hogan says, people tend to put things in their past that they think are resolved or were complex and difficult to endure.
"That's just part of our natural human instinct of denial, to suppress that," Hogan says.
So, Hogan says, "I think you have to know yourself. If you know you have a tendency to get rattled because you're going in to see the doctor … have everything written down — your diagnoses and the medications that go with those diagnoses, and at least the types of surgery you have had — on a card in your wallet, and you can present it to the doctor."
Another common problem is patients who don't know the drugs they're taking or even why they're taking them.
"Especially if you have had a very complex medical history, it becomes really overwhelming," Forman says. "And the names are sometimes complicated. Knowing the long medical names is difficult for patients."
However, medications can interact with one another with adverse effects. In a similar vein, patients may neglect to inform medical professionals about over-the-counter preparations they take, maybe because they don't consider them drugs. But, Forman says, some over-the-counter preparations — acetaminophen, or Tylenol, for example — can cause potentially serious problems when taken with other prescription or nonprescription preparations.
Not keeping track of, and not telling doctors about, the medications one takes also can complicate a diagnosis. For example, Farbman says, "I may get a referral for Parkinson's disease, but it turns out one of the medications they're on can cause shaking that looks like Parkinson's."
Besides a rundown of the drugs they've taken and the procedures and surgeries they've undergone, patients typically are asked to provide information about their family's medical history. This, physicians say, is important because it can provide a more complete picture of the potential problems patients have or may someday face, such as cardiovascular disease or genetically driven conditions as Huntington's disease.
Medical professionals also typically ask questions, by questionnaire or in the examination room, about patients' social histories. These queries can include, for example, how many drinks a patient has in a typical week and what tobacco products a patient uses. Such questions about lifestyle and habits can offer doctors and medical professionals a more complete picture of a patient's health.
Patients even may be asked if they've traveled recently.
"I always tell patients that, when they travel, they carry their luggage, but they also carry their health luggage with them," Forman says.
A recent trip may or may not have relevance, he adds, but "I worry in my practice about people who are exposed to Lyme disease, and there are certain areas of the country where Lyme disease is endemic."
For patients, the bottom line is that, rather than being an annoying time-waster, providing complete, accurate information to a doctor or medical professional is vital for both diagnosis and treatment.
Oh, and don't worry about offering too much information for fear that it might be irrelevant.
"The patient always has the right, and the responsibility, to say, 'Hey, this other thing happened to me. I've had surgery, I've had these other symptoms, and I don't know if it's connected or not,' " Hogan says. "Put that on the table for the doctor to decide."
Doctors suggest that, even before a visit, patients compile a list containing the information doctors will seek. Include the names, addresses and phone numbers of primary care providers and other specialists you see, medical conditions family members have had, any allergies (including drug, food and latex) you have, and an emergency contact with phone number.
Then, Forman says, they need to know the medications they currently take, the dosage and how they take it. If deciphering the names is too confusing, Forman suggests simply putting the pill bottles into a bag and bringing them with you to the appointment.
Third, "know your past medical and surgical history," Forman says. "Why were you admitted to other hospitals three times in the year? What were the diagnoses that were provided?"
And be sure to include everything. Maes says she has had patients who have had breast augmentation surgery, "and they don't think that's surgery. Or, they'll take birth control pills and they don't consider that as a medication."
Once you've compiled your own health record, keep it current by adding or revising entries as needed. Maes also suggests asking the office staff at your doctor to provide you with a copy of the intake forms you have filled out. Then, use that as a guide for the next visit, again with relevant updates and annotations.
The bottom line: It's up to patients to be the librarians of their own health care and medical history. Think of it, Hogan says, as a "partnership" between you and your health care professional.
"You have to be an active participant," she says. "You may expect a doctor to do most of the work, but doctors can't work in a vacuum. And every partnership has a give and take, and every patient has to be willing to have some responsibility to make the partnership work, just like the doctor has some responsibility to make the partnership work."
Contact reporter John Przybys at jprzybys@reviewjournal.com or 702-383-0280.