Pharmacy clinics playing increasingly larger role in health care
August 23, 2015 - 11:11 am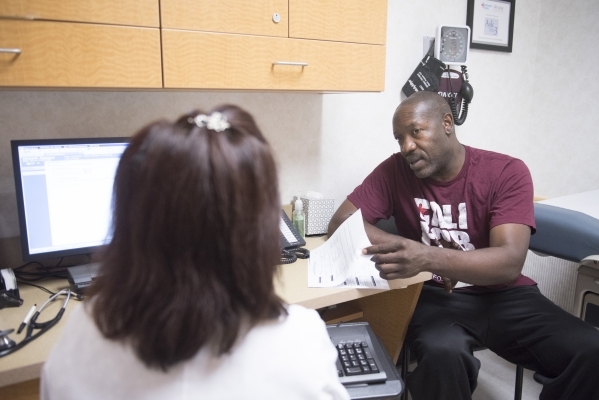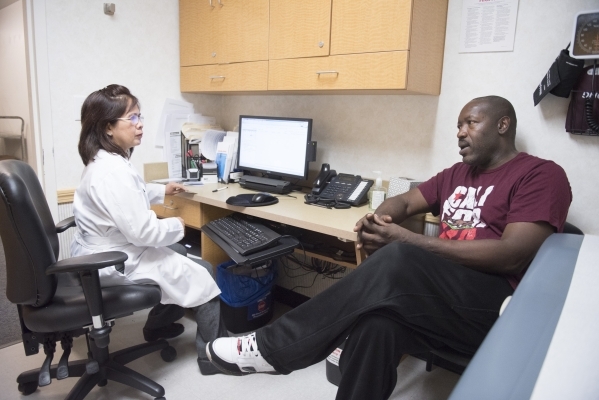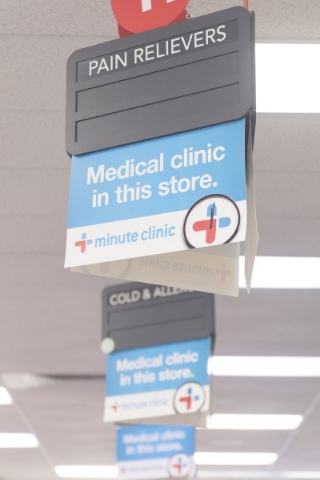 It's late, your sinuses are running faster than Niagara Falls, head's throbbing and your stomach fluids are ebbing and flowing to near hurricane velocity. Yep, you're definitely sick.
Unfortunately, trying to get in to see a primary care physician, if you even have one, may be impossible with such short notice. So if you have insurance, and even if you don't, the only alternative could be a costly hospital emergency room visit where you impatiently sit and wait alongside several other desperate souls sometimes for hours on end.
Don't you wish you could go somewhere closer and faster to treat your illness? You might not automatically think of them, but some valley CVS and Walgreens pharmacies have been offering clinical treatments for many common and non-life-threatening illnesses for years.
CVS opened its first local Minute Clinic in 2007 in its pharmacy on the Strip near the Monte Carlo. To date, it has 11 Minute Clinics throughout Nevada, eight in Las Vegas and three in the Reno/Sparks area. All clinics are open seven days a week with weekend and early evening hours available.
Walgreens has 13 clinics in the Las Vegas area, none in Northern Nevada. And like CVS, its clinics are open seven days a week with similar hours of operation. From 50 clinics in 2007, the pharmacy has grown that number to 400 nationally.
Both pharmacy chains take most insurance plans.
The first pharmacy retail clinic, QuickMedx, appeared in the Minneapolis-St. Paul area in 2000. CVS acquired it in 2006 and has expanded to nearly 1,000 clinics today in 31 states.
"We are a new market (in Nevada)," said Joan Carapucci, physician assistant and clinic practice nurse in charge of all the Nevada Minute Clinics, adding that Minute Clinic use is growing each year.
"You are no more than 10 minutes away from a Minute Clinic in your area," Carapucci noted. "A hospital emergency room visit is very expensive, and an urgent care (facility) co-pay is around $150. The CVS co-pay is what you would pay your primary care physician, and for our cash patients, the prices are also lower."
CVS Minute Clinics and Walgreens Healthcare Clinics, also referred to as retail clinics, treat such common illnesses as colds and coughs, flu, fevers, sinus infections, joint pains, allergies, bronchitis and skin irritations. They also provide preventive treatments such as vaccinations, physicals and some health screenings.
These clinics do not treat life-threatening conditions such as bleeding, symptoms of heart attack or stroke, broken bones, deep cuts, head injuries or any prenatal care. They treat individuals 18 months or older.
"Our clinics are a way to have acute care for patients at a very good price point," said Dr. Patrick Carroll, chief medical officer of Walgreens Healthcare Clinics. "We are able to treat a population of patients on their schedule, seven days a week."
Carroll said the average visit for a patient who has insurance is in the $79 range, which he added is less than the national average of a primary care physician's visit of $120.
Both retail clinics accept walk-in patients. At Walgreens you can also go online and schedule a visit for a nearby clinic. CVS takes walk-ins and provides kiosks where a patient can sign in, leave and receive a smartphone text of the approximate time a nurse practitioner or physician assistant will be able to see them. Carapucci said CVS will soon offer an online sign-in service.
"We get calls from primary care doctors who are too busy and send patients to CVS. … We don't have a front desk or people to sign you in, which keeps our cost down," Carapucci said.
Carapucci stressed that CVS is not an emergency service facility. If people come in with severe conditions, the pharmacy will call 911 and help them get transported to a hospital ER.
Besides the convenience and cost savings of seeking treatment at a retail pharmacy clinic, there's the added benefit that patients' medical histories can follow them wherever they happen to be traveling. Minute Clinics and Healthcare Clinics keep detailed patient medical reports that can be sent to their primary care physicians, or uploaded to retail clinics if they are in another state.
Carroll said pharmacy on-site nurse practitioners are overseen by collaborating physicians who do random reviews of approximately 10 percent of all visits to each clinic. All nurse practitioners are board certified, he added.
"For everyone who does a visit, we do a follow-up call within 48 hours," Carroll said. "We provide a very consistent, high value of care and all the protocols that we follow are monitored."
Carroll said Walgreens Healthcare Clinics are in 22 markets across the country. The pharmacy originally acquired 50 retail clinics from the Take Care Health System in 2007.
According to a recent Walgreens study, the use of the company's Healthcare Clinics has been on an upswing for preventive services, screening and chronic visit utilization, increasing from 4 percent in 2007 to 17 percent in 2013. The study also stated that return patient visits to Healthcare Clinics rose from 15 percent in 2007 to more than 50 percent in 2012 and 2013. Carroll noted that about 40 percent of the repeat patients don't identify with a primary care physician.
The study found that retail clinics play an increasingly important role for health care delivery across the U.S., as patients are relying more frequently on nurse practitioners at retail clinics to provide chronic and preventive health services.
"It's proven that we reduce health care costs," Carroll said. "We do insurance verification. You do your co-pay and we submit to your insurance."