Radiation therapy hot topic for patient, doctor
October 10, 2017 - 11:35 am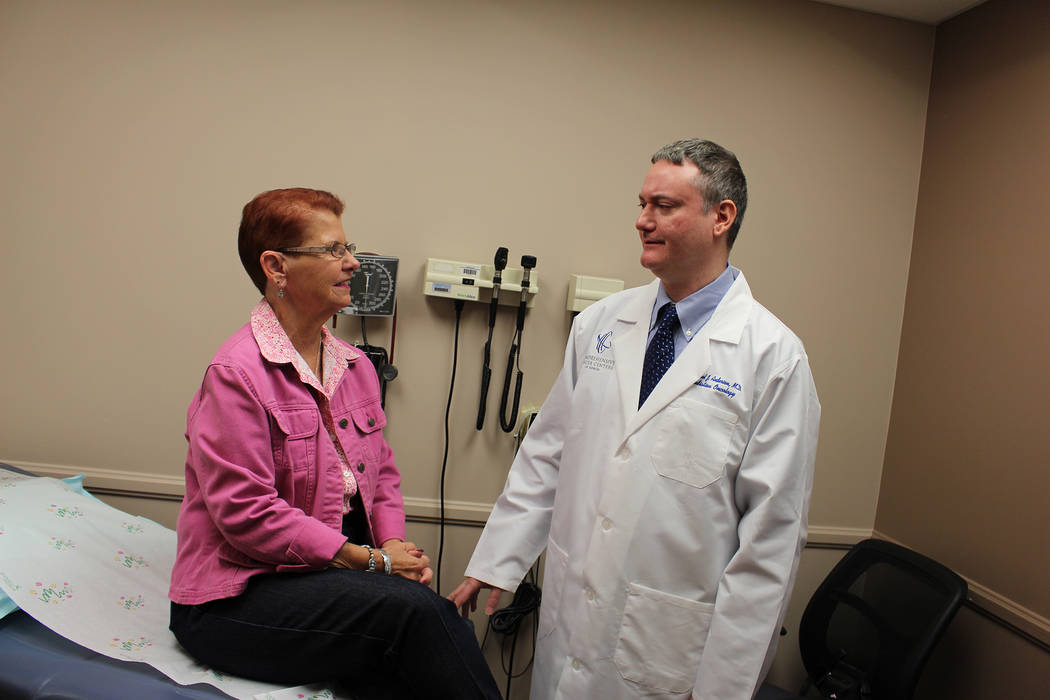 The first reaction was shock. Then she was petrified.
"It brings you to your knees," said Gail Cress, 67, who was first diagnosed with stage 1 breast cancer one year ago this month. "You just never think it's going to happen to you."
She was cruising along, collecting photos of her children and grandchildren, taking trips with her husband of 48 years, Danny, expecting to sail into her golden years relatively healthy.
"I have no family history of breast cancer," she said. "I try to stay healthy. I walk. I eat the right foods."
She was fearful of the required treatments that would surely come after watching her sister battle brain cancer and a grueling chemotherapy treatment for more than five years.
"It was very close to my heart what I (might) put my family through, my husband," said Cress, who underwent surgery within two weeks of her mammogram to remove the 0.1 centimeter tumor and conduct a biopsy of her lymph nodes.
She then went to Comprehensive Cancer Centers of Nevada to move into the second phase of a cancer diagnosis, treatment options. When she entered the office of Dr. Michael Anderson in the fall of 2016, clutching her husband's hand for strength, she was prepared for the worst.
"He told me 'I know you are both petrified, but when you leave my office you will feel 90 percent better,'" said Cress, a retired vice president of operations for a bank chain in Maine. "And I did."
Many patients enter the unknown of a cancer diagnosis fearful of the treatments and therapy, said Anderson, a radiation oncologist for Comprehensive Cancer Centers of Nevada. That fear can keep some patients from getting a screening that could save their life.
In the last 20 years, significant advances in radiation treatments for breast cancer have been made, according to Anderson.
"Radiation treatments are a much different experience now for the patient, even on a daily basis, than it ever was in the past," he said. "Just 30 minutes in the clinic 10 years ago is down to 10 minutes now. We've come a long way, and there is a lot happening for the future."
It wasn't always so.
"In the United States, we have been a bit behind the rest of the world," Anderson said. "Canada and Europe have been using abbreviated schedules of radiation for some time, and we just started adopting that over the last five years."
The reduced treatment sessions are creating a lot of excitement, he said.
"We are commonly using the three-week schedule now with great results. Treatments are much shorter than they were just a few years ago," Anderson said.
After surgery to remove early-stage breast cancer, physicians now opt for radiation therapy over more invasive treatments such as chemotherapy. This can reduce the recidivism of cancer in the breast while minimizing side effects.
It's often given once a day for a short amount of time five days a week. A final turbo dose during the last week specifically targets the area.
Imaging on the diagnostic side is transcribing to the therapeutic side, with better technology offering a better picture of the tumors and treatment sites.
"We now have image-guided therapy where we can precisely target those areas and then reduce side effects such as damage to the lung and heart," Anderson said. "Our technology is growing at such a rate and allowing us to be quicker. The treatments are much more convenient for patients than they were a decade or two ago."
The smaller commitments to treatment, even for just a few minutes a day, means patients can continue a relatively normal schedule and get back to their lives faster.
"We are getting to the point that maybe 20 years down the road we will have only one or two treatments in the favorable risk patients," Anderson said.
Eventually, radiation treatments could be paired down to just three or four times with partial breast radiation.
"Certainly that is where we are going," he said. "The technology is allowing us to be so much more precise with our treatment than we could be 10 years ago. We can safely deliver much higher doses of treatment without side effects or physical (complications) that we have had in the past."
Cress started her radiation treatment in January. Again, she prepared for the worst, but she was pleasantly surprised.
"I got through all of it in five minutes, Monday through Friday, all at the same time," she said. "And I met some wonderful people at Comprehensive Cancer Centers that make it a good experience all around."
The radiation treatment consisted of 21 sessions, four of which were turbo boosts in which the focus of the radiation is more intense. Her skin peeled around the small area where the radiation was directed in intense doses. She was a bit more tired than usual, but from the outside, she didn't look as if she was undergoing an intense cancer treatment.
"It was tough, but it wasn't terrible," Cress said. "Radiation is really not as bad as you think it is. There are side effects, sure. But nothing compared to chemo.
"I feel very blessed that Dr. Anderson at Comprehensive Cancer Center was there. He made the difference."
The group of four women who received treatment at the same time formed a bond that has weathered difficult and different outcomes in their prognoses.
"It changed me," Cress said. "There was a young woman there, a 26-year-old single mother who had a complete mastectomy. I consider myself so lucky. Oh my God, I'm so lucky. Who am I to cry and whine?"
She credits the staff and Anderson for continually asking patients how they are faring, both physically and mentally.
"If it wasn't for the (Comprehensive Cancer) center I wouldn't have gotten through it and my family wouldn't have," Cress said. "They changed my life."