Robot additions enhance St. Rose rehabilitation facility
February 12, 2015 - 1:00 am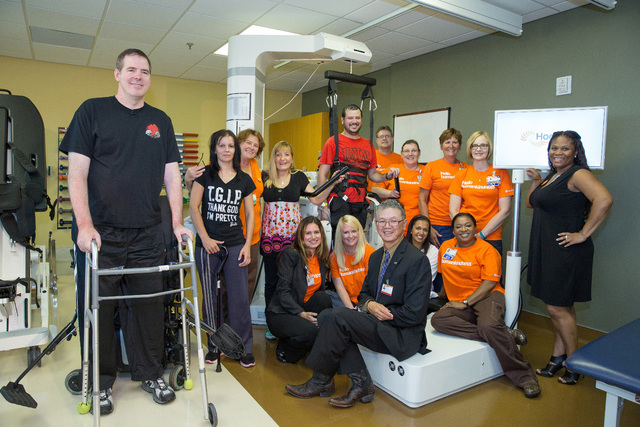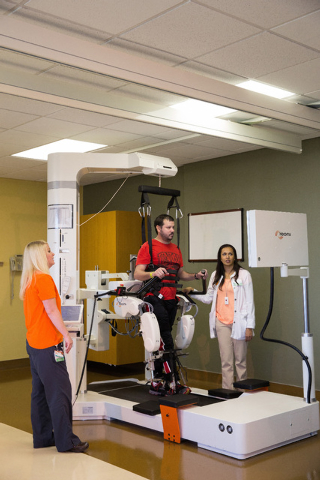 When Dr. Tony Chin moved to Las Vegas more than 20 years ago, he said there were about four acute rehabilitation facilities in the valley.
Over the years, Chin has seen the community grow and the number of facilities increase, but the rehabilitation technology to treat "catastrophic injuries" has generally remained the same.
Until now.
St. Rose Dominican Hospitals Rose de Lima campus, 102 E. Lake Mead Parkway, expanded its inpatient rehabilitation facility by purchasing three robots last summer and adding 10 beds in January.
"The facilities in Las Vegas are not geared to take care of patients with catastrophic injuries, so if you had a brain or spinal cord injury, they would tell you to go to a rehab institute out of state," said Chin, the hospital's chief medical officer. "Now, we are putting Henderson and Southern Nevada on the map by providing care for these injured patients using robotic technology."
Because repetitive human movement, such as walking, is ingrained into the brain's muscle memory, individuals are able to move on "autopilot" without thinking about their next step. However, an injury to the brain or spinal cord can damage neurological pathways that control these automatic movements, according to Bernie Miller, physical therapist and director of the hospital's rehabilitation facility.
"In order to treat (these injuries), we teach the patients how to make the movements repetitively and precisely using the robots," Miller said. "The faster you do these things, the quicker the brain is able to reroute its circuitry, and you're able to improve your functions."
The facility's Erigo robot, nicknamed Apollo Zen ("Apollo" for god of the sky and "Zen" for health), is similar to a tilt table that gradually moves patients into an upright position so they can regain the strength to stand. The machine is equipped with robotic legs and electrical stimulation that assists in stabilizing their blood pressure and blood circulation.
"With our Erigo, we're able to tilt the patient up higher while maintaining their blood pressure by contracting the muscles," Chin said. "If they can maintain a good blood pressure, they can do therapy."
After stabilizing their blood pressure, patients must be able to stand on their own for 20 minutes before transitioning to the Lokomat or Armeo robots.
Named Optimus Yung for a robot in the movie "Transformers" and the Chinese word for "courageous," the Lokomat is a robotic gait training system that attaches at the the hips, knees and ankles and assists the patient in moving forward on a treadmill. The harness moves up and down and side to side to stimulate the natural "bob" of a walking person.
"We train them 10 to 30 minutes every day," Chin said. "Once they're finished, we get them out of the machine and see if they can immediately translate what they just learned from the robot into walking with a walker."
The Armeo, known as "Rosie Chern" (named for Rosie the Riveter and the Chinese word for "being successful"), is an upper extremity robot that helps patients regain arm movement. It helps increase strength and range of motion in the shoulder, elbow and wrist.
"There's a huge biofeedback component to our robots so our patients can see their progress," Miller said. "In simple terms, we're talking about very elaborate rehabilitative video games."
Although the program is in its infancy, Chin said his patients are showing great promise. One individual, who had a stroke more than four years ago, has relearned to walk in the past few months while another, who was considered a paraplegic, trained with the robots and now walks using an exoskeletal robot.
"In my 34 years of training, we've always told patients after a stroke, 'Within two years, what you see is what you get.' Now, we are wrong, " Chin said. "We are also wrong to tell a paraplegic that they will not walk again. It's exciting."
Chin and Miller hope to transform the hospital's facility into Henderson's own rehabilitation institute by purchasing more robots and providing a full spectrum of services from acute to outpatient care.
"The biggest dissatisfier is that patients have to go from the hospital to rehab to sub-acute, and none of them are connected," Miller said. "So having that interconnectivity for all levels of care is what we're really striving toward."
For more information, visit tinyurl.com/stroseirf.
Contact Henderson View reporter Caitlyn Belcher at cbelcher@viewnews.com or 702-383-0403.