Ruvo Center and its patients move forward
August 31, 2011 - 7:32 pm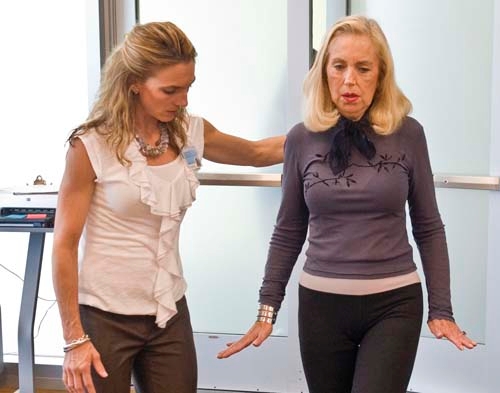 Maxine Winik teeters just a tad as she tries to walk a straight line in the new physical therapy center at the Cleveland Clinic Lou Ruvo Center for Brain Health.
When she walks back, she totters a little less.
It's not easy coming back from recent surgery to relieve pressure on her brain.
Improvement is measured in baby steps.
"You're doing great, Maxine," said physical therapist Jennifer Nash, who has been specially trained to work with patients with neurological disorders.
"Thank you. I feel better," Winik said.
What has made her comeback all the more challenging is that the surgical treatment she should have gotten years ago wasn't provided until this year.
Nash has been working with the 74-year-old Winik for only a few weeks, using the latest therapeutic systems to identify and then remedy balance issues.
"We're going to get her back to where she should be," Nash said later. "She should be able to enjoy a normal life once we've got her through therapy."
The physical therapy branch of the Ruvo Center near downtown has been open since early August. Dr. Jeffrey Cummings, the center's director, said the center soon will need a physical therapy office in another part of the Las Vegas Valley.
Cummings said there is a great need for physical therapy and occupational therapy services for people with brain conditions, including Alzheimer's, Parkinson's and multiple sclerosis. The Ruvo Center only recently has begun seeing patients with Parkinson's and multiple sclerosis, in addition to Alzheimer's patients.
"Balance is so important with these conditions," Cummings said. "If an older person hits his head or breaks a hip, it takes a long time for her or him to recover. We want to make sure they're as autonomous as possible.
"There are many things that medicines do, and many that they don't."
Studies have shown that exercise, overseen by a trained physical therapist, can make a real difference for people with neurological disorders.
For instance, exercise therapy can improve muscle strength, mobility and mood in patients with multiple sclerosis, a degenerative nerve disease that damages the protective fatty sheath around nerves in the brain and spinal cord.
Though no intervention has proven effective in modifying long-term disease prognosis in multiple sclerosis, exercise therapy is thought to be an important part of treatment of symptoms.
Research has similarly shown that exercise helps to keep muscles strong and improve flexibility and mobility in patients with Parkinson's disease, a progressive disease of the nervous system marked by tremor, muscular rigidity, and slow, imprecise movement.
Flexibility, balance and strength exercises have been studied in patients with Alzheimer's, a disease that destroys memory, versus medical management alone. Patients who were treated with both exercise and medical management were less depressed than those treated with medical management alone and showed marked improvements in their physical functioning and memory.
Right now, Cummings said, the Ruvo Center is concentrating on physical therapy. Soon, occupational therapists will be hired.
"We want to help people with disabilities accomplish their activities of daily living," Cummings said. "Just relearning how to use the channel changer can be a challenge."
Victor Winik is glad that he and his wife, Maxine, moved to Las Vegas from Florida. He said he hates to think what shape his wife would be in today had they not moved.
About seven years ago, Maxine Winik had an operation that required an epidural, during which a blot clot developed. A surgeon removed the blood clot.
However, what was unknown until this past summer was that cerebrospinal fluid was developing in her brain's cavities at an abnormal rate. That condition caused pressure on the brain and affected her both physically and mentally.
"She had to learn to walk all over again," Victor Winik said. "She was semiparalyzed and in a wheelchair."
As her physical condition worsened, her memory started to fade.
"It was very scary," she said.
Doctors in Florida thought she had Alzheimer's.
Victor Winik didn't think so. He did think there was a connection between the gone-wrong epidural and her worsening condition.
Friends referred the Winiks to Dr. Charles Bernick, who ruled out Alzheimer's about seven months ago.
A neurologist and associate medical director of the Ruvo Center, Bernick put Maxine Winik through months of tests that showed she didn't have Alzheimer's.
"It just didn't add up," he said. "She had some problems with cognitive function and gait and balance, but not what you see in Alzheimer's."
Bernick found that when spinal taps were done and fluid drained from her brain's cavities, Maxine Winik's condition improved.
Bernick thought that she had normal pressure hydrocephalus, an abnormal increase of cerebrospinal fluid in the brain's cavities. If a shunt or ventricular catheter were put in her brain, the excess fluid could drain to her stomach and then be urinated out.
Surgeons at the University of California, Los Angeles, agreed, and surgery was done in June.
Maxine Winik is now regaining much of her memory and physical abilities that were lost from normal pressure hydrocephalus.
As he watched his wife go through physical therapy the other day, Victor Winik was ecstatic.
"They opened the physical therapy area at just the right time, " he said. "I'm getting my wife back all because these people here at the Cleveland Clinic in Las Vegas knew what they're doing."
Contact reporter Paul Harasim at pharasim@ reviewjournal.com or 702-387-2908.