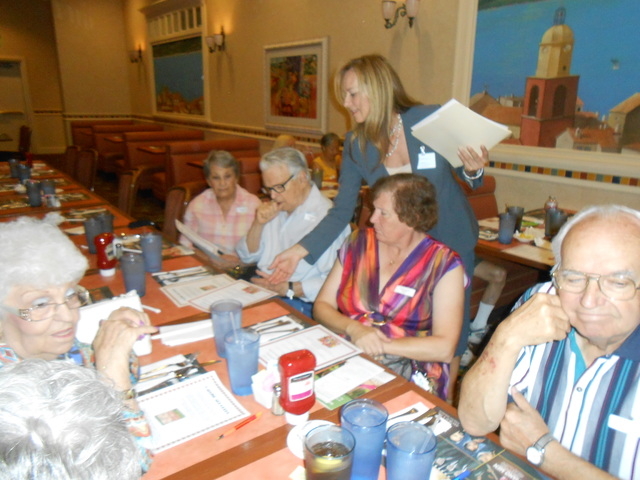 Valley Health System's Senior Advantage 55+ Program regularly hosts seminars and classes where lecturers talk about diabetes, high cholesterol and other health topics. It also takes seniors on tours of the hospital so they have a better sense of things should they need to be admitted.
On July 9, Senior Advantage took its message to the Suncoast, 9090 Alta Drive, where 50 members and guests learned how to make healthy choices at one of the biggest challenges to those who want to eat right — the buffet.
"Most people do visit our local buffets and … it's easy to overeat," said registered nurse Allyson Hoover, who facilitates the group. "Today, we're teaching them how to be realistic about how to eat healthy at a buffet. There are tricks to doing that. Whether or not you'll always eat that way, well, maybe it'll be in the back of your mind to say, 'Maybe I should eat this way instead of that way.' "
The group met in the private dining section of the hotel's St. Tropez Buffet. First up was taking a tour of all that was offered, with no plate in hand. The Suncoast buffet offers a plethora of items from Mexican to Chinese to hearty American fare. The dessert display dominated the main entrance. Senior Advantage members were told to peruse the selections to pre-select what they wanted, keeping in mind the healthy choices mantra: no going back for seconds.
Once everyone returned to their table, Hoover urged everyone to drink at least 8 ounces of water. She said it helps fill the stomach so one isn't tempted to overeat.
Hoover held up three plates of various sizes. They would use all three. The largest, she said, was for the salad bar.
"This is the only time you'll hear me say, 'It's OK to heap on the food,' " she said.
The darker the color, the better the salad choice, she said. Attendees were welcome to add vegetables. They weren't, however, supposed to soak everything in creamy dressing, as vinaigrettes were encouraged. Everyone agreed it was tough not to indulge in ranch.
Amelia Virag, 87, said she learned a tip from Weight Watchers that helped her lose about 25 pounds — get your ranch on the side and dip your fork before stabbing some lettuce.
The main meal used the medium-sized plate. Attendees were told to imagine it with a line down the middle. One half was for vegetables and, if they wanted, more salad. The other half was also to be split in half so one-fourth had meat — the leaner the better — not to exceed the size of one's palm. The other could be filled with grains, which could include starch.
The small plate was for dessert. Even there, wise choices were encouraged, such as sorbet instead of ice cream, or no-sugar options.
"Telling you not to eat dessert is unrealistic," Hoover said.
Janet Knapik, 77, said she used to overindulge. Born and raised on an Indiana farm, she said she "ate organic before the word 'organic' was even invented."
Her downfall? Sweets and baked goods, something her mother exceled at making. These days, she said she cautions herself to take small portions and not have seconds.
Lynda Knight, 59, said her favorite food is mashed potatoes and gravy.
"I could put gravy on most everything," she said. "Bread and butter, I love bread and butter. Sometimes I have it as my dessert."
Robert and Zenta Berghofer said they tend to eat the right way. Robert said he didn't like eating at buffets.
"I was a health inspector for 30 years," he explained. "I've seen people (checking out) the food, dip their finger in something and taste it, then go to the next thing and (do the same)."
There are about 14,000 Senior Advantage members. Joining requires a $10 one-time fee. Activities cost extra. For more information, visit valleyhealthsystemlv.com or call 702-853-3008.
Contact Summerlin Area View reporter Jan Hogan at jhogan@viewnews.com or 702-387-2949.