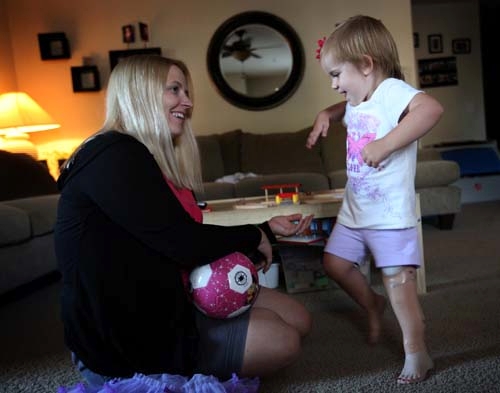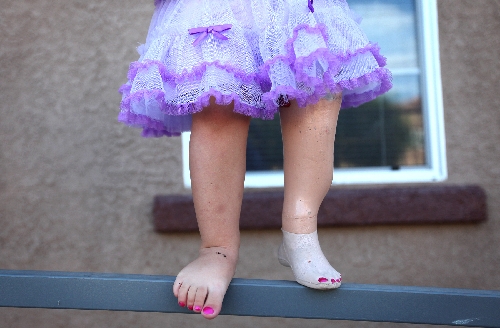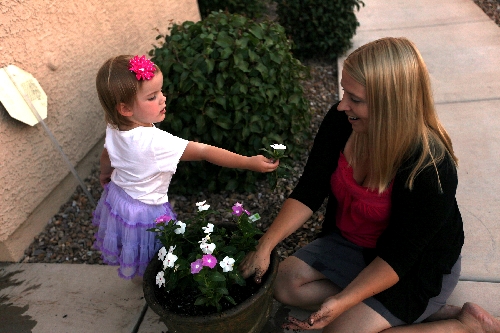 It is shortly after 7 o'clock Wednesday night, and 2-year-old Alissa Perkins is giggling as she runs after 4-year-old brother Nicholas in the living room and climbs on the couch.
If you didn't know she was wearing a prosthesis on her left leg, you might think an ever-so-slight hitch in her stride is caused by a stubbed toe.
"She does everything her brother does," Mark Perkins said as he watched his daughter jump after Nicholas in the kitchen of their northwest Las Vegas condo.
To Alissa's mother, what has transpired since her daughter was born without a bone in her leg is nothing short of a miracle.
"It's hard to believe that everything has worked out so well," Tara Perkins said as Alissa crawled in her lap.
The family's story is so compelling that Shriners Hospitals for Children — Alissa receives her orthopedic care at the Shriners Hospital in Los Angeles — have called on the Perkins family to be ambassadors for the 22-hospital system, which treats all children regardless of their ability to pay.
They've already told their story in Denver and will do so in Atlanta in the near future. You can see a Shriners video on the family on YouTube.
In the days leading up to the Justin Timberlake Shriners Hospital for Children Open in Summerlin, it's likely you'll see them featured in promotions for the charity tournament at the TPC Summerlin golf course from Sept. 26 through Oct. 2.
And that's only fitting because it was there that Mark and Tara found out where they could receive help for Alissa, though not as they expected.
Mark, a driver for Federal Express, and Tara, an elementary school teacher, had read in the newspaper that there would be a clinic at the 2009 tournament. So they scooped up 3-month-old Alissa, expecting to see and talk with doctors about her condition. What they found, however, was a trick-shot clinic put on by golfers.
"We like golf, but that wasn't why we came," Tara said.
One of those making trick shots was Katie Walker, a collegiate golfer on scholarship from California State University, Bakersfield, who was wearing a prosthesis on her leg above the knee. She was then an ambassador for the Shriners.
"I saw her and just knew we had to talk with her," said Tara, who had been told that amputation prior to a prosthesis was one of the treatments for her daughter's condition, fibular hemimelia, a congenital absence of the fibula. "Katie was just beautiful and so self-assured."
Katie told the Perkinses how she had been born without a shin bone in her left leg and had to have an amputation above the knee.
"I think I calmed them down," Katie recalled Thursday in a phone call from her Bakersfield home. "And I think they appreciated hearing how good the Shriners medical staff takes care of kids."
It wasn't long before the couple took Alissa to the Shriners outreach clinic in Las Vegas, where doctors told the parents that they should take Alissa to the Shriners Hospital in Los Angeles for evaluation.
Physicians there said bone lengthening was one option, but it didn't always take and the child would spend much of her childhood in a wheelchair.
The parents also learned that an amputation just above the ankle, with a new prosthesis each year as Alissa grew, would allow her to have an active childhood.
"I saw other kids who had gone through that, and they all were doing fine," Tara said. "What they've been able to do with a prosthesis is just unbelievable."
Still, it was unbelievably difficult for the parents to go forward with an amputation. There were nights without sleep and lots of tears.
"You know you're doing the best thing for her, but you still worry about hurting her," Tara said.
At 9 months, Alissa had her amputation. By 13 months, she was walking. She already has outgrown two prostheses.
Today, the Perkinses feel confident their daughter will have a good life, a far cry from where they were when Tara was several weeks pregnant.
It was then that a sonogram showed that there was bowing in the baby's left femur, or thigh bone, as well as bowing and shortening of the tibia, the weight-bearing bone, in her lower left leg.
The image also showed that the unborn child was missing her left fibula, or calf bone.
"I didn't know what it meant. It was very difficult," Tara said. "Mark and I didn't know what it meant for the rest of her body, what it meant internally. We worried about her spine and brain development."
The couple visited a specialist every week.
And every week they were told that the problem was confined only to the leg.
When Alissa was delivered July 3, 2009, by a medical team at Summerlin Hospital, her left leg was obviously shorter than the right.
"We were so worried when she was born," Tara said. "We worried about how she would get around.
"Now, thanks to the Shriners, our biggest worry is how we'll be able to keep up with her."
Contact reporter Paul Harasim at pharasim@review journal.com or 702-387-2908.