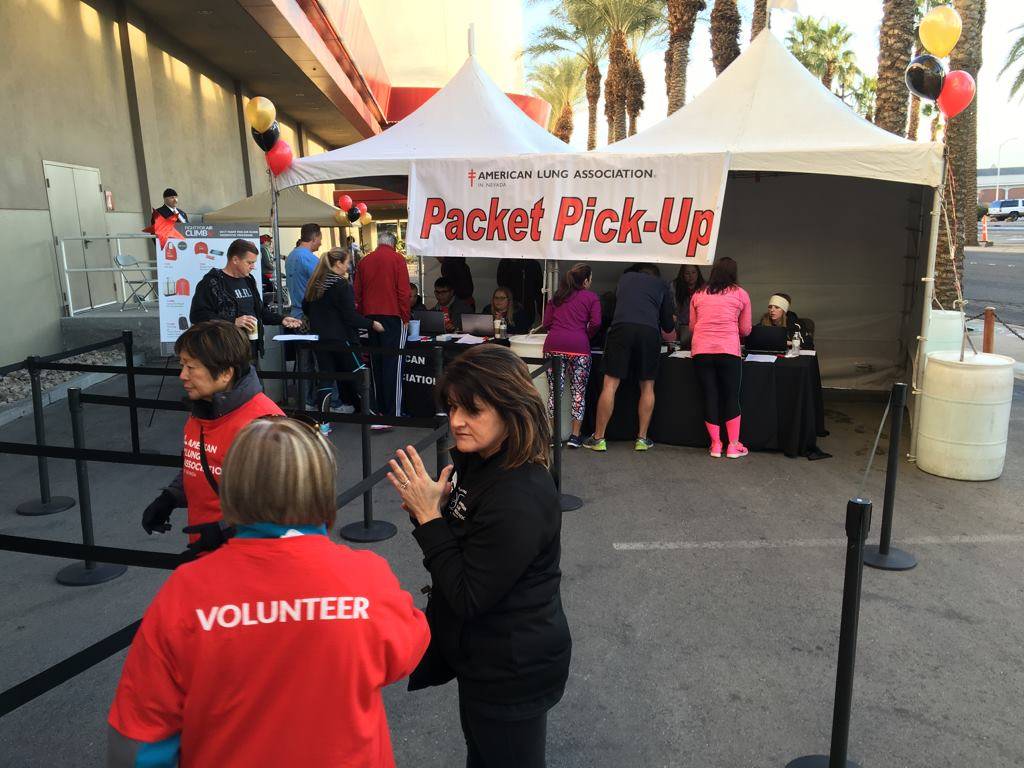 Scale the Strat event benefits lung association
Registration is underway for team and individual participation in the 10th anniversary of Scale the Strat Las Vegas, sponsored by the American Lung Association. It's 108 floors and 1,455 steps from the casino to the top of the Stratosphere tower, 2000 Las Vegas Blvd. S. The event will begin at 7 a.m. Feb. 25. Register at scalethestrat.com.
Mobile dental clinic for kids plans stops
Nevada Health Centers' Ronald McDonald Care Mobile offers affordable dental care for children in Southern Nevada. Several stops are planned in January. Parents can make appointments for children by calling 1-844-227-6867. The vehicle is staffed with a dentist, hygienist, and dental and office assistants. Services include restorative and preventive care, exams, cleanings, sealants, fluoride treatments, fillings, extractions, x-rays and oral health education. It will be open from 7:30 a.m. to 5:30 p.m. (closed for lunch from noon-1 p.m.) at all stops. This month's schedule includes:
— Tuesday, Women, Infant, Children (WIC) Center, 3900 Cambridge St.
— Wednesday and Thursday, WIC Center, 4601 West Sahara Ave.
— Jan. 22-23, MLK Family Health Center, 1799 Mount Mariah Drive.
— Jan 24-25, WIC Center North Las Vegas, 2225 Civic Center Drive.
Continuing ed class set in suicide prevention
Vegas PBS, 3050 E. Flamingo Road, will host a continuing medical education class in suicide prevention from 6-8 p.m. Jan. 23, presented by Dr. Lesley Dickson, a member of the Nevada Psychiatric Association. Cost is $75 for members of the Clark County Medical Society, $100 for nonmembers and free for medical students. To register, email renee.hinostrosa@clarkcountymedical.org.
Six-week Healthier Living workshop at Ruvo Center
On Friday, the Cleveland Clinic Lou Ruvo Center for Brain Health will kick off a six-week Healthier Living workshop. The class is a Stanford School of Medicine Chronic Disease Self-Management Program designed to help participants set health goals and identify strategies to achieve them. The class will meet from 12:30-3 p.m. each of six Fridays. The workshop is appropriate for those with chronic diseases and caregivers. Enrollment is limited. Reserve by emailing louruvosocialserv@ccf.org.
Hospital's open house marks 10th anniversary
Centennial Hills Hospital, 6900 N. Durango Drive, will celebrate its 10th anniversary with an open house from 11 a.m. to 1 p.m. Jan. 20. It will include free screenings, refreshments and a special gift for the first 100 people. No RSVP is needed.
Lunch & Learn series meets Wednesdays
The Cleveland Clinic Lou Ruvo Center for Brain Health, 888 W. Bonneville Ave., hosts the Lunch & Learn Educational Series from noon to 1 p.m. each Wednesday in January. Participants are encouraged to bring lunch; drinks and dessert will be provided. This week's program is "Know Your Rights," and will feature Kate Osti of the Nevada Disability Advocacy & Law Center. She'll share information for requesting and negotiating reasonable accommodations under the Americans with Disabilities Act.
Submit event information to health@reviewjournal.com.