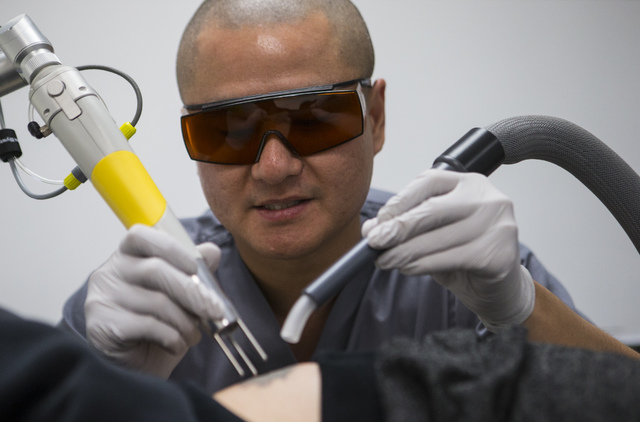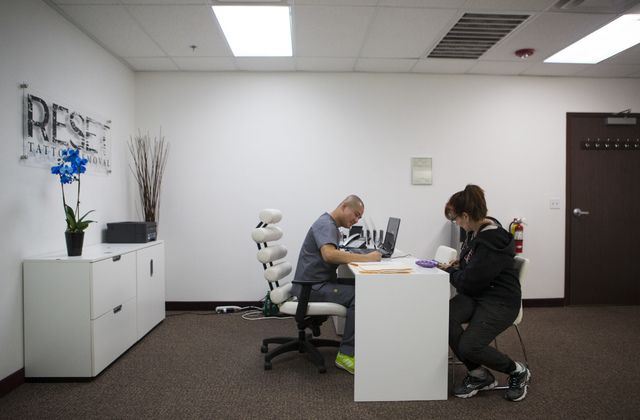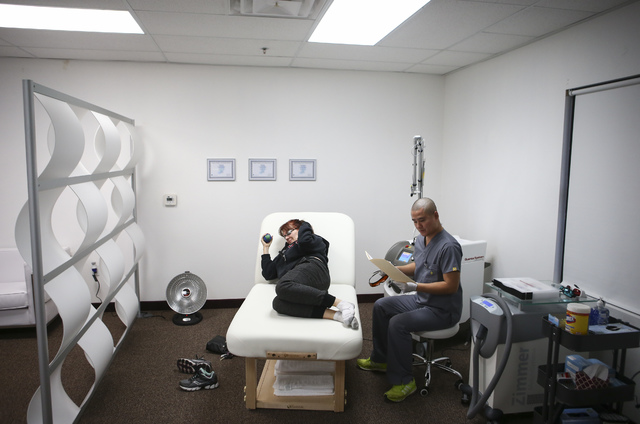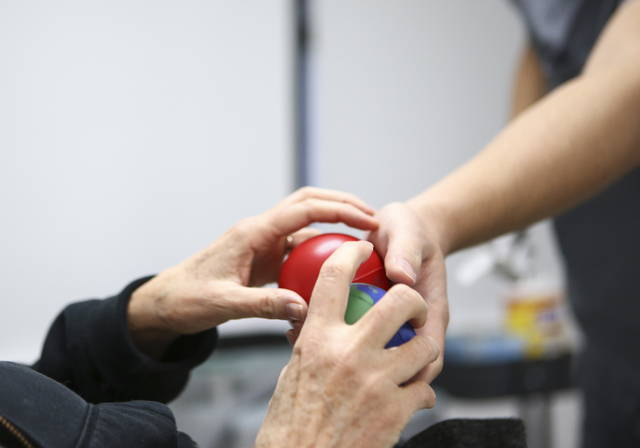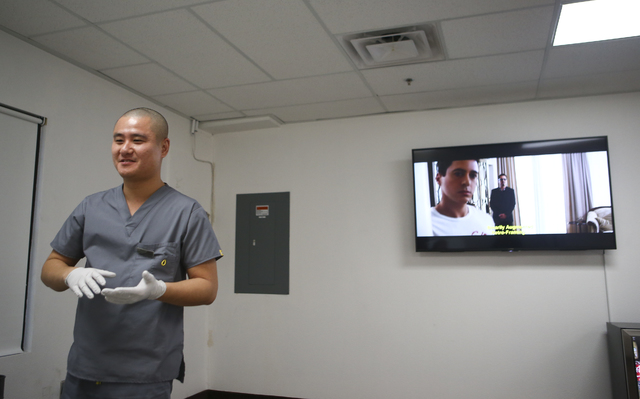 Las Vegas resident Ryan Bernardino, 36, wants to achieve a "clean daddy" look.
Now a father and husband, he considers himself more mature and has different tastes than he did more than a decade ago, when he got a tattoo on his upper arm of Kanji characters he hoped would say "life, family and friends."
The ink, which has multiple meanings and proves confusing to those familiar with the language, has got to go, not only because he's older but also because he simply isn't comfortable showing it off to family, he said.
At his fourth tattoo removal treatment at Reset Tattoo Removal near Durango Drive and Edna Avenue, just two days before the new year, Bernardino said he envisions a better life for himself when it's gone.
"I would feel like a normal parent," he said.
With the new year comes new goals, and for many people, that list can include removing a tattoo that gets in the way of self confidence, alters others' perceptions or impedes a person's ability to move on with life.
Though Bernardino said he's been planning his tattoo removal for a while, Blake Yeh, owner of Reset Tattoo Removal, said he's getting an influx of calls and expects to be busy this month accommodating customers looking for a clean slate in 2017.
"This week, our phone has been going off the hook," he said in the week before the new year.
Yeh, who launched his business in June, estimated that about 80 percent of his clients are women, many of whom are looking to remove the tattoos for work reasons, because they're moving on from a relationship or because they don't want to explain the tattoo to their family members.
"A lot of it is … they're over it," he said.
At The Skin Factory in Henderson, laser technician Ellen Schwarz estimated roughly 60 percent of her clients are female, and said she doesn't see a big business spike around the new year, but many clients of hers are also looking for a fresh start, whether it's by removing the name of an ex or eliminating a tattoo to get a new job.
Other clients say their tattoos weren't what they wanted or that they're looking to get new ink in the same area, she added.
"There's almost nothing I can't get out," Schwarz said. "Just take a deep breath. It's a matter of patience."
Tattoo experts agree on certain factors that make removal more or less difficult include the colors, location on the body, the type, whether the tattoo is covering another tattoo, when it was completed and the health of the inked individual.
Fluorescent inks, pastels and certain colors like green can be more difficult to remove, as can large tattoos and cover-up tattoos, said Stuart H. Kaplan, a dermatologist in private practice in Beverly Hills and assistant clinical professor at UCLA.
"The laser is using light to fragment and pulverize the ink particles," he said. "The more ink that's put in, the more laser pulses are going to have to be aimed at that particle and other particles."
In areas of the body with better circulation, there's generally easier healing, and a healthy person with a healthy immune system can also process the pulverized ink molecules more easily, he said.
Older tattoos that have been worn down and amateur tattoos are easier to remove, experts say.
Experts advise customers to do their research. Yeh and Schwarz suggest people interested in tattoo removal read reviews of several businesses and ask technicians to explain how the process works, including post-session care.
If you're concerned about the pain, ask if an anesthetic is available. If you notice scarring or burning after treatments, that's a sign to go somewhere else, Schwarz said.
"I get a lot of clients who have had two or three treatments elsewhere and they're … terribly scarred," she said.
Prices for services can vary heavily. Schwarz charges about $25 an inch per session but less for larger tattoos. Yeh said that prices depend on the tattoo but that, for example, he charges roughly $140 for a 3-inch by 3-inch tattoo per session.
Yeh also said the technicians' training and the machine being used are key. He invested in an expensive laser machine because he says it gives him an advantage over other places. Schwarz, on the other hand, says it's not the technician but a person's body that's the key factor in how quickly a tattoo can be removed.
Clients are advised to wait several weeks between sessions so their bodies can process the ink, but that amount of time can vary from four to 10 weeks, depending on technicians and their methods.
Kaplan said getting removal services too close together can lead to scarring or pigmentation issues in the skin.
And tattoo removal specialists can range from technicians at shops to dermatologists to plastic surgeons, all of whom generally use lasers to remove unwanted ink.
Kim, a Las Vegas-area resident who declined to give her last name, said her tattoo of a sun with a moon and star inside faded since she got it more than 20 years ago and wasn't what she wanted anymore.
On her fourth treatment with Yeh, she was about halfway through having it removed.
Though she'd had reservations about tattoo removal, she made the jump a few months ago when she realized the technique is more advanced.
"It's just the right place, right time," she said, with the dawn of 2017 just around the corner.
As for the pain?
"If you can tolerate the pain of getting the tattoo," she said, "you can definitely tolerate the pain of getting rid of it."
Contact Pashtana Usufzy at pusufzy@reviewjournal.com or 702-380-4563. Follow @pashtana_u on Twitter.