Southern Nevada center shifts focus in HIV fight
September 7, 2015 - 5:16 am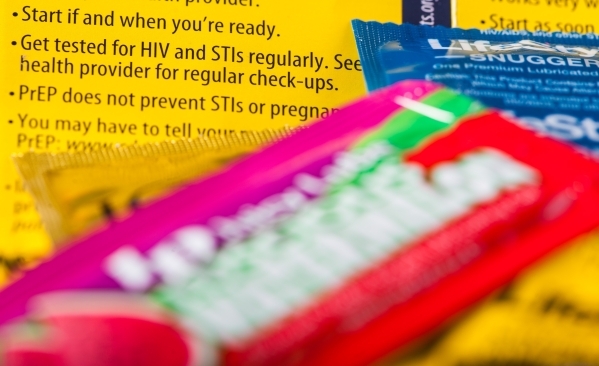 The Gay and Lesbian Community Center of Southern Nevada is growing its outreach to provide more resources to individuals with HIV.
"We are still targeting negative populations," says Joshua Montgomery, the HIV prevention director and Vegas Mpowerment coordinator with the center. "Now, we are just focusing on the positive population a little more."
With a grant allocated through the state, the center is partnering with pharmacies and clinics to pass out resources to patients with HIV.
Stuffed within red envelopes known as "Mr. Friendly" kits are condoms, lubricant and information about safe sex practices.
"We don't want to smother people with condoms," Montgomery says.
The information in the kits talks about pre-exposure prophylaxis, or PrEP, which is a daily pill taken that helps reduce the risk of contracting HIV. Montgomery says that if someone is HIV-positive and in a relationship with someone who is negative — as he and his partner are — the literature can guide them to determine if PrEP is a good choice for that relationship.
"It's not for everyone," he says.
The pamphlet in the "Mr. Friendly" kits is in English and Spanish.
When people go to pick up medications, they can receive one of the kits.
Montgomery says the center is working with Huntridge Family Clinic, Community Outreach Medical Center, Wellness Center and Family 1 Pharmacy.
"We are still working on Avella Specialty Pharmacy and Walgreens," he says.
Cherie Filler-Maietta, a disease investigator with the Southern Nevada Health District who is partnering with the center, says packages emulate programs done in other states.
"The program is (a) mimic from one put on by the health district in Arizona," she says. "It seems like that program has worked."
By making sure those with HIV are seeking health care and getting on medications, and thus lowering their viral load, it will help prevent the spread of the disease.
The center has been doing outreach for years, passing out information and HIV prevention kits, which have information about being tested and which contain condoms and lubricant.
Coordinators reach out to LGBT individuals by going to bars, clubs and bathhouses to hand out free kits to anyone and everyone.
Last year, the center passed out 142,424 condoms — some of that number was from the HIV prevention kits it passed out during outreach.
"My goal this year is 175,000," Montgomery says.
There still have been new HIV infections each year.
Last year, 429 people tested positive, according to the Southern Nevada Health District.
Montgomery says shifting the focus, which took effect June 1, is an effort to see if they can decrease the number of infections in Clark County.
In a sense, Montgomery says they probably already target HIV populations when they pass out their kits.
"When we are passing them out at the bar, we can't be like, 'So are you positive or negative?' " he says. "So I would say maybe 10 percent could be positive."
He adds it is beneficial to widen the scope of the people the center reaches.
Montgomery adds once they see the numbers — whether the rate of infections has in fact decreased — then they can determine whether the program was a success in Las Vegas.
With providing HIV-positive people with resources, he hopes the efforts will help open the dialogue back up about HIV.
"It's not talked about the way it used to be," he says. "People think if they get it, they just have to pop a pill and they will be good."
With its new goal, the center is still doing outreach and events centered on the Vegas Mpowerment Project, which celebrates its 10th year at the center this year.
"This is a global project," he says. "It has been proven to be a success."
The first Mpowerment Projects launched in San Francisco, followed by New Mexico and Texas.
It was put together to provide a safer alternative for gay men to be able to meet other men.
"The idea was to have a safer venue to connect instead of bars, (adult) bookstores, bathhouses or truck stops," he says.
Each city has adjusted its focus depending on community needs. In Las Vegas, that means a lot of late-night outreach.
Mpowerment, with the outreach, does a lot of community events and mixers, some of which has had to decrease with the redistribution of funding.
With the past funding, the center has been able to offer giveaways and gift cards as incentives for people to attend events.
While seeking alternative grants to replace funding losses, the team has hosted fundraisers such as car washes.
Even with the success of Mpowerment and refocusing of grant money, the center is still adjusting to reach communities in need.
Part of the problem is also making sure to target the populations with the highest risks of infections, such as black and Latino men who have sex with other men — but don't identify as gay — and the transgender community.
Though African-Americans make up about 11 percent of the population in Clark County, they were 27 percent of the new infections. Hispanics, who are about 30 percent of the population, made up 31 percent of the new infections.
The center also received a grant to help reach out to people of color. It is part of the Ryan White Grant through the Department of Health and Human Services Division of Public and Behavior.
Montgomery says the grant helps target HIV-positive people who aren't currently in care.
With the grant, they are hoping to hire advocates from those specific communities to do outreach.
"The goal is to get people tested so they know their status," Montgomery says.
He adds that the center is also focused on getting positive people in care and on medications.
"We are trying different strategies," Montgomery says. "It's all part of our goal to see no more new infections by 2020."
— Contact reporter Michael Lyle at mlyle@reviewjournal.com or 702-387-5201. Follow @mjlyle on Twitter.