Southern Nevada confirms 5th measles case
February 13, 2015 - 5:08 pm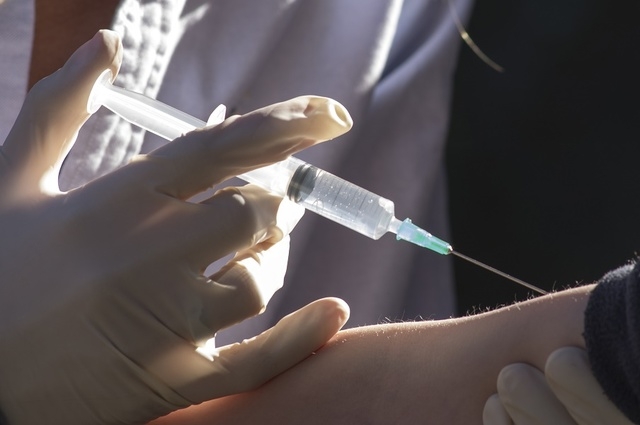 The fifth measles has been confirmed in Southern Nevada this year, and the infected person has been identified as the source of the Strip restaurant worker who became ill with measles this week, public health officials said Friday.
The source of the measles that infected the worker at Emeril's New Orleans Fish House inside MGM Grand is an older case and poses a lower risk to the public, said Jennifer Sizemore, spokeswoman for the Southern Nevada Health District.
The contact investigation for the source case is less intense than the probe underway involving the Emeril's worker, Sizemore said. Health district officials are advising people who dined at the restaurant after 4 p.m. from Feb. 4 through Feb. 7 to review their immunization status and contact a health care professional if they are not fully immunized against measles or have not had the disease. The Emeril's worker also attended the Las Vegas Pet Expo at Cashman Center between 10 a.m. and 2 p.m. Saturday, and the health district is advising the same precautions for anyone who attended that event.
Public health officials were alerted to the source case for the Emeril's worker by a health care professional, Sizemore said. A public notice about the Emeril's worker was issued this week because public health officials do not have a reliable estimate of the number of people that worker might have exposed.
None of the Southern Nevada cases has been linked to any other outbreak, such as the one traced to Disneyland, although one case, an adult who sought treatment at an urgent care, and was transferred to a hospital, has genetic similarities to the Disneyland virus strain. Testing and contact investigations continue to try to determine how the measles viruses traveled to Southern Nevada.
Measles causes an illness displaying a characteristic skin rash of large, flat blotches that often flow into one another, fever, dry cough, runny nose and sore throat. Anyone with symptoms should contact a health care provider's office before entering a health care facility to allow the facility to make appropriate arrangements to ensure the illness is not spread.