Southern Nevada doctors change prescriptions after painkiller reclassification
October 20, 2014 - 8:36 pm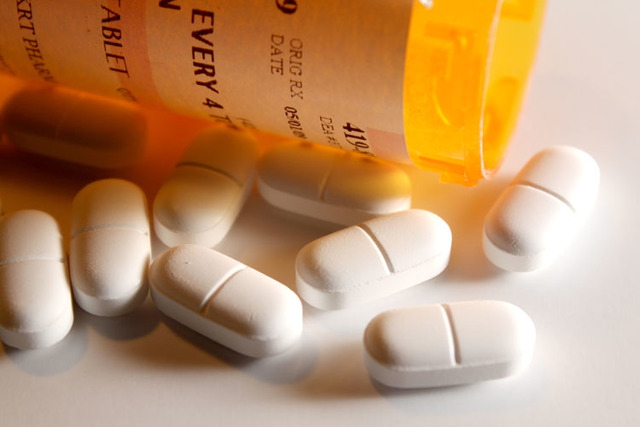 Some Southern Nevada doctors are prescribing different drugs to meet their patients' need for pain relief after federal officials changed the classification of a widely prescribed medication.
New rules from the Drug Enforcement Administration went into effect earlier this month governing drugs containing hydrocodone, reclassifying them as schedule II substances similar to oxycodone and morphine.
Doctors may issue multiple prescriptions allowing a patient to receive up to a 90-day supply of the so-called hydrocodone combination products, but doctors generally are not able to call, fax or email the prescription to a pharmacy. Patients will have to present a written prescription.
DEA changed the classification in response to widespread misuse of prescription painkillers, but the new rules restrict access indiscriminately, according to some patients, doctors and pharmacists. For class II medications, doctors may require monthly visits as a matter of professional discretion, and many pain specialists do, but such visits are not required.
Prescriptions written before Oct. 6 that have authorized refills remaining are valid until April 8, but pharmacies are not required to honor the refills. People are finding that many pharmacies in Southern Nevada are choosing not to honor those prescriptions, and doctors are being forced to prescribe different medications.
Dr. Paul Michael, an oncologist with Comprehensive Cancer Centers of Nevada, wrote a new prescription this week for one such patient, an elderly woman who was turned down at her pharmacy when she tried to obtain her regular drug containing hydrocodone.
The woman has other pain relievers to control chronic pain associated with her cancer treatment, Michael said, but the hydrocodone pills were effective when she experienced breakthrough pain, a more severe flare-up with a sudden onset that normally lasts from 30 minutes to an hour.
Because the woman faced the prospect of having nothing extra for her breakthrough pain, Michael prescribed methadone.
"This problem is especially severe in the cancer world because our patients need these medications so long term," Michael said. "Our patients might need these medications for months or years."
Federal regulators say there is no shortage of actual product. Jeff Ventura of the U.S. Food and Drug Administration said Friday that any delays in patients receiving their medications can be attributed to logistics behind the rescheduling rules.
The Nevada Board of Pharmacy has received calls from all over the state from people unable to fill their prescriptions, David Wuest, deputy executive secretary of the Nevada Pharmacy Board, said.
Wuest said the rules were written so pharmacies are not compelled to honor refills written before the rules took effect. The law says pharmacies "may," not "shall" honor such refills, Wuest said.
"We can't force a pharmacy to fill a prescription," Wuest said. "It's up to the pharmacist and doctor to determine whether it's a legitimate use."
Some doctors braced for pharmacies becoming more "drug shy" in honoring requests for hydrocodone combination products because the new classification.
"The unintended consequences of these laws is to make it more difficult for my patients in chronic pain to receive their medications," Dr. Mitchell Forman, a Las Vegas rheumatologist.
The situation is worse than at any time in the nearly 40 years Forman has been practicing medicine in Southern Nevada.
Forman was told one pharmacy chain in Southern Nevada arbitrarily reduced its inventory of hydrocodone products by 30 percent to lessen the risk of being caught up in any regulatory action.
"That means a person could get a legal prescription from a licensed physician, and if they take the prescription to their pharmacy, there's a good chance it will not be filled," said Forman, who also is president of the Nevada State Medical Association. "There's something wrong with that."
In addition to methadone, Michael has considered tramadol and codeine as alternatives for his patients having problems acquiring their regular prescriptions.
Any such change in medications also might require an additional office visit, Michael said, which would be a hardship for some of his patients.
Contact Steven Moore at smoore@reviewjournal.com or 702-380-4563.