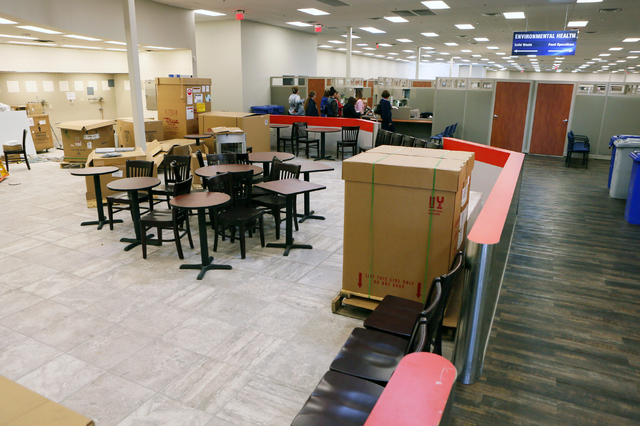 A few splashes of red paint remind visitors that the new Southern Nevada Health District facility hasn't completed its makeover yet.
The 110,000-square-foot space, which formerly housed a Target store, officially debuted during an open house Tuesday. The building is in the final stages of an $11 million renovation that began in July.
Where the garden center used to be, now stands an information technology department.
The old Target dining area is under construction, but it'll be transformed into the Aroma Cafe, an eatery managed by the Nevada Department of Employment, Training and Rehabilitation.
Health district Administration Director Andrew J. Glass said the space is still a work in progress, but the new facility lets the district offer a one-stop shop for services.
"It had to be accessible. It had to be within an area where we have a lot of the population that we service affordable," he said. "It had to be a building that was going to be able to hold all of our services, and it had to be affordable."
At the open house, Las Vegas Mayor Carolyn Goodman declared Tuesday Southern Nevada Health District Day and complimented the district for its central location near U.S. Highway 95 and two bus routes.
"It's just exciting and wonderful for those of us who've been around a long time," Goodman said.
The district moved to the space at 280 S. Decatur Blvd., near Meadows Lane, from a 160,000-square-foot building at 330 S. Valley View Blvd., which it rented for about three years, Glass said.
Rent for the Valley View building and another property on Shadow Lane cost the district roughly $250,000 a month, he said.
The new building, four adjacent spaces and the parking lot were purchased for $6.5 million in December 2014. The adjacent storefronts now house units including emergency medical services and birth and death certificates.
Special purpose funds covered the cost of the sale and renovation. The city of Las Vegas also awarded the district $200,000 in redevelopment funding, Glass said.
Services including family planning, sexual health and epidemiology, which were at the Shadow Lane facility, have been moved to the new building.
"We were able to bring everybody together," Glass said. "There's a lot more synergy between staff that wouldn't have been able to happen before."
Family planning, which offers birth control, breast exams and additional services, will also continue to be offered at the east Las Vegas office near North Nellis Boulevard and Stewart Avenue. The environmental health division's plan review services will not move from the city of Las Vegas' Business Development office.
Contact Pashtana Usufzy at pusufzy@reviewjournal.com or 702-380-4563. Find her on Twitter: @pashtana_u