Specialists help kids, families navigate tough situations
September 24, 2017 - 10:53 am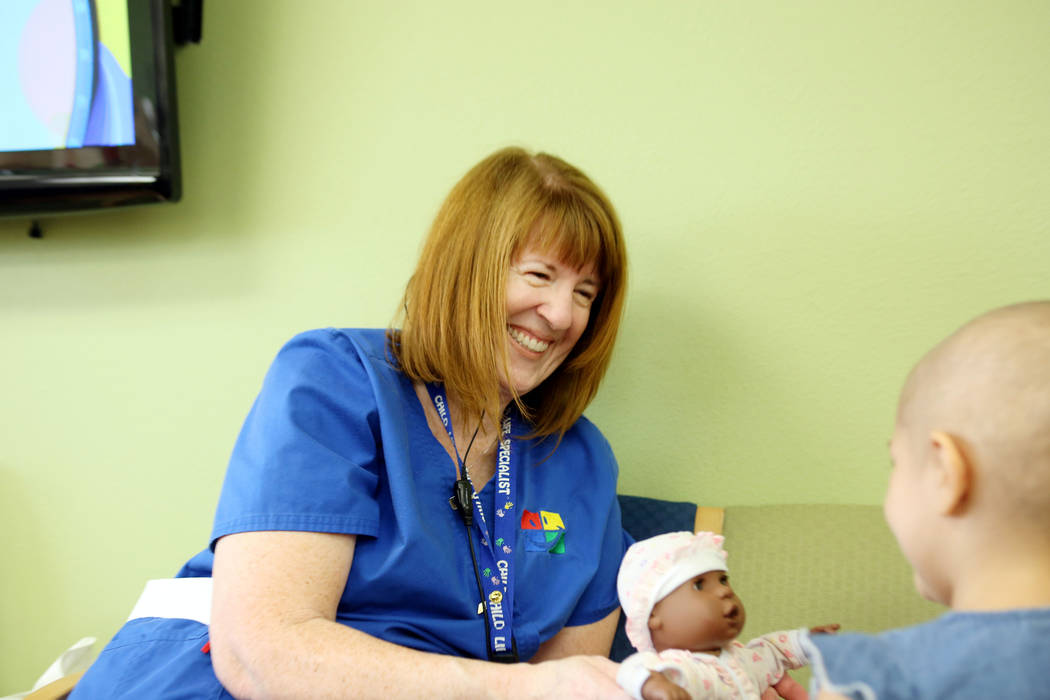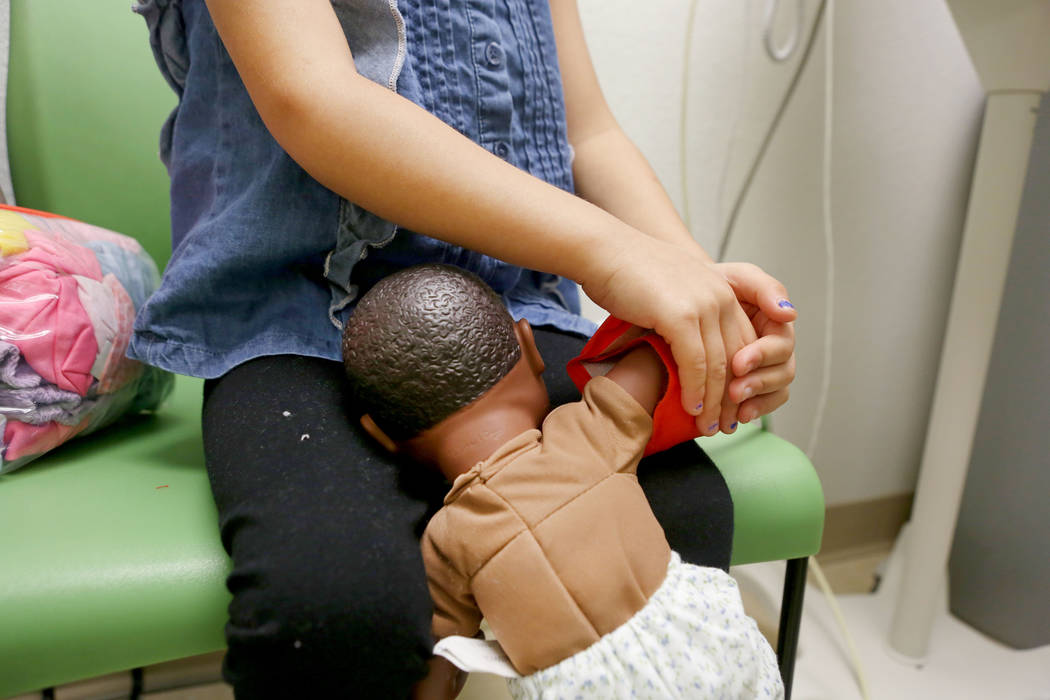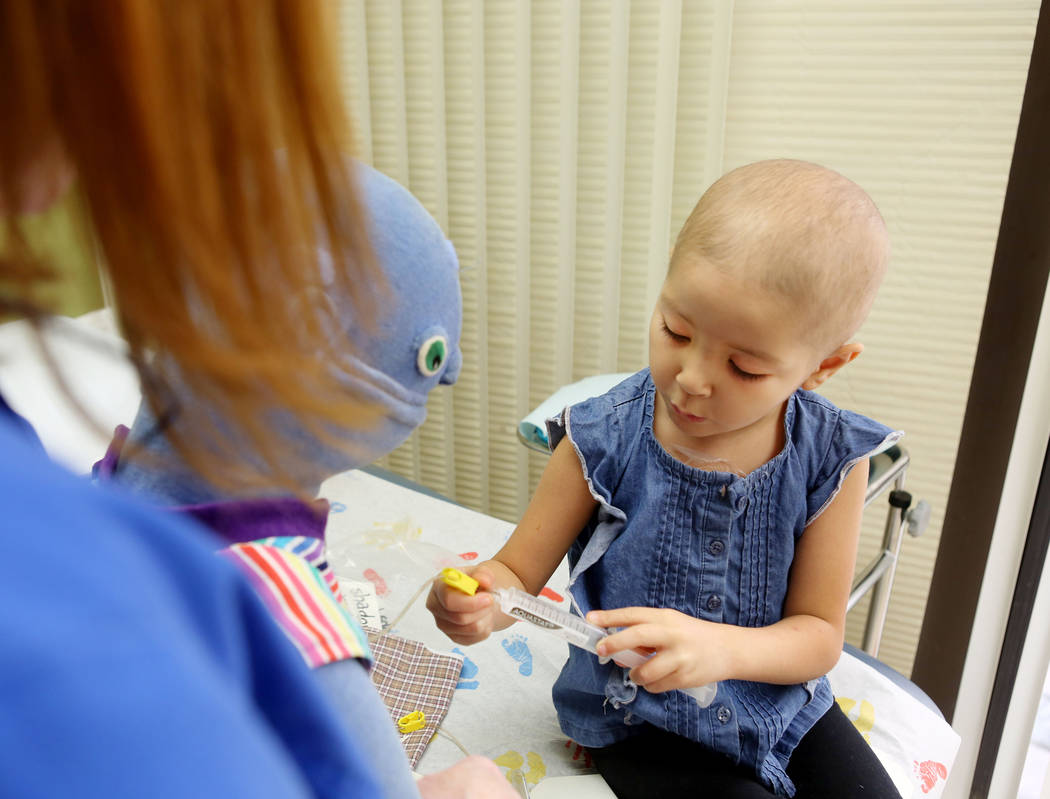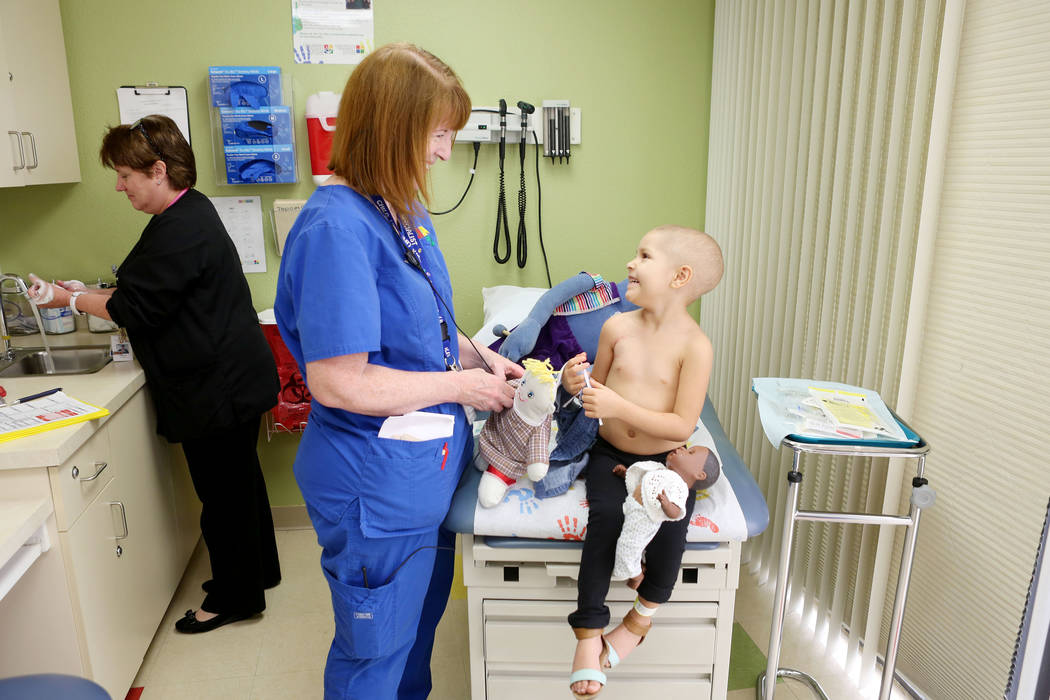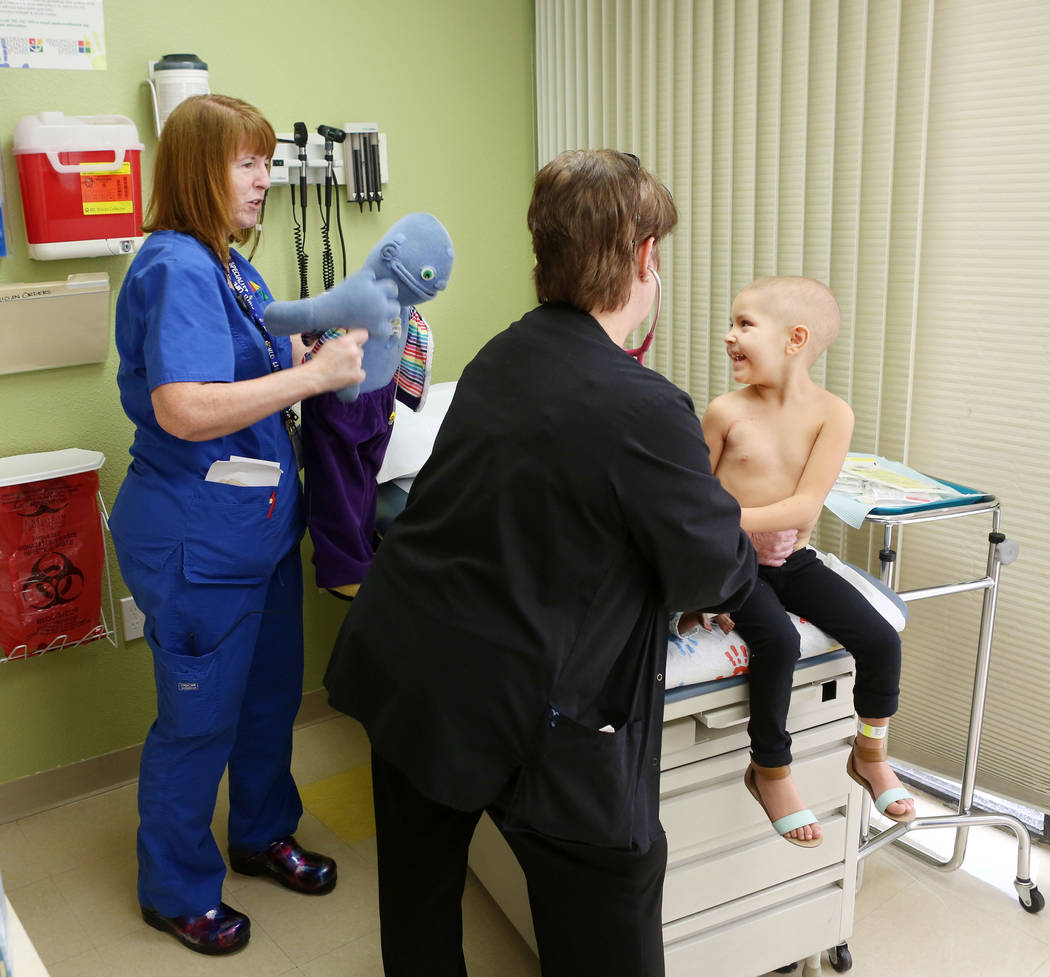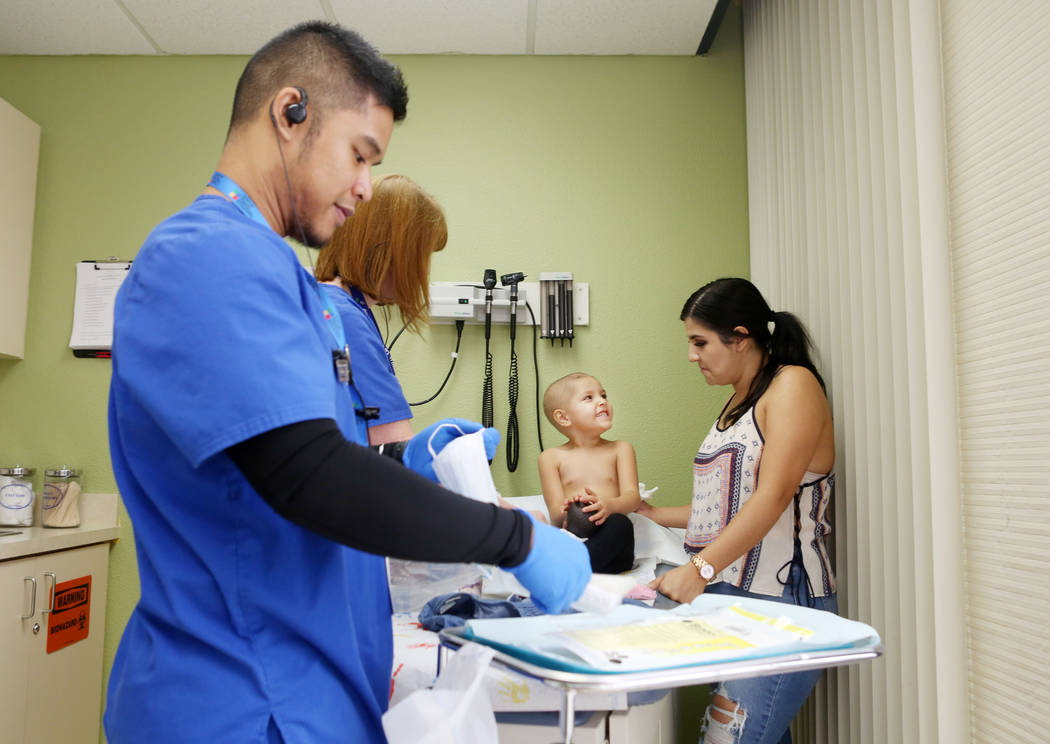 When I see the boys and girls at the Children's Specialty Center of Nevada, I want to wrap my arms around them and tell them everything will be fine.
So that just like that, their life-threatening cancers and rare diseases would disappear.
If only it were that easy, if only a hug, the very real human impulse to protect children from illness and pain, would immediately translate into life-saving action. If only that embrace would give the parents of these little ones a respite right now from the stress that makes a good night's sleep a seemingly impossible dream.
And when I meet people who work at the center, I feel their empathy for children and their families, and I appreciate the talent, tenacity and patience it takes to realistically help them face the frightening medical conditions that threaten to wipe out their hope.
Sue Collins Waltermeyer is a child life specialist at the center, which is run by the Cure 4 The Kids Foundation. For the past 30 years in clinics or hospitals, she has helped children and families cope with the challenges of illness with information and guidance tailored for them. Waltermeyer provides age-appropriate preparation for medical procedures through play and self-expression exercises.
On this day, she meets 21-year-old Marisa Velasco and her 4-year-old daughter, Madilyn Cash, in the reception area of the center, a place where no patient is ever turned away from treatment for financial reasons.
Madilyn, bless her heart, was diagnosed with leukemia in February and receives chemotherapy for the blood cancer every 10 days. That therapy, administered through a port implanted in her tiny chest, made her waist length hair fall out in July.
"She doesn't understand why all this is happening to her," says Velasco, smiling as she watches her daughter put yet another new outfit on a doll she's brought with her. "She just want to have fun like other kids."
Fun, or as close to it as possible, is what Waltermeyer works to bring Madilyn during the six hours she spends at the clinic receiving chemo and other therapy. Once Madilyn and her mother are in the treatment area, the 54-year-old woman Madilyn calls Miss Sue gives the little girl a "shadow buddy" doll and medical devices with which to treat it.
"Can you show me how your shadow buddy gets treated just like you?" Miss Sue says.
In a few minutes Madilyn has the doll outfitted with a port-like device and shows how medicine will be injected, just as Miss Sue demonstrated for her in previous weeks.
Crucial care component
That kind of medical play, says Dr. Kanyalakshmi Ayyanar, director of oncology at the clinic across the street from Sunrise Hospital, is crucial in treatment.
"She deals with the psycho-social needs of a child, makes our clinic kid friendly," she says. "She helps overcome the fear of the unknown, makes treatment less scary, allows children to go through their treatment with far less anxiety. I actually have patients ask me if they can bring Miss Sue to their treatment."
Dr. Kathy Mahon, a retired pediatric ophthalmologist and a member of the Assistance League of Las Vegas, which donates the shadow buddies to the clinic, says it's important that a child is able to explain and show others what they deal with.
"Understanding is so important both to them and their friendships," she notes. "They can actually model what's going on in their lives."
As she did with Madilyn, Miss Sue often distracts a child during what can be uncomfortable tests by singing a song that the youngster knows — a practice that inevitably soon has the youngster singing as well. And there are games to play on an iPad, houses and forts to make with Play-Doh.
She also exhibits feelings, worries and fears patients might have through a big blue puppet named Jaimie, who appears to have been taken off the set of "The Muppet Show." The kids end up acting as doctors, helping Jaimie overcome anxiety.
"Every child is different," says Waltermeyer, who with her husband Bruce, adopted a child who had a cancerous kidney tumor more than a decade ago. She's now healthy. "What works to help one child, won't help another."
Nicole Norona, whose 4-year-old daughter, Ciera, has leukemia, is amazed at how positive Waltermeyer always remains.
"My daughter will get apprehensive and anxious about blood tests and Miss Sue can bring the anxiety level down by blowing bubbles with her, or by singing one of the 100 songs she knows or by coming in with toys that make noise," Norona says. "She's always putting maximum effort into ensuring that she's a calming force in a very stressful situation."
'Calm in the storm'
Mary Soto, whose 4-year-old son, Teddy, receives treatment for hemophilia, says when kids "are freaking out about the pain of their treatments and their parents are flustered," Waltermeyer is "the calm in the storm," the one who gets kids to talk about their favorite colors and to name the colors in the rainbow.
"Teddy always looks for Miss Sue," she says. "He knows she'll help him out."
Waltermeyer, who's served in a similar capacity for both Sunrise Hospital and the Candlelighters Childhood Cancer Foundation of Nevada, finds her work at the center always challenging, always rewarding.
"I get a lot of satisfaction from taking a scary situation and making it less scary, from teaching coping techniques children and parents can use," she says. "I can't change what's happening, but I can help them better navigate a difficult situation."
Paul Harasim's column runs Mondays in Health. Contact him at pharasim@reviewjournal.com or 702-387-5273. Follow @pharasim on Twitter.
Center's services
Among the services that the Children's Specialty Center of Nevada (cure4thekids.org) offers are:
■ Pediatric and young adult oncology
■ Pediatric and adult hematology (Hemophilia Treatment Center of Nevada)
■ Pediatric rheumatology
■ Pediatric neuropsychology
■ Pediatric palliative care
■ Pediatric sickle cell disease and hemoglobinopathies
■ Pediatric clinical psychology
Cure 4 The Kids Foundation
​■ Cure 4 The Kids Foundation operates the Children's Specialty Center of Nevada, the only nonprofit pediatric cancer outpatient treatment center in the state, and the Hemophilia Treatment Center of Nevada.
■ In 2015, Children's Specialty Center had 21,587 clinic visits, treating nearly 3,700 patients.
■ Since 2006, the Children's Specialty Center has treated more than 11,000 patients, and more than 500 have received assistance through the Charity Care Plan.
■ The Hemophilia Treatment Center has clinics in Las Vegas and Reno , and sends medical teams around the state to offer treatment in Ely, Winnemucca, Elko and the Owyhee Indian Community.
■ In 2012, Cure 4 The Kids Foundation received accreditation by The Joint Commission, including the Gold Seal of Approval.
■ No child is turned away from receiving treatment that will save his or her life due to a lack of insurance or inability to pay.