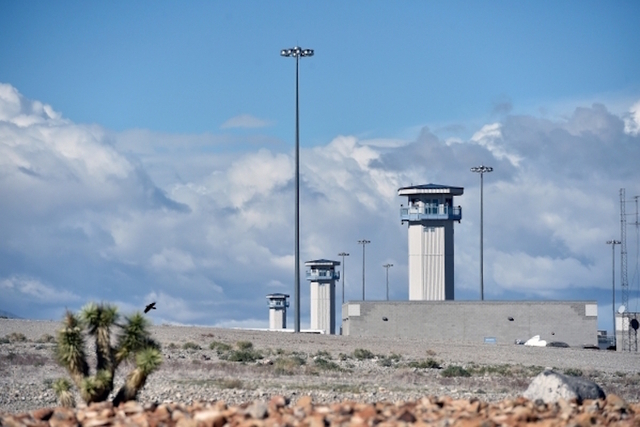 A month after the U.S. Department of Justice found the state's Corrections Department discriminated against inmates with HIV and disabilities, officials promised a complete turnaround.
Less than two weeks after offering that promise, they're taking action, according to a Nevada Department of Corrections representative.
"We don't have a time limit, but we're not wasting any time," said spokeswoman Brooke Keast.
Last week the department removed a medical code from its computer system that could reveal a prisoner's HIV-positive status to unauthorized staffers.
Department Director James Dzurenda, who began his job in April, called for staff to prevent unauthorized access to information regarding inmates' HIV statuses after receiving the June 20 Justice Department letter.
The letter, prompted by complaints from HIV-positive inmates at High Desert State Prison in Indian Springs, found the department was housing inmates with HIV separately from other inmates, thereby divulging the prisoners' medical information.
The Justice Department also found HIV-positive inmates were being barred by prison staffers from culinary jobs in the facilities, which violates Department of Corrections guidelines.
Inmates with HIV and disabilities were also being denied opportunities to earn work credit and reduce their sentences at lower-security conservation camps and transitional-housing facilities, the letter said.
Dzurenda told the Review-Journal last month that he was shocked to learn of the violations and that the law "prohibits agencies from doing what we were doing."
Now, corrections officials and staffers are focusing on making the changes laid out in their promise.
Among the changes is discussing housing with HIV-positive inmates.
Because the number of staffers allowed access to an inmate's HIV status is small, few workers can meet with HIV-positive prisoners to discuss their eligibility to move out of segregated housing and whether or not they want to move, Keast said.
She added that the process to have those conversations is under way but no timeline was immediately available.
Director of The Center for Prisoner Health and Human Rights Josiah D. Rich, a doctor and Brown University professor, said the need for HIV-positive inmate privacy is great and that there's no proven reason for segregated housing.
"The confidentiality issue is a real one," he said. "There is very real stigma about HIV and fear and ignorance."
Rich said he believes prisons should offer routine HIV testing and protect the confidentiality of inmates who test positive.
Keast said the Corrections Department has about 130 HIV-positive individuals in custody and that prisoners are screened when they enter custody, when they leave, and if there's suspicion that they may have contracted the virus.
Reports still need to be made to the Justice Department about the findings of the letter, and the staff is working to educate corrections officers and others about the changes, Keast said.
Contact Pashtana Usufzy at pusufzy@reviewjournal.com or 702-380-4563. Follow @pashtana_u on Twitter.