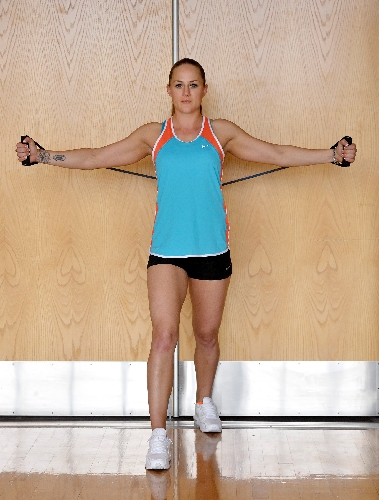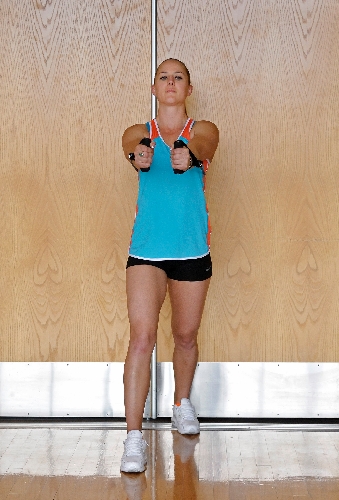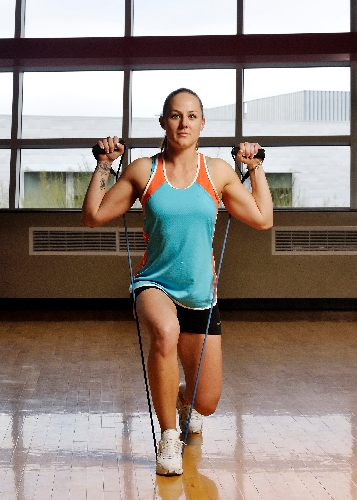 Maybe they're in the closet. Or the bottom of your gym bag. Possibly among the kids' toys. Stretchy bands are small, lightweight, versatile and easily misplaced. Don't feel bad; I can't find mine half the time, either.
Once you find them or buy a new set, stretchy bands are a great way to add resistance without purchasing expensive machines and cluttering up the garage with weights. You also can take them with you on business trips and vacations to maintain your conditioning.
Resistance bands can be purchased at almost every sporting goods store and in fitness aisles at your favorite retailers. They come in a variety of resistance levels and colors. Most bands have handles at each end, while others can be a closed circle.
Anchoring bands is not difficult. Most sets come with a door attachment for easy setup and takedown. Just close a door over the nylon strap and thread the band through the loop. A bulky weighted end keeps the strap from slipping through the gap in the door and its frame. Bands also can be anchored to railings at your gym or to a strong, trusted workout buddy.
Anchor height depends on the particular exercise you're performing. Most exercises require the anchor point to be at waist height while others can be done from higher or lower anchor points. Some exercises require the band be anchored by the feet.
When resistance bands are stretched the resistance increases. The farther they are stretched the more energy is stored. Speaking from experience, if you don't have control of them, they can fling back on you. Bands force you to control your movements. This helps create stability and is why I love using them.
Bands can be used by any person at any fitness level. If you have ever been to a rehab facility you will notice that they have bands a plenty. Beginners should use bands for initial stability training for both upper and lower body. Those building muscle can use them on biceps, triceps and shoulders. They allow for fast grip changes and resistance can easily be added or subtracted by taking a step toward or away from the anchor point. Those just looking to stay healthy can use them for a quick total body workout without taking up hours at the gym.
Every muscle group can be targeted with resistance bands. Chest, back, arms, shoulders and abs are a few of the most common groups people work with bands. They also can be used to work the legs by doing squats and lunges. Using closed-circle bands provides a brutal inner thigh and glute routine.
Today I have picked a band chest fly and a band lunge to show you. Flys will help develop upper-body strength and stability. Do more repetitions with a slower tempo to condition the muscles without building bulk. If you want those big muscles, do fewer reps with more resistance.
Performing lunges with a resistance band will safely add resistance so you can raise your lunges to a new level of awesome. To brush up on proper lunge form, see my earlier column on lunges.
Chris Huth is a Las Vegas trainer. You can contact him at 702trainer@gmail.com. Before beginning any exercise program, consult your physician.