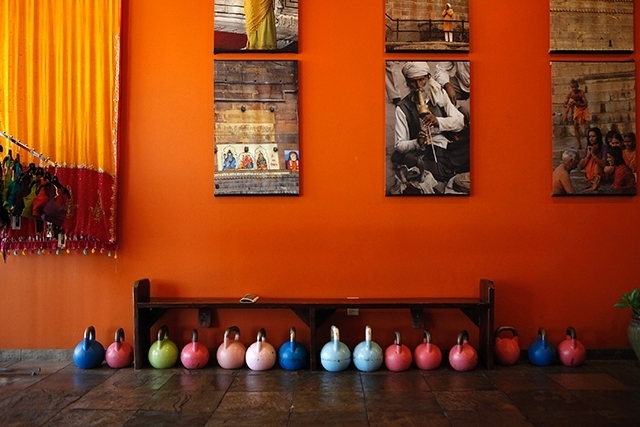 Stephanie Dixon had to get creative when she opened her first yoga studio in 2009.
After all, the city was in the middle of an epic recession — not the best time to persuade consumers to pony up monthly fees to exercise. So Dixon worked her yoga-community connections, launched a newsletter and handed out business cards everywhere she went. The effort paid off: Bikram Yoga Summerlin, at Washington Avenue and Buffalo Drive, grew its class count more than 40 percent in its first year. Her student numbers grew every year as well, until January, when Dixon said she saw a noticeable drop in attendance.
It was time for a new approach.
"My Bikram students were going to other places to get a different type of workout. I just think people are looking for more variety, and having only Bikram classes was very limiting for the studio," Dixon said.
So Dixon has dropped the Bikram brand and overhauled her class lineup. She hired her first PR agency a month ago, and is partnering with TruFusion, a new yoga studio in south Las Vegas, to share memberships, instructors and class routines.
On the schedule are hot Pilates, vinyasa yoga and a "barefoot bootcamp" class that combines yoga, cardiovascular work and weight lifting. The studio has added workshops and seminars featuring yoga authors, and its kettlebell and yin yoga classes in Desert Breeze park have drawn in curious passers-by. And beyond Bikram's 90-minute grind, Summerlin Yoga has added classes that last just an hour.
For long time customers who don't want to change up their routine, the studio continues to offer a couple of traditional hot yoga classes each day.
The diversification strategy is showing early results, Dixon said. She sees veteran students taking multiple classes at the studio, and customer feedback is overwhelmingly positive, she said.
"Students love having a lot of different classes to choose from," she said.
Dixon is even considering switching back into growth mode. She's working with TruFusion owner Luke Hoffman, whom she met through a mutual friend, to add still more class types, and she's eyeing new retail space to expand the studio and allow for more classes, as well as seminars on health and nutrition.
It's all part of the one, big lesson Dixon said she's learned in her four years in operation.
"As a business owner, you have to be open to change. You have to keep growing and evolving. Sometimes, you just don't know what's going to happen or how things will work out, so you need to be ready to take a new direction."
Contact reporter Jennifer Robison at jrobison@reviewjournal.com or 702-380-4512. Follow @J_Robison1 on Twitter.