Tai chi offers benefits for older adults
January 21, 2018 - 10:07 am
Updated January 22, 2018 - 6:40 am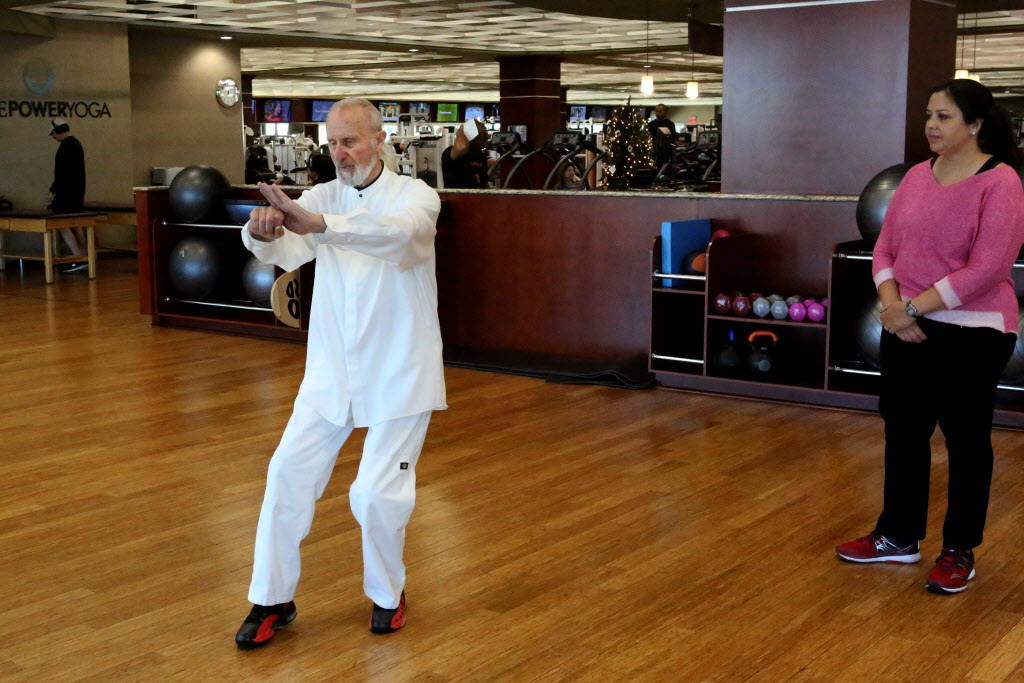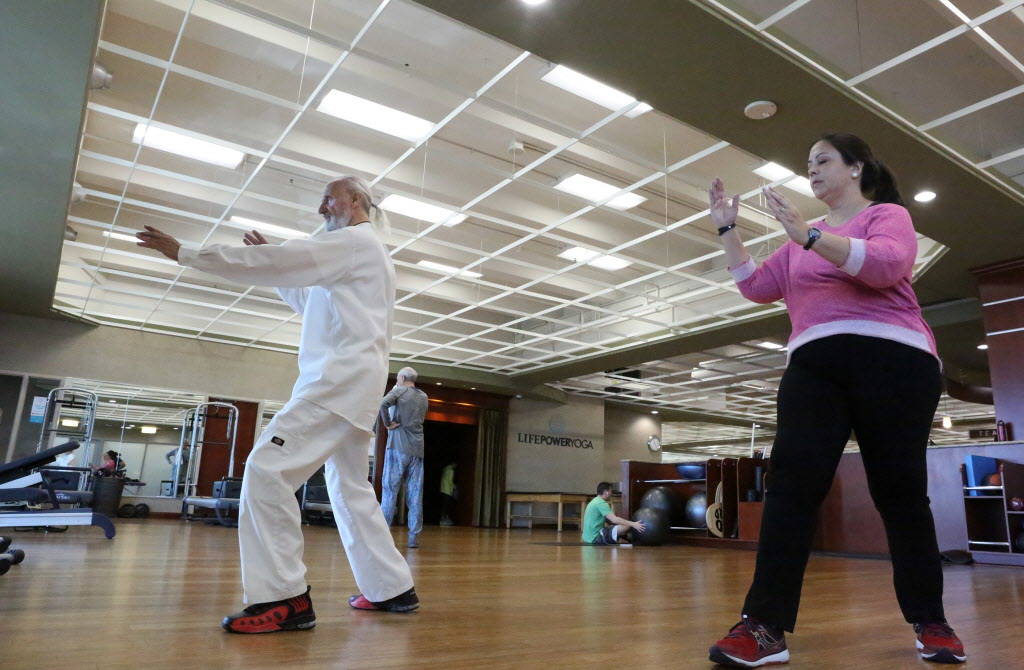 Tai chi is nothing short of ferocious if you ask Laurence Berkley.
The 77-year-old Sifu, or tai chi teacher, has traveled the world — destinations such as Hong Kong, Japan, Myanmar and Spain — over the past 50-plus years, mastering the art of flexibility and balance. Today, he's the oldest trainer at Life Time in Summerlin, where, under the moniker "fitness ambassador," Berkley shares his love for the martial art in one-on-one and small group classes.
"I got very interested in fitness — which it wasn't called that in the '60s, it was just called exercise," said Berkley, who acknowledges he resembles a modern version of the character Pai Mei from Quentin Tarantino's "Kill Bill: Vol. 2."
Two karate teachers in the Los Angeles area, where Berkley lived at the time, turned him on to tai chi and yoga after Berkley received his black belt in karate in 1963.
On a recent Wednesday, Berkley lifted his arms and legs, demonstrating for a student a set of proper movements in the practice of tai chi. He wore a white robe-and-pant set, sported a silver ponytail with a thick beard to complement, and broke the martial-art mystique with a pair of red-and-black sneakers, a look his manager at the gym recently approved, he said.
Tai chi is an ancient Chinese martial art, using breathing and movement for exercise and relaxation. The National Institute of Aging promotes it as a way to stay healthy later in life.
A 2016 study from the International Journal of Gerontology said the practice can help prevent falls among older adults. It can also improve bone and heart health, ease pain from osteoarthritis and improve sleep.
Tai chi, which can be practiced in slow motion up to what Berkley calls a "windstorm," has helped the lanky septuagenarian stay limber and keep his balance as he ages.
That's partially because tai chi helps manage stress and inflammation, said Sherri Robinson, a Life Time trainer and team development manager.
"It's probably something I should be doing, to be honest with you," said Robinson, now 65. "We strive to keep chronic inflammation at bay, because that can lead to illness."
Traditionally, the study is practiced slowly, Berkley said, "so that the nervous system can really express itself throughout the entire body."
Even then, it's a workout, he said — "Like if you took a walk for 50 minutes."
But if a student wants to emphasize cardio, Berkley picks up the pace.
"After doing a lot of those movements for 50 minutes, you're soaking wet."
At a recent class with 50-year-old student Connie Kellers, Berkley moved slowly. Kellers, who began tai chi in March, said she has less lower back pain now.
"I had the 'office worker hunch,' and I think he's really helped me think about standing up straight, using balance, even just everyday sitting down and standing up," she said.
"It's much more functional life skills."
Berkley has worked with a diverse set of clients. He trained Red Hot Chili Peppers band members in Los Angeles in the '90s, early in the band's career. They later used some of the moves on stage.
He's also worked with clients across the age spectrum. The kids call him "Grandfather Tai Chi," while adults ask whether the practice could help older relatives.
The answer is yes.
"It's movement without any strain. This is not, 'No pain, no gain,' this is, 'No pain, you progress," Berkley said.
And, he said, it has kept him young.
After a major surgery, Berkley's doctor asked him what he did for exercise. Berkley answered: "Yoga, Pilates and tai chi."
"You know what the surgeon said?" Berkley recalled. " 'It saved your life. Keep it going.' "
Contact Jessie Bekker at jbekker@reviewjournal.com or 702-380-4563. Follow @jessiebekks on Twitter.
Tai chi and martial arts around Las Vegas
— Laurence Berkley teaches one-on-one and small group classes Wednesday, Friday and Sunday at Life Time in Summerlin. There is no cost for members, and non-members pay $30. Call 702-228-2611 for more information.
— Body & Brain Yoga and Tai Chi has locations in northwest Las Vegas, Summerlin and Henderson. Visit their website at https://www.bodynbrain.com/ for more information.
— Las Vegas Tai Chi holds classes at the Stallion Mountain Golf Club on Las Vegas' east side. Call 702-431-4683 for more information.
— Shaolin Tai Chi Cultural Center is located on Eastern Avenue in Henderson and holds classes Wednesday through Sunday. Visit http://www.shaolintaichicenter.com/ for more information.
— YMCA of Southern Nevada offers classes at four locations around the valley. Visit https://www.lasvegasymca.org/schedules for more information.
— Lohan School of Shaolin is located just west of the Strip. Visit https://lohanschool.org/classes for more information.