Telemedicine helps VA cut wait times, increase specialist access
August 21, 2016 - 10:00 pm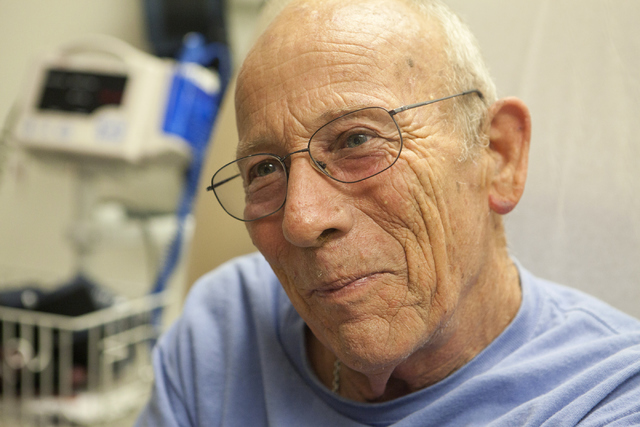 Whether by screen from a distant health care clinic or via monitoring equipment at home, local military veterans are accessing health care in new ways.
The Department of Veterans Affairs' Southern Nevada Healthcare System says local veterans are benefiting from increased use of telemedicine — technology that connects doctors and patients in distant locations – through reduced appointment wait times and increased access to medical specialists.
The health subcommittee of the House Committee on Veterans' Affairs earlier this month highlighted the role that the technology is playing in reducing patient wait times, a problem that has plagued the VA system.
One study by the VA and Dartmouth College found telemedicine at a Vermont VA hospital "resulted in an average travel savings of 145 miles and 142 minutes per visit" for veterans.
The local VA health district says it's using the technology to get veterans quicker access to care that is also more convenient. It has implemented more than 20 "Telehealth" programs since 2011 offering services such as dermatology, spinal health and audiology, said Dr. Alicia Brown, the district's program manager.
"Sometimes there are specialties that we just cannot access here in Las Vegas," she said.
She added that Telehealth tools often allow for same-day access to a physician or technician. In the case of an X-ray, for example, a patient could undergo a scan the same day he or she makes an appointment and receive physician feedback within 48 hours, Brown said.
Patients can visit a local VA health clinic to connect with a distant doctor via a video, but some veterans with chronic conditions have monitoring equipment at home that is checked from afar by nurses.
Kevin Galpin, acting executive director for Telehealth Services for the Veterans Health Administration, testified at last week's hearing that more than 2 million veterans have utilized the technology since 2002.
One particular positive of telemedicine is its ability to reach veterans in rural areas, Galpin said.
Las Vegas resident and Air Force veteran Justin Ruschell has experienced the benefit firsthand.
Ruschell underwent surgery in 2007 for a herniated disc he suffered while working as a medic. Last year, after he began suffering severe back pain, he found the local VA did not have a neurosurgeon available and that he'd face a long wait if he decided to see a local doctor outside the VA system.
Fortunately, the local VA health district was able to connect him with a VA specialist in Los Angeles. The surgeon examined Ruschell's chart, spoke with him via teleconference, then scheduled the surgery.
"It's tough having the pains that you do with any sort of spinal issues, and the fact that they had this readily available when I was in my most dire need, it made it just such a pleasurable experience," Ruschell said.
Still, telemedicine is not a panacea for veterans.
Rep. Tony Cárdenas, D-California, expressed concern at the hearing that older veterans might not feel comfortable with telemedicine and that primary care physicians could be left out of the process when clients consult with specialists.
But Chuck W. Ramey, spokesman for the VA in Southern Nevada, said the district works closely with patients' primary care physicians to ensure a continuum of care.
Brown also emphasized that the local VA health system is working to educate its clients on the technology and to expand the Telehealth programs offered.
"In the future, I see more doctors everywhere using it," she said.
Contact Pashtana Usufzy at pusufzy@reviewjournal.com or 702-380-4563. Find@pashtana_u on Twitter.