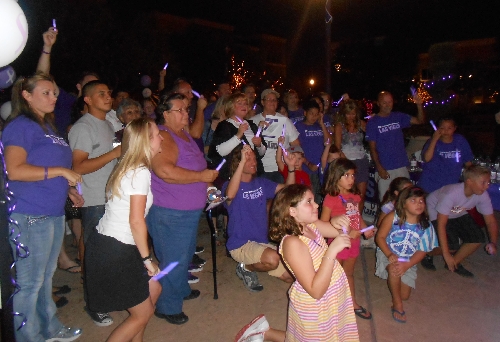 The words almost didn't make it out of Rebecca Shanahan's mouth – they were stuck somewhere in her throat as she remembered her loved ones who died from pancreatic cancer.
"A year ago today, my best friend died of pancreatic cancer," Shanahan said. "Ten days before she died, my father was diagnosed. In March, my father lost his battle. I share your grief."
Shanahan, the Las Vegas community representative for the Pancreatic Cancer Action Network, choked back tears while balancing the somber message of loss and hope at Las Vegas' first Purple Light Vigil Sept. 30 at The District at Green Valley Ranch, 2240 Village Walk Drive. The event was held in about 60 cities nationwide.
The Pancreatic Cancer Action Network is a national network working to create more research and awareness of pancreatic cancer, the fourth-leading cause of cancer deaths in the U.S.
"They think it will become the second by 2020," Shanahan said. "It could be as soon as 2015."
This year, nearly 44,000 Americans are expected to be diagnosed with pancreatic caner, and more than 37,000 are estimated to die from it.
Shanahan said it is the only major cancer with a five-year survival rate at 6 percent. According to the group, 74 percent of patients die in the first year.
"There are no screening tools and no effective treatment options," Shanahan said.
With a crack of the purple glow stick – each one representing a survivor or the memory of someone who died from pancreatic cancer – people stood in the silence as name after name was called. There were 48 names called that night for people who died.
More than 200 people signed up for the event at The District, and seven survivors were present.
Like Shanahan, some attendees had multiple experiences with pancreatic cancer.
Barbara Yager's parents died of pancreatic cancer 16 days apart in August 2004.
Her mother was diagnosed about a year before she died, while her father found out a mere six weeks.
"It was rapid and aggressive," Yager said.
A few years after her parents died, her aunt, who was her mother's only surviving sibling, also died from pancreatic cancer.
"I came to the event in their memory," Yager said. "I wanted to do something to honor their fight."
Yager said she did not realize the challenges and complications of the disease until she saw it firsthand as her mother's caregiver. She since has been part of the volunteer caregiver network, offering hope and assistance to families in need.
Among the tears and camaraderie of shared experience was also a beacon of hope named Jeana Churchill. Churchill, who was diagnosed in March 2011, bears a title few do: pancreatic cancer survivor.
"I didn't know what pancreatic cancer was," Churchill said. "I barely knew where my pancreas was."
Churchill said that in the past year, she has learned the ups and downs that come with the disease. Despite all odds, she survived and now shares her inspiration.
"This is my job now," Churchill said. "There are so few survivors. This makes a difference."
Despite the aura of sadness, the event also focused on raising awareness of pancreatic cancer.
"This needs a lot more funding and a lot more research," Yager said. "We need to get the word out and bring awareness to the community."
Shanahan said that for most people, the issue is out of sight, out of mind.
"Forty-four thousand might not seem staggering when you hear about other cancers," Shanahan said. "We are trying to get a grass-roots effort to get people to talk about it."
Shanahan said the organization's mission is to double the survival rate by 2020. One way it is doing that is by lobbying for the passage of a bill to help provide funding to pancreatic cancer research.
"Only 2 percent of federal funding goes to pancreatic cancer," Shanahan said.
On Sept. 19, the U.S. House of Representatives unanimously passed the Recalcitrant Cancer Research Act of 2012. The bill supports research toward recalcitrant cancers, which are cancers with a five-year survival rate below 50 percent.
The Senate is expected to vote on the bill after the presidential election. If it passes, it will move to the president's desk for a signature.
To close the evening, Shanahan urged people to call their senators and prompt them to support the bill and make the cause a national priority.
Shanahan also called for people to cherish what they have.
"When you leave here, go home and hug your loved ones," Shanahan said. "We all know how quickly they can be taken from us. It could be a matter of months or sometimes days."
For more information, visit pancan.org/lasvegas.
Contact Henderson/Anthem View reporter Michael Lyle at mlyle@viewnews.com or 387-5201.