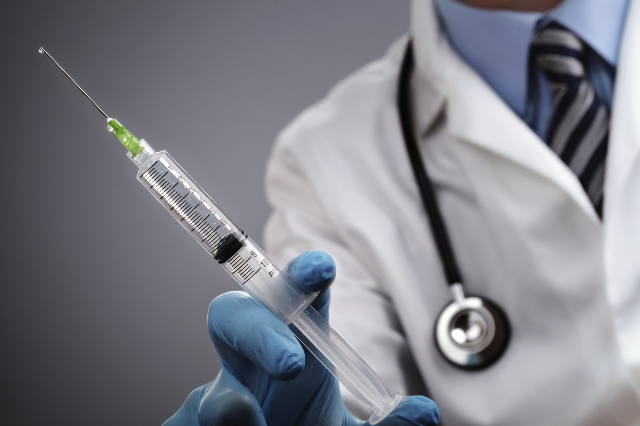 Medical experts agree that last year's flu shot wasn't particularly effective. So why even bother getting one again this year?
Because even a less-than-perfect flu shot offers health benefits, says Dr. Ronald Hedger, assistant dean of clinical skills training at Touro University Nevada College of Osteopathic Medicine.
Each year, the U.S. Centers for Disease Control and Prevention identifies flu viruses that are expected to circulate during the flu season and designs a vaccine with those viruses in mind. Last year, one variety of flu virus targeted by the vaccine mutated after the vaccine was developed, making the vaccine less effective than anticipated.
The CDC says it expects this year's vaccine to be more effective in providing protection against the flu. But even if last year's match wasn't perfect, flu vaccines offer "what's called a cross-reactivity to other strains," Hedger says.
That means that even if the vaccine misses a targeted strain, "the body builds a bit of immunity to other strains so that (a case of the flu) shouldn't be as severe," Hedger says. "It boosts your immune system enough to help some."
The result probably was a less severe course of the flu. "So you could still get it, and have a fever, but it could have been more severe if they had not received (the vaccine)," Hedger says.
The bottom line: Getting a flu shot every year "is definitely worth it," Hedger says.
"Now, the other thing is, people are under the impression, 'I got my flu shot today … and four days later, I got the flu anyway, so I'm not getting it.' Well, it takes two weeks to build that resistance," Hedger says.
So, if you do get the flu right after getting a shot, the most likely explanation is that you were exposed to the virus, and got the flu, even before you got the shot, Hedger says.
Note, also, that because of that two-week lead time, right now — before the flu season shifts into high gear — is a great time to get a flu shot.
So far, "a big outbreak of flu has not started nationwide," Hedger says "There have been sporadic cases but nothing major. So now is the perfect time to get it."
The CDC recommends flu shots for people ages 6 months and older. As always, those with chronic conditions should check with their health providers.
But, Hedger says, "I think the main contraindication would be someone who has had a bad reaction to a flu shot in the past."