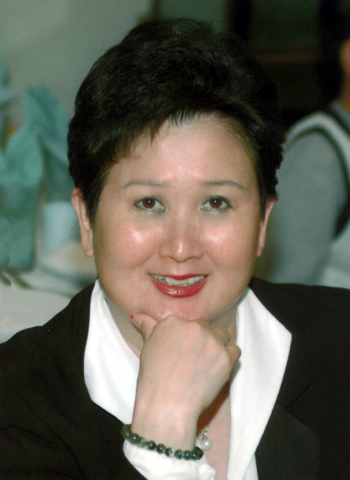 Hsiu Hsiang Grant was visiting in Taiwan in 2012 when she suddenly felt dizzy and fell for no apparent reason. Upon returning home to Las Vegas, she had a physical exam and discovered that a nodule had developed on the right side of her thyroid.
Grant went to see Dr. Milton Wong, a Las Vegas endocrinologist who specializes in diseases of the thyroid, and had an ultrasound-guided biopsy. The nodule was diagnosed as being cancerous and Grant opted to have the right side of her thyroid removed.
"I lost weight after the surgery and a lot of hair," Grant says. "Now I take Synthroid. One pill a day in the morning with an empty stomach."
Like the thermostat in your home that regulates heating and cooling, your thyroid, that bow tie-shaped gland just below the Adam's apple, keeps the body's metabolism on an even keel. It produces hormones that control functions of such organs as the heart, kidneys, brain and liver.
As Grant discovered, certain diseases occur when the thyroid doesn't operate properly. If it produces too much hormone, a condition called hyperthyroidism occurs. An individual may experience such symptoms as nervousness, weight loss even though proper eating is maintained, joint pain, difficulty in concentrating or frequent bowel movements.
When the thyroid is underactive in producing hormone, hypothyroidism occurs and a person experiences bouts of fatigue, constipation, weight gain, depression, poor appetite and other related symptoms.
Other diseases of the thyroid occur when nodules, or growths, develop or the thyroid becomes enlarged producing a goiter. A goiter may develop as the result of hyperthyroidism, hypothyroidism, or if nodules become cancerous.
Two more common thyroid diseases are:
■ Hashimoto's thyroiditis, a condition where the immune system turns against the body's own tissues and attacks the thyroid. This leads to hypothyroidism.
■ Grave's disease, in which the thyroid enlarges to twice its size or more and triggers hyperthyroid symptoms of increased heartbeat, muscle weakness, irritability and poor sleep.
Once Grant had a portion of her thyroid removed she developed hypothyroidism. Synthroid is a synthetic form of thyroxine, the same hormone that the thyroid produces. She has to take this now for the rest of her life.
Grant says she has a couple of nodules on the left side of her thyroid, but they don't appear to be cancerous and her doctor has advised to simply watch them for now.
"I get tired very easily and once in a while I get dizzy, but I feel fine now," Grant says. "In the beginning I was seeing the doctor every month, then every six weeks and now every six months."
Grant says she will get an ultrasound once a year to see whether any changes have occurred with the nodules. She doesn't know why she developed thyroid disease, except that her doctor said she must have been exposed to radiation at one time. She doesn't know how that could have happened.
Wong, an endocrinologist and founder of the Nevada Thyroid Institute, says roughly 5 percent of the population in America have thyroid problems and don't know it and about 1.2 percent have an autoimmune thyroid problem. He estimates that about 40 percent of nodules can't be felt during a routine physical exam.
"Thyroid surgery is safe, but removing a nodule that's not causing any trouble may cause complications such as creating hypothyroidism, or it could affect the parathyroid glands that regulate calcium in the blood," Wong says. "With thyroid nodules you can do a simple needle biopsy to see if they are cancerous. But most only require observation."
Wong says all newborn babies are initially screened for a condition called primary congenital hypothyroidism, in which the infants are unable to produce enough thyroid hormone. If the condition exists, thyroid hormone pills are given immediately to stop any threat of severe physical and mental impairment.
Infants with hypothyroid problems may exhibit some of these signs: skin appears yellow and the whites of the eyes are jaundiced, frequently chokes, face seems puffy and they have a large protruding tongue.
Dr. Charles Bingham, an endocrinologist with the Mayo Clinic Health System in Eau Claire, Wis., says most thyroid disease symptoms don't appear until they become severe. A blood test to screen for thyroid problems can be ordered by the primary care physician and an in-office simple examination can be performed.
Bingham says a patient is told to slowly drink a glass of water while the physician places his hands on the patient's neck to feel for nodules as the water slides down the throat. Another test involves using an ultrasound machine, much like the one used to image a pregnant woman, to check for nodules.
"It's an easy and safe test to do because it doesn't involve using radiation," Bingham says. "If nodules are seen and are large enough, then a biopsy can be done."
Protocols for treating thyroid disease have proven to be very effective:
For hyperthyroidism, thyroid-blocking medications can be prescribed to reduce overactivity; radioactive iodine pills may be used to shrink part of the thyroid; or surgery is performed to remove the thyroid.
With hypothyroidism, thyroid replacement hormones are prescribed in pill form to be taken once a day, or as directed by a physician.
Iodine deficiency has been linked to thyroid disease worldwide, Bingham says, but that is not a problem in the United States because of ionized salts and the availability of shellfish (which contain iodine). Yet, certain risk factors do exist for some people to develop hypothyroidism, according Mayo Clinic guidelines. These include:
■ Women older than age 60
■ If an autoimmune disease exists
■ You have a close relative (parent or grandparent) with an autoimmune disease
■ You received radiation to your neck or upper chest
■ Have had thyroid surgery (partial thyroidectomy)
■ Have been pregnant or delivered a baby within the past six months