Tips from doctors could keep you out of the ER on Memorial Day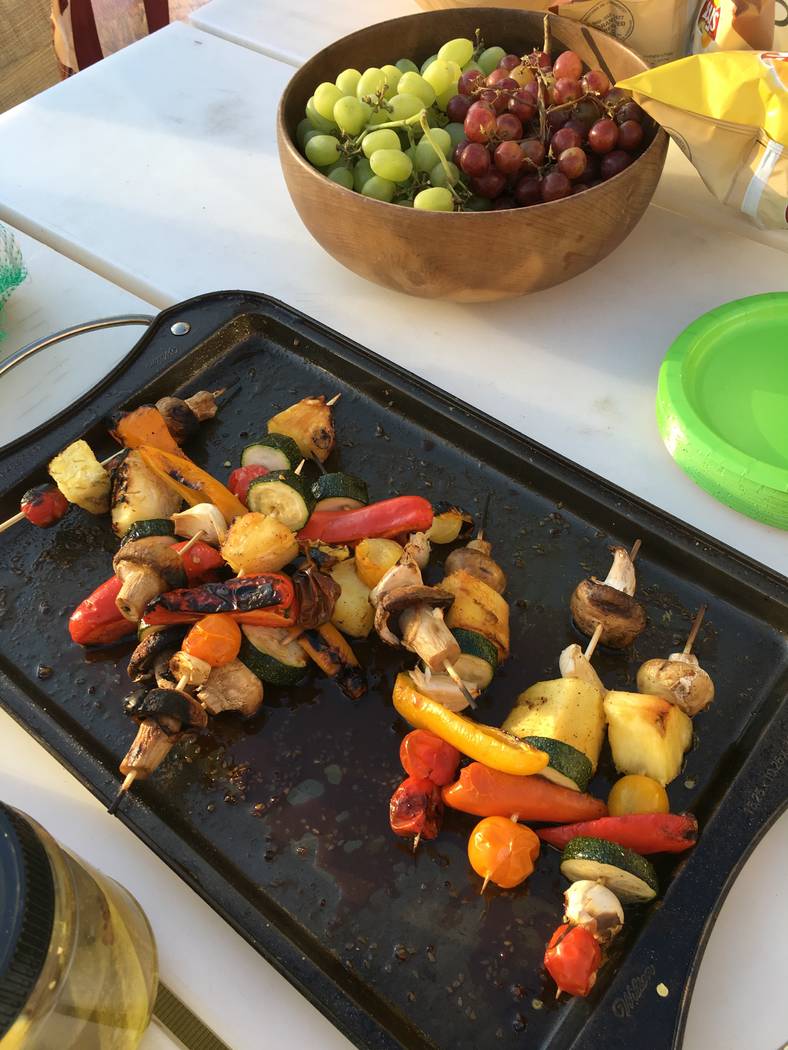 Who knew grilling in the backyard, enjoying a few adult beverages and laying by the pool could be so dangerous?
Your local emergency room physician, for starters.
It's Memorial Day weekend, and Las Vegas' locals and visitors are likely relaxing and celebrating the unofficial start of summer.
But fun in the sun doesn't come without its risks, say three local emergency room physicians who've seen their share of good times gone bad.
"Memorial Day weekend kicks off summer and of course in Las Vegas that's exciting," said Valley Hospital's Dr. Jeff Davidson. But it also means locals and, especially, tourists, are more susceptible to illness and injury like sunburn, heat exhaustion, drowning and food poisoning.
"With the excitement of pool season and being out for the weekend and barbecuing, many forget to take the standard precautions," he added.
Wear sunscreen and stay hydrated
Heat-related illness is among the most commonly treated issues at Sunrise Hospital Medical Center in the summertime, said Dr. Jaime Primerano.
"This being a vacation destination, a lot of people spend a lot of time in the sun. Sometimes, when drinking alcohol, they miss the early signs of heat-related injury," she said.
Staying hydrated with water and electrolyte-infused sports drinks and spending time in the shade are important ways to avoid heat exhaustion, Primerano said. Be alert to symptoms like an elevated pulse and rate of breathing, muscle cramping and extreme sweating, any of which may be signs of heat exhaustion.
In addition to drinking water, doctors advise against overconsumption of alcohol, which can lead to dehydration.
And don't forget the sunscreen, Davidson said. He's seen what he calls "horrendous burns," not just from sun exposure, but from scorching asphalt when people pass out due to heat exhaustion or intoxication.
That can lead to muscle breakdown, kidney failure and death in extreme cases, he said.
Designate a sober monitor and swim clean
The pool, while a fun way to cool down, poses drowning risks, doctors say. There were 10 drownings and 53 near-drownings in Clark County last year, 80 percent of which happened in swimming pools, according to the Southern Nevada Health District.
Designating a sober monitor to keep an eye on swimmers can help families avoid tragedy, Davidson said.
The health district also recommends showering with soap before swimming and checking diapers to avoid spreading infections through pool water.
Keep food cool
If you're grilling brats and burgers this Memorial Day, remember to keep meat chilled and separate from produce, the health district recommends. Food poisoning the day after Memorial Day is one of the most common reasons patients visit the ER at Dignity Health-St. Rose Dominican's San Martin location, Dr. Cole Sondrup said.
"We end up seeing a lot of abdominal pain, vomiting and diarrhea," he said. "Make sure your food is cooked, refrigerated and not sitting out for hours on end."
Leaving egg and dairy products, like potato salad, in the sun too long is another common culprit in food poisoning, Primerano said.
Lettuce should be washed thoroughly, too, Sondrup said. "We're seeing a lot of food poisoning from salad," he added.
Use insect repellant
The mosquitoes which can carry diseases like West Nile virus and the Zika virus live and breed in Las Vegas, but wearing insect repellants with DEET, Picaridin, IR3535, lemon eucalyptus oil (OLE) or 2-undecanone can help keep the bloodsuckers at bay, according to the health district.
Draining areas of standing water, where mosquitoes like to breed, and covering your skin can also aid in avoiding bug bites.
Contact Jessie Bekker at jbekker@reviewjournal.com or 702-380-4563. Follow @jessiebekks on Twitter.
If you're sick or injured
Accidents happen. If you find yourself needing to get to an ER, Sondrup says drive yourself, if you're able, or have someone else take you before dialing 9-1-1.
"Ambulances get very busy on these post-holiday days, and a lot of people don't realize that driving your car to the hospital is both cheaper and better for the medical system," Sondrup said.