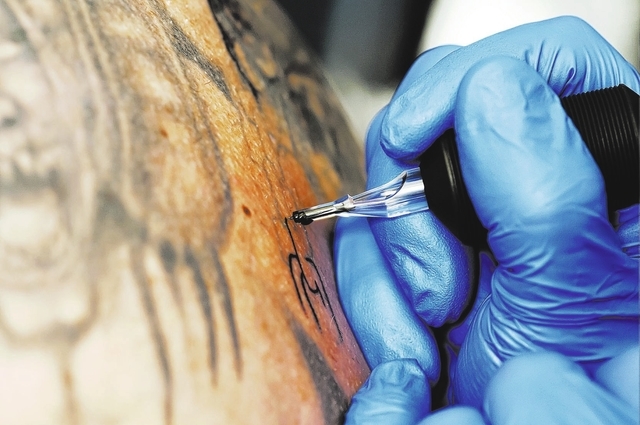 When a doctor or nurse sticks a needle into your arm, it's the practice of medicine. When a tattoo artist sticks a needle into your arm, it's the creation of art.
Questions of aesthetics and motivation aside, getting a tattoo isn't all that mechanically different from undergoing a medical procedure, and while getting a tattoo does carry potential health risks, usually they can be managed, says Dr. Jeffrey Ng, a Las Vegas family practice physician.
The first concern would be infection, Ng says, because blood-borne diseases such as hepatitis C and HIV can be passed from patron to patron if tattooing equipment isn't properly sterilized and proper hygienic practices aren't enforced.
So do your research beforehand about the studio and artist you plan to patronize. Ask for recommendations from people you trust, and ask artists about their credentials and experience. If you can, watch as someone else receives a tattoo. Be sure that needles, ink cups and other equipment are sterile and single-use, unwrapped or prepared as you watch. Make sure that the artist wears gloves. Make sure that the work environment is sterile and that the tattoo artist follows standard infection-control procedures.
The second concern would be potential allergic reactions. Some of the metallic salts used in tattoo inks and dyes — and even some plastic-based tattooing pigments — may cause allergic reactions, "and most people don't even think about that," he says. But experiencing an allergic reaction to the metals that give inks their color could send you to the emergency room.
A studio probably will ask you about allergies via a consent form. But Ng says he was impressed by one local studio that sent an acquaintance home without a tattoo until the results of the skin test they administered could be ascertained.
Also, while the risk probably is low, keep in mind that studies about the potential carcinogenic effects of tattoo dyes and inks are continuing, Ng says.
Finally, the third concern Ng would discuss with a tattoo-seeking patient is, he says, "regret."
Never get a tattoo on the spur of the moment or while under the influence of drugs or alcohol, Ng says. If it's your first tattoo, consider having it done on a part of your body that easily can be covered with clothing, just in case you turn out to be not as fond of it in real life as you were in the tattoo studio.
And, before you take the plunge, understand that your new tattoo will be a permanent part of you, because, for good or bad, it probably will be.
Ng says most of the patients who discuss tattoos with him don't talk to him before they get one. Rather, he says, "they want to get it off.
"I do have places where you can get (one) removed," Ng adds, but removing a tattoo "is not exactly a piece of cake."