Trade show exhibits futuristic wellness technology
January 7, 2015 - 9:10 pm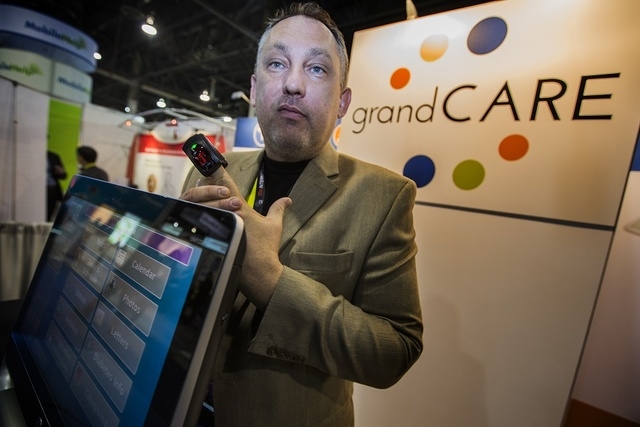 Amid the ocean of health and fitness products on display at the Consumer Electronics Show in Las Vegas, a Reno company nears completion of three years of work developing a cellphone-sized exercise gadget that works with a mobile app to guide users through more than 50 exercises.
TAO-Wellness, with corporate headquarters in Reno and divisions in Bulgaria and the Silicon Valley, plans to start mass producing the TAO Wellshell in the coming months, and company officials unveiled the TAO chair at CES this week. Both products rely on elements of isometric exercise, strength training done in static positions with joint angles and muscle lengths unchanged during the workout.
TAO is an example of the growing innovations in digital health, wireless fitness tracking, telemedicine and wearable technology designed to promote healthier living and active aging. In addition to exercise equipment, fitness products and related accessories, some products can allow health care professionals to diagnose, monitor and treat illnesses remotely, or help patients manage their illnesses and health risks.
The TAO Wellshell — exhibited at the four-day trade show drawing more than 3,600 companies to 2.2 million square feet of venues across the city — is designed for people sitting for long periods of time.
"The real goal of our products is to combat the evils of sitting," Philo Northrup, president and CEO of TAO Wellness, said Wednesday. "While you can get a better workout in an actual gym or on a StairMaster, this can help you burn calories while you're watching a game or a movie, and you're still moving blood through your body and fighting gravity."
The device was unveiled last year at CES and has been so well-received the company is moving to the next phase of production. After a successful Kick­starter campaign last year helped raise the necessary capital, plans are proceeding for 10,000 of the devices to be manufactured in the U.S. for distribution to the Kickstarter donors and others.
After those devices are distributed, company officials expect to have a wealth of advice about how the Wellshell works and how it might be improved. That feedback will help mold a finished product Northrup hopes is ready for mass distribution in the summer.
"You can't put it out there if it's not a really fun experience," Northrup said. "If the thing doesn't work 600 times in a row, if you can't drop it on the concrete and pick it up and use it again, then people are going to get frustrated."
Northrup calls the Tao Chair an invisible gym for the living room, but he says the product also is being considered by health care professionals looking for new ways to increase the activity of their patients. The arms of the chair are the essential elements, bands contorted as if they have been slammed in a door several times. Each bend of the curves offers an angle that users can press against with their hands, arms or legs to create exercise.
The devices were created by Kosta Yanev, co-founder with Northrup of TAO, which stands for task, actor, opponent. Ivo Yanev, Yanev's son and the company's chief technical officer, said the exercises go beyond isometrics, combining motion and pressure in a process company officials call varimetrics.
"It's based on isometrics, but it varies during the workout," Ivo Yanev said. "The pressure varies from level to level as you exercise."
Northrup said the uniqueness of the products has been a benefit but also a challenge as the company proceeds to market. The products draw attention because they are different.
However, not being able to follow the business model for similar products means TAO officials must create all of their own marketing, trade policies and operational processes, Northrup said.
Garmin, Fitbit and Samsung, three of the many companies selling wireless activity and sleep trackers, offer a ready-made framework to follow for an innovator improving on the original. TAO is starting from scratch.
Running with CES, the Digital Health Summit offers two days of sessions exploring new technologies focusing on consumer-based health products, wellness devices and related applications and services. Presentations feature entrepreneurs, medical professionals, celebrity health figures and industry executives.
Phil McGraw of the "Dr. Phil" talk show appears at noon today talking about how telemedicine is helping to fill service gaps in the delivery of mental health care services. McGraw is a co-founder of Doctors on Demand, a Web-based service providing remote video medical exams.
On Wednesday at the summit, Laura Mitchell, chief marketing officer of GrandCare Systems was part of a forum exploring how technology can make independent living safe as people age and allow their children to keep tabs on them simultaneously.
The company sells a program designed to let family members, caregivers and health care professionals connect with someone remotely. A touchscreen in the residence provides the client with communications, instructions, reminders and medication prompts. Clients can attach wireless devices to monitor their vital signs, sending readings for weight gain or loss, blood pressure, blood glucose levels and temperature to whomever is designated to track their status. Daily activities and chronic conditions can be tracked, and adverse events are reported immediately.
"You are notified of unusual events occurring," Mitchell said. "Based on that, a family member or health care provider might decide to have a video chat with the person."
Mitchell said the system can help older Americans continue to live life with the fullest sense of independence.
"If they feel like they are in control, if they feel empowered, they're engaged," Mitchell said. "They're more likely to have a better outcome."
Contact Steven Moore at smoore@reviewjournal.com or 702-380-4563.