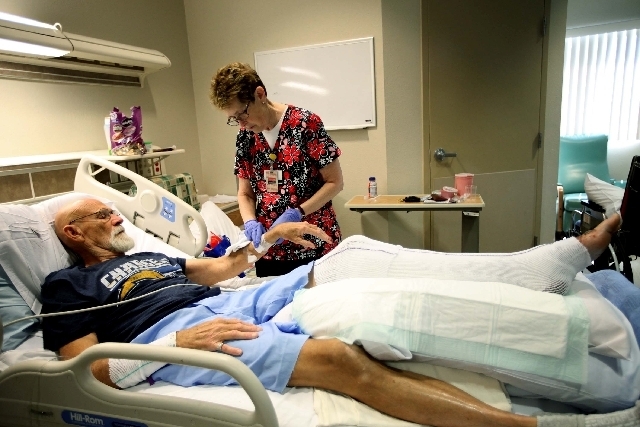 It smelled of a smell that should never be smelled: His own flesh burning.
As 68-year-old Ken Rice lies in bed in the University Medical Center burn ward, he moves again through the corridors of his soul, trying to understand how he survived the pain that forced him to howl, screams he too often hears when he closes his eyes for the sleep his body needs to heal.
What he sees then is a scene outside his Hurricane, Utah, home –– he lives near Zion National Park –– that is chaotic yet always the same.
There's a strong wind in early July as he stands in his newly raked yard with the tumbleweeds he's placed in a 50-gallon drum.
Wearing cutoffs as he douses the weeds with a can of charcoal lighter fluid, lighter spray also hits his left leg. He pulls the trigger on the gun lighter to set the weeds afire.
To his horror, the flame goes wherever the fluid went, jumping up and down his leg before enveloping the limb in fire. Yelling for help –– later he will wonder why he is so hoarse –– he tries to bat out the flames while whirling in circles.
"I didn't realize then that I was trying to snuff out the flames with the can of lighter fluid in my hand," said Rice, who has been in treatment at UMC for about a month with third-degree burns on his leg. "I panicked. I was spraying my leg over and over making the fire worse. I'm lucky I didn't spray any on the rest of my body."
It is around 10 o'clock in the morning as 66-year-old UMC burn nurse Louise Burns –– yes, that's her real name –– checks the dressing on Rice's leg. Few nurses can take this work for long because in working to help their patients, they can't help but cause them pain, behavior that goes against their caregiver psychic grain.
Despite the stress, Burns has been doing it for more than seven years.
BUILDING A BOND
Once patients realize that even though she is hurting them, she is helping them, Burns says a bond develops that is more rewarding than anything she has experienced in nursing.
"We're getting through it together," she said. "It is so rewarding to see the difference I make in a patient's life."
Nevertheless, noted Dr. Jay Coates, medical director of the burn unit, it is not work for the faint hearted.
The pain of patients, he said, can be overwhelming, even though pain control has improved from years past. Multiple surgeries, particularly skin grafts, over a period of months are often necessary.
Although more powerful analgesics and anti-anxiety drugs combined with distraction are used to help a patient stay comfortable, Coates said just the air hitting exposed burns is enough to make grown men cry out.
Showers are endured, not welcomed.
Sometimes nurses clean a patient's wounds of dead skin in a painful process called debridement, sometimes physicians do.
"I have a special knife to do it with that looks like a cheese slicer," Coates said.
Once again today Burns is having a problem finding a good vein to place an intravenous line in Rice's arm, which is particularly problematic early in treatment.
Victims of burns need fluids immediately because they lose so much water after the skin's protective surface is lost.
Capillaries leak heavy fluid, with even more lost to swelling throughout the body. Sixty years ago, before doctors learn ed the importance of rehydration, burn victims frequently died from fluid loss.
Nurses also work to ensure that patients consume enough calories. Following an extensive burn, the body uses up energy to grow new tissue and maintain its temperature.
"Working with burn victims is probably the most difficult work I've ever done," Burns said following caring for patients on this day.
Imagine, she said, frequently changing the dressing on someone who has experienced a burn far, far beyond the worst sunburn or hot stove touch or rug rash you've ever experienced.
"All your nerve endings are now exposed, they've lost their protective cover," she said. "The nerves are so sensitive. Patients will start experiencing the pain of a dressing change even before the change. They're anticipating beforehand. They want to put it off."
INTENSIVE CARE
The constant threat of infection, however, does not allow dressing changes to be skipped. Infection is a major risk in burns, and more burn victims die of secondary infections than from the burns themselves, so it is important to treat and prevent infection in burns
Distraction in the form of conversation has helped Burns care for Rice. She's gotten him to tell her about the challenges he had as a locomotive engineer and as an entrepreneur in the cement statuary business, about the job he now loves in a Wal-Mart produce department.
She told him of how she was an accountant before going into nursing, that she's married and the mother of two grown children and has been at UMC 25 years –– how, in addition to full-time work in the burn unit, she also works two more days a week in the emergency room at North Vista Hospital.
"I just love nursing, caring for people," she said. "I get great satisfaction from it."
Rice has never seen her downcast. "She doesn't just work for money, she works because she cares," Rice said. "She'll call up on her off time to see how her patients are doing."
It is because Burns, a charge nurse, is so experienced that she was able to alleviate some of his pain, Rice said.
His leg was wrapped tight by other practitioners twice a day after silver, an effective bacteria fighter, was released into his wounds. After talking with Rice, who said the pain became unbearable at the end of the day, Burns decided it could be loosened and dressed three times a day instead.
"She knew what to do, that you could go outside the book," Rice said. "It helped so much."
Jose Eduardo Enriquez, the clinical manager of the burn unit, calls Burns "a great patient advocate."
She always tries to find a way, he said, through pain or sleep management to ensure that a patient does not endure nights without sleep because his wounds make it impossible to lie back fully.
She lets patients know that she understands the helplessness that comes from being unable to eat, dress or go to the bathroom without assistance.
"She talks with and really listens to patients," he said.
Enriquez has long done his best to keep the unit upbeat –– staffers dealt with 271 inpatients and 900 outpatients just last year –– humming songs as he changes the dressings of patients.
Once when he was humming Neil Diamond's "Sweet Caroline," other nurses began singing the chorus. Patients loved it and joined in, too.
AFTER EFFECTS OF FLAMES
No matter how well Burns or Enriquez communicate or entertain patients, post-traumatic stress syndrome is a problem.
Rice and others frequently relive their bouts with fire. A psychotherapist, who often makes rounds with doctors, uses counseling and anti-anxiety medication to try to keep suffering to a minimum.
"Once at night I just lost it in my room," Rice said. "I felt claustrophobic in there remembering everything. I was screaming. I had to sit outside my room for about three hours before I could go back in."
Rice's burn was closed with Integra, an artificial skin made of cow collagen and shark cartilage. After his wound was cleaned, a sheet of Integra was laid on top. New capillaries weaved their way into the material.
Later, some of his own skin was taken from behind his leg and grafted onto the burn wound.
"That cutting off my own good skin is about as painful as anything I've suffered," Rice said.
To this day, Rice is amazed at what didn't hurt him when the fire, finally devoid of any more accelerant after his can of lighter fluid ran out, burned itself out on his leg.
"After the fire I could peel the skin off my leg like taking off a stocking or pulling down a blanket and it didn't hurt," Rice said.
His wife, who had been in the house and nearly became ill at the sight of her husband, drove him first to the hospital in St. George, Utah. After doctors there said only UMC specialists could treat him, she drove him on to Las Vegas.
The reason he could peel off the skin without pain, doctors said later, had to do with the magnitude of the nerve damage he suffered.
"It was the only thing that didn't hurt in the whole experience," Rice said. "I just wish other people could learn from what happened to me. It's great there's nurses like Louise to help us out when we get hurt but getting burned is preventable. I think it's about time we're more careful with fire."
Contact reporter Paul Harasim at pharasim@reviewjournal.com or 702-387-2908.