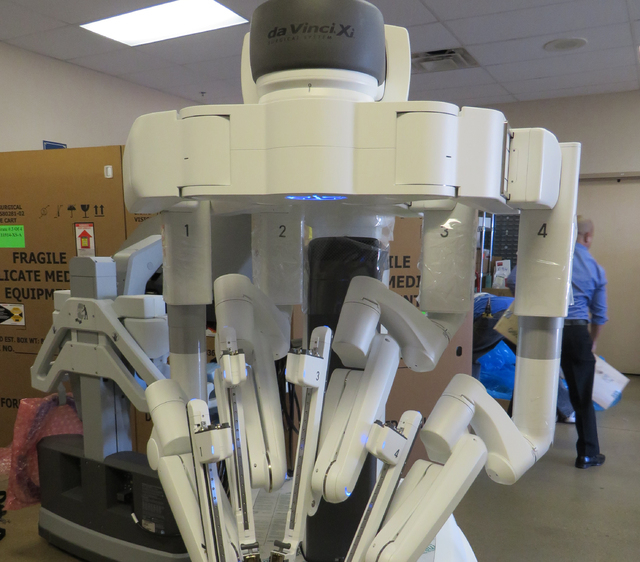 MOUNTAINVIEW HOSPITAL GETS DA VINCI XI ROBOT
MountainView Hospital, 3100 N. Tenaya Way, and its Las Vegas Institute for Robotic Surgery has acquired the da Vinci Xi Surgical System, which offers patients less-invasive options and faster recovery from a variety of surgeries.
The new technology, approved by the FDA April 1, provides advanced robotic technology, including high-definition, 3-D visualization. It also allows for enhanced dexterity and greater precision and control for the surgeon.
For more information, call 702-233-5474.
DENTAL OFFICE SPONSORS TOY DRIVE FOR HELP
Las Vegas Modern Dentistry, 7171 W. Craig Road, is partnering with HELP of Southern Nevada to collect new, unwrapped toys for children in need this holiday season. The effort runs through Dec. 12. Those who donate a toy will receive 20 percent off dentistry for adults and $50 off dentistry for children.
For more information about HELP of Southern Nevada, visit helpsonv.org.
For more information about Las Vegas Modern Dentistry, call 702-655-0331 or visit lasvegasmoderndentistry.com.
ADELSON HOSPICE ADDS REIKI TRAINING
Nathan Adelson Hospice has added on-site Level I Reiki training and certification. The addition of a Reiki Master to the hospice's staff has made it possible to offer the certified course in-house, making it easier for more people to become qualified. Additionally, the staff will be teaching the new Reiki practitioners how to use essential oils effectively.
The free services program also offers pet therapy, reflexology, massage, aromatherapy, art therapy and music therapy.
For more information, visit nah.org.
FIBROMYALGIA GROUP TO MEET
The Fibromyalgia Friends Support Group of Southern Nevada plans to host a lunch meeting from 1 to 3 p.m. Dec. 12 at the Feast Buffet at the Fiesta Henderson, 777 W. Lake Mead Parkway. Enter at the VIP entrance and ask to be seated with the Fibro Group. There is no charge for those who do not wish to have lunch.
Meetings are typically planned for the second Thursday of each month. For more information, visit fmfriends.org.
UMC PLANS THREE-PART CHILDBIRTH CLASS IN DECEMBER
University Medical Center has planned a three-part childbirth class at 1120 Shadow Lane from 6 to 9 p.m. Dec. 4, 11 and 18. This class is designed to teach parents about the birth process, including breathing techniques, comfort measures and relaxation.
Participants should complete their childbirth class in their seventh or eighth month of pregnancy. The class is free for patients delivering at UMC; for all others there is $35 fee.
To register, call 702-383-2229 or visit umcsn.com.
RESET SUMMERLIN EVENT SET FOR DEC. 6 AT THE FIT LABS
Reset Summerlin is planned from 8:30 to 11 a.m. Dec. 6 at The Fit Labs, 8645 W. Flamingo Road, Suite 104. The event is held generally on the first Saturday of every month. It is planned to be followed the next day by the Sunday Reset Project from 8 to 11 a.m. at Turntable Health, 701 Bridger Ave., Suite 150.
Reset participants can learn how to reset once a month through movement, a lecture and food. The cost is $15. For more information, visit theresetprojectlv.com.
RAPACD PLANS CHRISTMAS BAZAAR TO BENEFIT COMMUNITY HEALTH PROGRAMS
Nonprofit Rising Asian Pacific Americans Coalition for Diversity plans to host a Christmas Bazaar from 8 a.m. to 6 p.m. Dec. 7 at the RAPACD Cultural Center and Isla Vegas Studio inside Lorenzi Park, 3339 W. Washington Lane, to benefit community health programs. Admission is free. Booth space is available and is $50. To inquire about booth space, call Tusi Alston at 702-497-4398.
For more information on RAPACD, visit rapacd.com/cultural-center.html.
MEDICARE ENROLLMENT OPEN THROUGH DEC. 7
Seniors who would like to review and possibly change their Medicare health and prescription drug coverage for 2015 can do so through Dec. 7 when the Medicare Open Enrollment period closes.
Medicare coverage options and costs change annually, so enrollees are encouraged to review options. Seniors who are happy with their coverage do not need to do anything.
Open enrollment selections can be made at medicare.gov. If participants enroll in or make changes to their plan during the annual open enrollment period, new coverage will begin Jan. 1. They should continue to pay premiums for their old coverage through Dec. 31.
The State Health Insurance Assistance Program provides information, counseling and assistance to Medicare beneficiaries in Nevada through a statewide network of volunteers offering free, one-on-one assistance and counseling about problems seniors encounter regarding Medicare, supplemental health insurance and long-term care.
For more information, call 800-307-4444 or 702-486-3478, or visit nvaging.net/ship/ship_main.htm.
FLU SHOTS AVAILABLE
The Southern Nevada Health District is offering flu vaccine clinics. The cost of the shot is $40; the high-dose vaccine for people 65 or older is $56.
For more information or locations, visit snhd.info, or contact the immunization clinic at 702-759-0850.
MATT SMITH PHYSICAL THERAPY TO HOST TOY DRIVE
Matt Smith Physical Therapy is hosting a toy drive through Dec. 12 to benefit Light of the World Childhood Cancer Foundation, an organization that provides programs to those affected by childhood cancer, offering spiritual, emotional and financial support and assisting families with finding resources.
New, unwrapped toys and gift cards will be accepted at Matt Smith's 14 locations. The drive is part of Matt Smith Physical Therapy's Changing Lives Campaign, an ongoing effort to aid the Southern Nevada community. Locations are: 7301 Peak Drive, Suite 101; 9499 W. Charleston Blvd., Suite 220; 3233 W. Charleston Blvd., Suite 107; 727 N. Nellis Blvd.; 4000 S. Eastern Ave., Suite 300; 1525 E. Windmill Lane, Suite 202; 1505 Wigwam Parkway, Suite 240; 8551 W. Lake Mead Blvd., Suite 170; 3155 W. Craig Road, Suite 140; 3175 St. Rose Parkway, Suite 331; 8945 W. Post Road, Suite 200; and 500 S. Rancho Drive, Suite 2.
For more information, visit mattsmithpt.com. For more information on Light of the World, visit lightoftheworldnv.org.
HEALTH DISTRICT OFFERS DIABETES MANAGEMENT CLASSES
As part of National Diabetes Month, the Southern Nevada Health District and its community partners are offering education and self-management classes and support for people with diabetes and their families, as well as programs that can help people lower their risk of developing diabetes.
For information, contact the health district's Office of Chronic Disease Prevention and Health Promotion at 702-759-1270 or visit gethealthyclarkcounty.org or the Spanish-language site vivasaludable.org..
FREE DIABETIC FOOT SCREENINGS PLANNED
Smith's, the Las Vegas Summerlin Lions Club and the nonprofit Lower Extremity Amputation Prevention (LEAP) Alliance have teamed up to offer free foot screenings, which are simple and painless, to help prevent diabetes-related foot amputation.
The preventative screening program is being offered at two Smith's locations: 2211 N. Rampart Blvd. and 8555 W. Sahara Ave. To make an appointment, call 702-765-5793.
Free foot screening also is being offered by appointment at the Summerlin Hospital Medical Building, 673 N. Town Center Drive, Suite 400, provided by the Summerlin Lions Club medical team.
To schedule a screening, call 702-765-5793 and specify the appointment is for a free foot screening.
LOU RUVO CENTER OFFERS SUPPORT GROUPS, SERVICES
Free multiple sclerosis counseling services are offered at the Cleveland Clinic Lou Ruvo Center for Brain Health, 888 W. Bonneville Ave. Individual, couple and family therapy are available to address a range of issues related to mood, adjustment to diagnosis, relationships and care giving. Also, a multiple sclerosis support group is scheduled to meet from noon to 1 p.m. the first Thursday of every month for adult family members of individuals with MS. For more information, call 702-483-6006 or email fairchj@ccf.org.
A Huntington's disease support group is scheduled to meet from noon to 1 p.m. the fourth Tuesday of every month. The group is for gene-positive individuals (asymptomatic and early stage) and adult family members. For more information, call 702-483-6035 or email municd@ccf.org.
A memory loss caregiver support group is scheduled to meet from 1:15 to 2:45 p.m. Wednesdays. The group is for adult family members who provide care and/or support for loved ones with memory loss and is facilitated by Dr. Donna Munic-Miller. For more information, call 702-483-6035 or email municd@ccf.org.
A Parkinson's disease support group is scheduled from 11:30 a.m. to 12:30 p.m. the second Tuesday of every month. The group is for early-stage individuals and adult family members who provide care and/or support for loved ones with Parkinson's disease. Separate groups meet at the same time. Phone screening for new early-stage participants is required. For more information, call 702-483-6054 or email cliffoj@ccf.org.
For more information on programs and services, visit keepmemoryalive.org/socialservices.
FIBROMYALGIA FRIENDS SUPPORT GROUP ANNOUNCES TEEN PROGRAM
The Fibromyalgia Friends Support Group of Southern Nevada, a nonprofit based in Henderson, has announced the initiation of a teen program to educate and provide support for middle, high school and college-age teenagers with fibromyalgia.
The program will take place monthly via Google Hangouts from 7 to 8 p.m. the second Thursday of each month. Ten people will be able to join each meeting each month. For instructions about how to participate, visit fmfriends.org. and click on "Teen Meetings."
WALK WITH A DOC PLANNED FOR THIRD THURSDAYS AT LORENZI PARK
University Medical Center plans to host free Walk With A Doc events at 7 a.m. the third Thursday of each month at Lorenzi Park, 3333 W. Washington Ave. Participants are asked to meet at the tennis courts.
The program emphasizes 150 minutes of exercise as a way to become healthier and for people to be better informed about their health. Each walk will open with a three- to five-minute health talk followed by a 30- to 45-minute walk. During the walk, a physician who is the featured speaker will answer general health questions.
For more information, umcsn.com.
GRIEF SUPPORT GROUP HOSTS WEEKLY MEETINGS
GriefShare, a national program for those dealing with loss, meets at 7 p.m. Thursdays at Canyon Ridge Christian Church, 6200 W. Lone Mountain Road. Weekly meetings include showings and discussion. For more information, call the group at 702-481-5833.
SENIOR GRIEF SUPPORT GROUP MEETS BIMONTHLY
A grief support group for seniors is set to meet the second and fourth Fridays of the month at 9 a.m. at the Centennial Hills Active Adult Center, 6601 N. Buffalo Drive.
For more information, call 702-229-1702.
HOSPITAL OFFERS CLASSES
Summerlin Hospital Medical Center, 657 N. Town Center Drive, plans classes for new parents that include Baby Basics 1 & 2, Birth Basics, The Birth Plan Workshop, Breastfeeding Basics, Infant CPR, Infant Massage, Meditations for Healthy Pregnancy and Birth, Natural Birth Methods, Planned Cesarean Birth, Prepared Childbirth Education, Twins/Multiples Preparation Class and Fit4MOM Stroller Strides Family Fun Workout.
Summerlin Hospital also offers free support groups: Cesarean Birth Support Group; Multiples Support Group; Infant Loss Bereavement Support Group; and Parent & Caregiver Support Group for Special Needs Children.
To register at least three weeks in advance for classes, call 702-233-7103.