Valleywide Health News, Feb. 19-25, 2015
February 23, 2015 - 11:09 am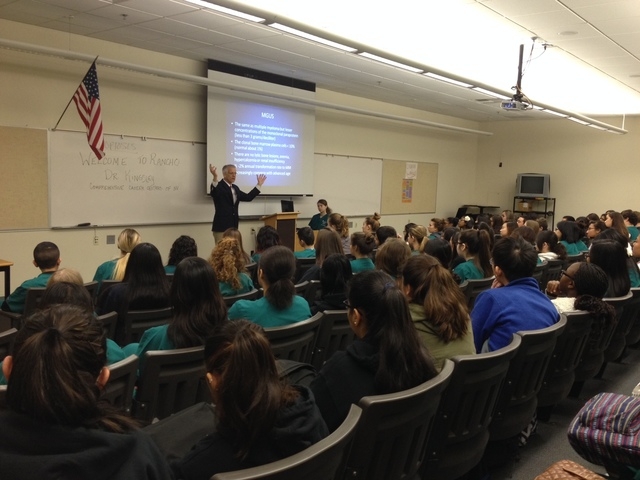 OASIS TO ZEN WELLNESS CENTER TO HOST GRAND OPENING FEB. 21
A grand opening celebration is planned for the Oasis to Zen Wellness Center and Transformation Spa, 5715 W. Alexander Road, Suite 140, from 1 to 5 p.m. Feb. 21. Giveaways, free introductory services and refreshments are planned.
Along with massage services such as facials, full body waxing and bodywork, Oasis to Zen offers holistic services such as Ortho-Bionomy sessions, wellness consulting and reiki.
For more information, call 702-491-6035 or visit oasistozen.com.
SEMINARS TO ADDRESS SURGERY FOR KNEE AND HIP PAIN
Seminars focusing on surgical options for knee and hip pain are planned from 5:30 to 6:30 p.m. Feb. 24 and 6 to 7 p.m. March 10 and 23 in conference rooms 1 and 2 at Centennial Hills Hospital, 6900 N. Durango Drive. It will cover procedures for partial knee resurfacing and total hip replacement using the specialized MAKOplasty technology available only at Centennial Hills Hospital.
To register, call 702-388-4888. For more information, visit centennialhillshospital.com and click on "Hospital Services."
CAREMERIDIAN TO HOST OPEN HOUSE FOR NEW CHILDREN'S FACILITY
CareMeridian plans to host an open house from 10 a.m. to 4 p.m. Feb. 25 celebrating the expansion of CareMeridian 4kids Inpatient Post Acute Nursing and Rehab Facility for Children at 7690 Carmen Blvd. A ribbon cutting with Mayor Carolyn Goodman is planned for 11:15 a.m.
The 21,000 square-foot facility features 35 beds in a homelike environment on a 1-acre site and provides an alternative for post acute care services dedicated to children and infants. This facility is the only freestanding, licensed post acute care facility for children and infants in the state. The former facility served people of all ages; however, with an all-adult CareMeridian facility opening nearby in 2013, the Carmen Boulevard facility was renamed and completely renovated, expanded and redesigned in a kid-friendly manner and newly dedicated to children of all ages.
The facility includes a rehab gym with state-of-the art equipment, two hydrotubs, outside play areas and more. It is also a partner with the Ronald McDonald House of Las Vegas.
For more information, visit caremeridian.com.
FREE CARDIAC CLINIC PLANNED AT CENTENNIAL HILLS HOSPITAL
A free cardiac clinic is planned at Centennial Hills Hospital Medical Center, 6900 N. Durango Drive, in the main lobby from 10 a.m. to noon Feb. 26. Blood pressure checks, free cholesterol screenings (fasting recommended), an opportunity for questions and answers with cardiac and stroke coordinators, heart health education, information about the latest cardiac treatments, refreshments and giveaways are planned.
STROKE SUPPORT GROUP TO MEET AT SUMMERLIN HOSPITAL
A stroke support group is slated to meet from 3 to 4 p.m. Feb. 26 at Summerlin Hospital Medical Center, 657 N. Town Center Drive, in first-floor Conference Room B, past the cafeteria.
The group plans to meet the fourth Thursday of each month. For more information, call 702-233-7061.
SUMMERLIN HOSPITAL TO HOST WOMEN'S HEART HEALTH EVENT
A free event, Women Enlightened We Wear Red!, is planned from 1 to 2:30 p.m. Feb. 27 in the first-floor large classroom at Summerlin Hospital Medical Center, 657 N. Town Center Drive. Attendees are invited to wear red. Heather Brookman, outpatient cardiac rehabilitation nurse at Summerlin Hospital, plans to share warning signs specific to women, prevention and heart healthy tips. Lunch will be served.
To RSVP, call 702-743-6881.
WEIGHT LOSS SURGERY SEMINARS PLANNED
Free weight loss surgery informational seminars are planned at the Surgical Weight Control Center, 3802 Meadows Lane, at 10 a.m. Feb. 28 and March 14 and 28 and 6:30 p.m. March 5 and 17.
Registration is required by calling 702-313-8446. Anyone considering weight loss surgery, including gastric sleeve, lap band or gastric bypass, or who would simply like to learn more about the various surgeries, is invited to attend.
WALK WITH THE HEART OF A CHILD EVENT SET FOR FEB. 28
The second annual Walk with the Heart of a Child is scheduled for 8 a.m. Feb. 28 at Fashion Show mall, 3200 Las Vegas Blvd. South, to benefit the Children's Heart Foundation. Registration for the fun walk is set for 7 a.m. Entertainment, a raffle and a Kids Zone also are planned.
During the event, teams walk in celebration and remembrance of children with heart conditions and to unite the community through awareness. Generated funds allow the foundation to continue to carry out its programs, including Camp Mend-a-Heart, Smart Heart scholarships, Family Outreach and research.
Registration fees are $25 for adults and $15 for virtual walkers, active-duty military personnel, students and seniors.
To register online, visit walkwiththeheartofachild.kintera.org. For more information, including sponsorships, call 702-967-3522 or visit chfn.org.
NATHAN ADELSON HOSPICE COLLECTING SUPPLIES FOR ANIMAL SHELTERS
Nathan Adelson Hospice's Pet Therapy Program is holding its fourth annual Dog Bed & Blanket Drive through Feb. 28 to benefit animals in local shelters. Community members are invited to donate new or gently used items at the hospice's locations at 4141 Swenson St.; 3150 N. Tenaya Way, Suite 350; and 1201 Nevada State Drive.
The donations will then be delivered to the shelters throughout the two months. Items being collected include: dog beds; blankets; towels; and unopened dog food.
For more information, visit nah.org.
BLOOD DRIVES PLANNED ACROSS LAS VEGAS VALLEY
The American Red Cross plans to host blood drives across the Las Vegas Valley. All blood types are needed, especially types O negative, A negative and B negative.
For more information or to schedule a donation appointment, download the Red Cross Blood Donor App, visit redcrossblood.org or call 800-733-2767.
Upcoming donation opportunities are:
Henderson
Feb. 21, 8 a.m. to 1 p.m., Family Doctors of Green Valley, 291 N. Pecos Road
Feb. 28, 9 a.m. to 1:30 p.m., Smith's Food and Drug, 55 S. Valle Verde Drive
March 7, 9 a.m. to 2 p.m., Inspirada Community Association, 2000 Via Firenze
Las Vegas
Feb. 21, 11 a.m. to 3 p.m., Springs Preserve, 333 S. Valley View Blvd.
Feb. 23, 3 to 7 p.m., American Red Cross, Southern Nevada Chapter, 1771 E. Flamingo Road
Feb. 27, 9:30 a.m. to 2:30 p.m., The Linq Hotel, 3535 Las Vegas Blvd. South
Feb. 27, 10 a.m. to 2 p.m., Pinnacle Entertainment, 3980 Howard Hughes Parkway
Feb. 27, 2:30 to 7:30 p.m., The Linq Hotel, 3535 Las Vegas Blvd. South
Feb. 28, 11:30 a.m. to 3:30 p.m., the Sahara West Library, 9600 W. Sahara Ave.
March 3, 11:30 a.m. to 4 p.m., Enterprise Library, 25 E. Shelbourne Ave.
March 4, 9 a.m. to 2:30 p.m., Desert Springs Hospital, 2075 E. Flamingo Road
March 7, 8 a.m. to 12:30 p.m., Warm Springs Stake, 8670 Bruce St.
STRIP PROPERTIES GO RED FOR HEART HEALTH
For the first time on a large scale, Southern Nevada and the Strip went red in a visual effort to spread awareness and combat heart disease among women.
The festivities kicked off Feb. 6, Women's National Wear Red Day, with a ceremony at the Welcome to Fabulous Las Vegas sign. Clark County dignitaries were joined by representatives from the American Heart Association and Scientific Games, and the sign's bulbs went red for the day.
Several other Las Vegas businesses showed support via their hotel marquees, landmarks and/or social media, including Caesars Entertainment's High Roller, Wynn/Encore, The Venetian and the Palazzo and Town Square Las Vegas.
NATHAN ADELSON HOSPICE TO HOST MULTICULTURAL LUNCHEON AND EXPO
Nathan Adelson Hospice plans to host its 11th annual Multicultural Luncheon & Expo March 3 at the Tuscany Hotel, 255 E. Flamingo Road, with the expo set to start at 10:30 a.m. and the luncheon planned from 11:30 a.m. to 1 p.m.
The event's theme is Planning for Tomorrow, and keynote speaker Sherri Allen, vice president of risk management for Healthcare Partners Nevada, plans to present the talk "The Tragedy of Life," to address the importance of encouraging families to begin the conversation about what they want at the end of life.
Tickets are $65 per person or $500 for a table of 10. Sponsorships also are available. For tickets, call Stephanie Forbes at Nathan Adelson Hospice at 702-938-3910 or visit nah.org.
FREE BLOOD PRESSURE CHECKS TO BE OFFERED FRIDAYS
Free blood pressure checks are set to be available from 10 a.m. to 2 p.m. Fridays at the Southern Nevada Health District's main facility, 330 S. Valley View Blvd.
For more information, visit southernnevadahealthdistrict.org.
SOUTHWEST MEDICAL ASSOCIATES TO HOST WEIGHT MANAGEMENT GROUP
The HEW/Weight Management Support Group is planned from 8:30 to 9:30 a.m. Mondays at the Southwest Medical Associates Lifestyle Center-West, 8670 W. Cheyenne Ave., Suite 105. Discuss nutrition and exercise and get tips for weight loss.
To register, call 702-877-5356.
MONTHLY SUPPORT GROUPS PLANNED FOR STROKE, BRAIN INJURY SURVIVORS
Monthly support groups for survivors of stroke and brain injuries are planned at Centennial Hills, Desert Springs, Summerlin and Valley hospitals. The meetings offer education, encouragement and resources from other survivors and are facilitated by the stroke coordinators at each hospital.
Support groups are open to all survivors and their spouses/partners/caregivers. All four hospitals are Primary Stroke Centers and are committed to providing a continuum of care through diagnosis, intervention, treatment, acute rehabilitation and ongoing recovery.
Groups are planned at:
— Centennial Hills Hospital Medical Center, 6900 N. Durango Drive, from 3 to 4 p.m. the second Tuesday of every month in Conference Room 1 & 2 on the first floor near the cafeteria. Call 702-629-1309.
— Desert Springs Hospital Medical Center, 2075 E. Flamingo Road, from 10 a.m. to noon the first Saturday of every month in the South Magna Conference Center in the black building south of the main entrance. Park off Bruce Street. Lunch is provided. Call 702-369-7560.
— Summerlin Hospital Medical Center, 657 N. Town Center Drive, from 3 to 4 p.m. the fourth Thursday of the month in Conference Room B on the first floor past the cafeteria. Call 702-233-7061.
— Valley Hospital Medical Center, 620 Shadow Lane, from 10 to 11:30 a.m. the fourth Wednesday of the month in the fourth-floor acute rehabilitation unit in the dining room. Light refreshments will be served. Call 702-388-8441 or 702-388-4619.
SMOKING CESSATION CLASSES PLANNED ACROSS VALLEY
The American Lung Association plans to host smoking cessation classes through April at locations around the valley. Sessions feature a step-by-step plan for quitting smoking, with each session designed to help smokers gain control over their behavior. The clinic format encourages participants to work on the process and problems of quitting both individually and as part of a group.
Clinics are scheduled for:
— 5:30 to 7:30 p.m. Mondays through Feb. 23 at 3552 W. Cheyenne Ave., Suite 130; call Jocelyn Cluver at 219-916-1085.
— 6 to 8 p.m. Tuesdays through Feb. 24 at The Center, 401 S. Maryland Parkway; call Sabra McWhirter at 702-358-4347.
— 5:30 to 7 p.m. Tuesdays, Feb. 24-April 7 at the Aljian Conference Center at St. Rose Dominican Hospital's San Martin Campus, 8280 W. Warm Springs Road; call Kimberlee Kobernick at 702-616-4900 or register at dignityhealth.org/las-vegas/classes-and-events.
— 10 a.m. to noon Saturdays through Feb. 28 at the Aliante Library, 2400 W. Deer Springs Way; call Deb Sgambati at 702-334-8836.
— 5 to 6 p.m. Wednesdays through March 4 at Jesus is the Answer Ministries, 509 Alexander Road; call Patricia Washington at 702-452-5526.
— 6 to 8 p.m. Wednesdays upon request, St. Christopher's School En Espanol, 1840 N. Bruce St., Room 8; call Rocio Galicia at 702-376-7429.
POWER OF LOVE GALA TO BENEFIT KEEP MEMORY ALIVE
Keep Memory Alive's 19th annual Power of Love Gala is set for June 13 to raise funds for the Cleveland Clinic Lou Ruvo Center for Brain Health, 888 W. Bonneville Ave. The event is set to feature Italian tenor Andrea Bocelli and friends and include live auctions, wine and cocktails, and cuisine by celebrity chef Wolfgang Puck.
Tickets are on sale at keepmemoryalive.org/pol. For more information, call 702-263-9797 or email events@keepmemoryalive.org.
SUMMERLIN HOSPITAL TO HOST STROLLER STRIDES CLASS
A new Stroller Strides Fit4Mom class is planned from 4 to 5 p.m. Wednesdays on the campus of Summerlin Hospital Medical Center at 653 N. Town Center Drive.
Stroller Strides is a total fitness program that moms do with their babies. Activities include power walking/jogging and intervals of strength and body toning exercise using exercise tubing, a stroller and the environment. The class is taught by certified fitness instructors with specialty training in the pre- and postnatal woman. Instructors weave songs and activities into the routine designed to engage and entertain the babies.
Registration is required. To enroll, visit lasvegas.fit4mom.com.