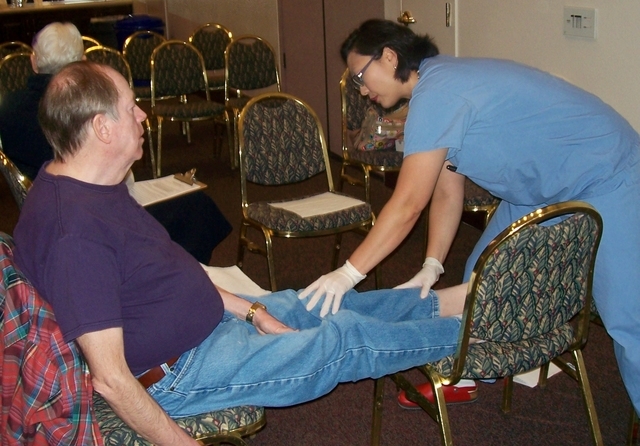 BLOOD AND MARROW DRIVE PLANNED MARCH 21
A blood and marrow drive is planned from 9 a.m. to 2 p.m. March 21 at Shadow Hills Church, 7811 Vegas Drive.
The drive is in honor of local leukemia patient Thaddeus "Thaddy" Thatcher, age 6.
Representatives from Be The Match On Campus will be in attendance signing people up for the marrow registry as well as at a 5K and tot-trot scheduled for noon April 11 at Bruce Trent Park, 8851 Vegas Drive. It is free to join the marrow registry.
Race registration costs are $30 for adults, $24 for teens and $12 for children. A discount of $4 for adults, $3 for teens and $2 for kids will be offered when registering for the run.
Doctors request donors in the 18-to-44 age group more than 90 percent of the time. Youths of diverse racial and ethnic heritage are needed. Visit bethematchfoundation.org/lvmarrowthon.​
PHYSICAL THERAPY LOCATIONS SET TO COLLECT FOOD
Matt Smith Physical Therapy is set to begin its fourth annual food drive benefitting Three Square food bank. From March 16-27, Matt Smith Physical Therapy again will be collecting nonperishable food at each of its Southern Nevada locations. Last year, the company collected 2,371 pounds of food.
The community is invited to participate by dropping off food items at any of the Matt Smith Physical Therapy locations during business hours: 7301 Peak Drive, Suite 101; 3233 W. Charleston Blvd., Suite 107; 727 N. Nellis Blvd.; 4000 S. Eastern Ave., Suite 300; 1525 E. Windmill Lane, Suite 202; 1505 Wigwam Parkway, Suite 240; 8551 W. Lake Mead Blvd., Suite 170; 3155 W. Craig Road, Suite 140; 3175 St. Rose Parkway, Suite 331; 8945 W. Post Road, Suite 200; or 500 S. Rancho Drive, Suite 2.
Visit mattsmithpt.com.
HEALTHCARE SYMPOSIUM AND HIRING EVENT PLANNED
Workforce Connections' One-Stop Career Center is planning its inaugural Health Care Symposium and Hiring Event at 10 a.m. March 25 at the One-Stop Career Center, 6330 W. Charleston Blvd., Suite 150.
Registration is required at nvcareercenter.org or on-site at 9 a.m. All job seekers interested in participating must be on-site and registered by 10 a.m. Job seekers should bring several copies of a current resume.
Job seekers can meet dozens of health care professionals who will be able to answer questions, offer advice and steer them to a successful career. While job seekers are learning more about possible careers, employers will review resumes dropped off during registration to determine which candidates are job-ready. Those who meet minimum qualifications for open positions will be interviewed on-site starting at 11 a.m.
Call 702-822-4200.
KIDS IN THE KITCHEN EVENT PLANNED AT DISCOVERY MUSEUM
Discover Children's Museum is partnering with the Junior League of Las Vegas to celebrate National Nutrition Month with Kids in the Kitchen, an event centered around healthy eating and exercise.
With games, cooking demonstrations, fitness activities and guest speakers, Kids in the Kitchen is planned from 10 a.m. to 3 p.m. March 28 at the museum, 360 Promenade Place. Access to the day's special programs will be available with standard museum admission.
Planned activities include a Kids Chef Relay Race, Mad Scientist Green Smoothies, a Roll the Dice Exercise Activity, a Slow-Go-Whoa Game and other stations aimed at giving kids a hands-on experience to learn important lessons about health and wellness.
Visit discoverykidslv.org.
UNLV SCHOOL OF MEDICINE PLANS MORNING ROUNDS MEETING
A Morning Rounds meeting is planned by the UNLV School of Medicine, hosted by United Way of Southern Nevada, from 8:30 to 9:30 a.m. March 30 at the Clark High School auditorium, 4291 Pennwood Ave. Dr. Barbara Atkinson, dean of the UNLV School of Medicine, is set to speak about the school's goals and community collaboration. RSVP to Marilyn Provost at marilynp@uwsn.org or 702-892-2331.
SOUTHWEST MEDICAL UNVEILS SUMMERLIN HEALTH CENTER
Southwest Medical opened its Summerlin health center March 7 at Southwest Medical at Summerlin, 10105 Banburry Cross Drive, Suite 150. The facility offers senior wellness exams, primary and preventive care, blood glucose tests, bone mineral density tests, senior wellness exams, flu/pneumonia vaccines, urinalysis testing and radiology. Visit smalv.com.
EVENING OF HOPE FUNDRAISER SUPPORTS CHILDREN WITH CANCER
The Evening of Hope fundraiser took place March 6 at the World Market Center to support children with cancer. Las Vegas' top restaurants provided food, children's art was displayed and silent and live auctions were held.
Candlelighters Childhood Cancer Foundation recognizes one or more of its beneficiaries for their courage, strength and spirit in fighting childhood cancer and other companies for their contribution and support in fighting the disease. The 2015 Candlelighters Childhood Cancer Shine Award was presented to the Hammond family for its commitment to Taylor, 8, its adopted son who was diagnosed with a rare hybrid form of T-cell and B-cell Acute Lymphoblastic Leukemia.
Children's Specialty Center of Nevada was also honored with the 2015 Candlelighters Shine Award for its commitment to children with life-threatening diseases, including childhood cancer.
Visit candlelightersnv.org.
DESERT RADIOLOGISTS RECOGNIZED BY QUANTUM WORKPLACE
Desert Radiologists was recognized by Quantum Workplace for a 2015 Employee Voice Award. The only Nevada recipient for the national award this year, Desert Radiologists was selected for raising engagement in the small to mid-size business category.
Quantum Workplace, an employee engagement survey company known for its Best Places to Work contest, honors 10 organizations each year for excellence in employee engagement.
The award highlights small, medium, and large-sized organizations in two categories: Raising Engagement and Highest Level of Engagement. Clients must use Quantum Workplace's 37 standard survey items and have 50 or more employees to be eligible. Visit dradsolutions.com.
STROKE SUPPORT GROUP PLANS MEETINGS
The Stroke Support Group is set to meet from 3 to 4 p.m. on the fourth Thursday of the month at Summerlin Hospital Medical Center, 657 N. Town Center Drive. It meets in Conference Room B, first floor past the cafeteria.
Call 702-233-7061.
SPECIAL NEEDS PLAN CREATED FOR PEOPLE WITH RENAL DISEASE
VillageHealth, the integrated kidney care division of DaVita HealthCare Partners Inc. and Humana Inc. announced that it is partnering to create a special needs plan for Medicare beneficiaries with end-stage renal disease. The program, called Humana Kidney Care, will specifically target end-stage patients in Las Vegas.
HealthCare Partners Nevada practices the Total Care Model, which means primary care providers are supported by an entire network of nurses, specialists, care managers, diagnostic team members and others, all working in sync to help patients. The interdisciplinary care team will coordinate the patient's total care and help the patient navigate the various care settings such as hospitals and physician offices. Plan members receive their entire Medicare professional and hospital services as well as their prescription drug benefit through Humana Kidney Care.
Visit humana.com.
BLOOD DRIVES PLANNED ACROSS LAS VEGAS VALLEY
The American Red Cross plans to host blood drives across the Las Vegas Valley. All blood types are needed, especially types O negative, A negative and B negative.
To schedule a donation appointment, download the Red Cross Blood Donor App, visit redcrossblood.org or call 800-733-2767.
Upcoming donation opportunities are:
Henderson
From 8 a.m. to noon March 19 at MetLife, 1401 N. Green Valley Parkway, Suite 250
Las Vegas
From 11 a.m. to 4 p.m. March 20 at the Clark County Library, 1401 E. Flamingo Road
From 9 a.m. to 2:30 p.m. March 22 at Valley Bible Fellowship of Las Vegas, 4500 W. Sahara Ave.
From 9 a.m. to 1 p.m. March 23 at Lowe's, 5825 S. Eastern Ave.
From 9 a.m. to 1:30 p.m. March 24 at LVMPD Northeast Area Command, 3750 Cecile Ave.
From 11:15 a.m. to 5 p.m. March 25 at Circus Circus, 2880 Las Vegas Blvd. South
HYPNOBIRTHING CLASSES PLANNED AT SUMMERLIN HOSPITAL
A HypnoBirthing Class is planned from 6:30 to 9:30 p.m. Mondays through April 6 at Summerlin Hospital Medical Center, 657 N. Town Center Drive.
The class is offered by HypnoBirthday Las Vegas and offers self-hypnosis techniques, along with breathing and exercise techniques, nutrition, breastfeeding and post-partum care. The cost is $275, which includes instruction for the pregnant mother and her birth partner, a course textbook, a self-hypnosis practice CD and a course binder.
Visit hypnobirthinglasvegas.com or call 702-385-3331.
WOMEN AND CHILDREN'S HEALTH FAIR SET FOR MARCH 21
A free women and children's health fair is planned from 9 a.m. to noon March 21 in the main lobby of Summerlin Hospital Medical Center, 657 N. Town Center Drive. Blood pressure screenings, oral screenings, giveaways and information from health and wellness providers and community vendors are planned, along with exercise demonstrations from Fit4mom and face painters and arts and crafts for kids.
Call 702-233-7000.
FREE WORKSHOP TO FOCUS ON ELDER CARE
The free workshop Elder Care: Planning for the Future is scheduled from 8 a.m. to noon March 21 in Fellowship Hall at Green Valley United Methodist Church, 2200 Robindale Road.
Three presentations are planned: Jason Cassady, talking about estate planning; Dr. Camille Falkner, talking about home care business, and and Travis Harrelson of Palm Mortuary.
Refreshments will be served. To register, call 702-454-7989.
SEMINAR TO ADDRESS SURGERY FOR KNEE AND HIP PAIN
A seminar focusing on surgical options for knee and hip pain is planned from 6 to 7 p.m. March 23 and April 13 in conference rooms 1 and 2 at Centennial Hills Hospital, 6900 N. Durango Drive. It will cover procedures for partial knee resurfacing and total hip replacement using the specialized MAKOplasty technology available only at Centennial Hills Hospital.
To register, call 702-388-4888. Visit centennialhillshospital.com.
VALLEY HOSPITAL TO OFFER DIABETES INFORMATION
Valley Hospital Medical Center, 620 Shadow Lane, plans to host Ask a Certified Diabetes Educator Day from 9 to 11 a.m. March 24 in the main lobby.
In honor of Diabetes Alert Day, certified diabetes educators from the hospital will be available to answer questions concerning diabetes, such as "Am I at risk for diabetes?", "How can I prevent getting diabetes?", "What should I eat to prevent getting diabetes?," and "What is a normal blood sugar?" The event is free.
Call 702-388-4000.
WEIGHT LOSS SURGERY SEMINARS PLANNED
Free weight loss surgery informational seminars are planned at the Surgical Weight Control Center, 3802 Meadows Lane, at 10 a.m. March 28 and April 11 and 6:30 p.m. April 2.
Registration is required by calling 702-313-8446. Anyone considering weight loss surgery, including gastric sleeve, lap band or gastric bypass, or who would simply like to learn more about the various surgeries, is invited to attend.
POWER OF LOVE GALA TO BENEFIT KEEP MEMORY ALIVE
Keep Memory Alive's 19th annual Power of Love Gala is set for June 13 to raise funds for the Cleveland Clinic Lou Ruvo Center for Brain Health, 888 W. Bonneville Ave. The event is set to feature Italian tenor Andrea Bocelli and friends and include live auctions, wine and cocktails, and cuisine by celebrity chef Wolfgang Puck.
Tickets are on sale at keepmemoryalive.org/pol. Call 702-263-9797 or email events@keepmemoryalive.org.
PARTICIPANTS SOUGHT FOR NEW ALZHEIMER'S DRUG TRIAL
The Cleveland Clinic Lou Ruvo Center for Brain Health, 888 W. Bonneville Ave., is recruiting participants for a new clinical trial, the A4 trial, investigating whether treating older individuals with the investigational drug solanezumab can delay memory decline in those who may be at risk to develop Alzheimer's disease. The Anti-Amyloid Treatment in Asymptomatic Alzheimer's study, or A4 study, also aims to learn more about brain markers and other tests to better predict who will experience memory decline and progress toward Alzheimer's-related dementia.
The 3½-year, placebo-controlled study will test an experimental anti-amyloid antibody medication called solanezumab in people who may be in an asymptomatic stage of Alzheimer's disease (having evidence of elevated amyloid build-up in their brain, but normal thinking and memory function). PET amyloid imaging scans will be used to determine whether potential participants have evidence of elevated amyloid buildup. The overall goal of the study is to determine whether decreasing amyloid in the brain with antibody treatment can help slow the memory loss associated with amyloid buildup in some people.
The trial is seeking healthy, older individuals ages 65 to 85 who may be at risk for memory loss due to Alzheimer's disease. Those selected will be randomized to either receive solanezumab or a placebo once every four weeks by intravenous infusion. Approximately 1,150 participants will be tested nationwide.
The study is a private-public partnership, funded by the National Institutes of Health, Eli Lilly and Co. and several philanthropic organizations.
Call 855-568-7886, visit clevelandclinic.org/brainhealth or email brainhealth@ccf.org.
FREE BLOOD PRESSURE CHECKS TO BE OFFERED FRIDAYS
Free blood pressure checks are set to be available from 10 a.m. to 2 p.m. Fridays at the Southern Nevada Health District's main facility, 330 S. Valley View Blvd.
Visit southernnevadahealthdistrict.org.
SOUTHWEST MEDICAL ASSOCIATES TO HOST WEIGHT MANAGEMENT GROUP
The HEW/Weight Management Support Group is planned from 8:30 to 9:30 a.m. Mondays at the Southwest Medical Associates Lifestyle Center-West, 8670 W. Cheyenne Ave., Suite 105. Discuss nutrition and exercise and get tips for weight loss.
To register, call 702-877-5356.
MONTHLY SUPPORT GROUPS PLANNED FOR STROKE, BRAIN INJURY SURVIVORS
Monthly support groups for survivors of stroke and brain injuries are planned at Centennial Hills, Desert Springs, Summerlin and Valley hospitals. The meetings offer education, encouragement and resources from other survivors and are facilitated by the stroke coordinators at each hospital.
Support groups are open to all survivors and their spouses/partners/caregivers. All four hospitals are Primary Stroke Centers and are committed to providing a continuum of care through diagnosis, intervention, treatment, acute rehabilitation and ongoing recovery.
Groups are planned at:
— Centennial Hills Hospital Medical Center, 6900 N. Durango Drive, from 3 to 4 p.m. the second Tuesday of every month in Conference Rooms 1 & 2 on the first floor near the cafeteria. Call 702-629-1309.
— Desert Springs Hospital Medical Center, 2075 E. Flamingo Road, from 10 a.m. to noon the first Saturday of every month in the South Magna Conference Center in the black building south of the main entrance. Park off Bruce Street. Lunch is provided. Call 702-369-7560.
— Summerlin Hospital Medical Center, 657 N. Town Center Drive, from 3 to 4 p.m. the fourth Thursday of the month in Conference Room B on the first floor past the cafeteria. Call 702-233-7061.
— Valley Hospital Medical Center, 620 Shadow Lane, from 10 to 11:30 a.m. the fourth Wednesday of the month in the fourth-floor acute rehabilitation unit in the dining room. Light refreshments will be served. Call 702-388-8441 or 702-388-4619.
SMOKING CESSATION CLASSES PLANNED ACROSS VALLEY
The American Lung Association plans to host smoking cessation classes through April at locations around the valley. Sessions feature a step-by-step plan for quitting smoking, with each session designed to help smokers gain control over their behavior. The clinic format encourages participants to work on the process and problems of quitting both individually and as part of a group.
Clinics are scheduled for:
— 5:30 to 7 p.m. Tuesdays through April 7 at the Aljian Conference Center at St. Rose Dominican Hospital's San Martin Campus, 8280 W. Warm Springs Road; call Kimberlee Kobernick at 702-616-4900 or register at dignityhealth.org/las-vegas/classes-and-events.
— 6 to 8 p.m. Wednesdays upon request, St. Christopher's School En Espanol, 1840 N. Bruce St., Room 8; call Rocio Galicia at 702-376-7429.
SUMMERLIN HOSPITAL TO HOST STROLLER STRIDES CLASS
A new Stroller Strides Fit4Mom class is planned from 4 to 5 p.m. Wednesdays on the campus of Summerlin Hospital Medical Center at 653 N. Town Center Drive.
Stroller Strides is a total fitness program that moms do with their babies. Activities include power walking/jogging and intervals of strength and body toning exercise using exercise tubing, a stroller and the environment. The class is taught by certified fitness instructors with specialty training in the pre- and postnatal woman. Instructors weave songs and activities into the routine designed to engage and entertain the babies.
Registration is required. To enroll, visit lasvegas.fit4mom.com.