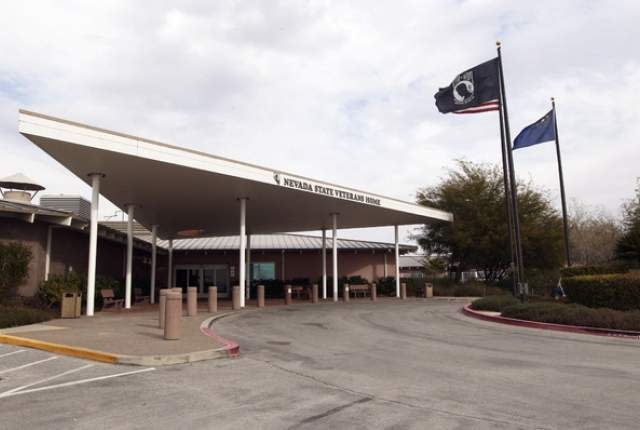 The water system at the Nevada State Veterans Home in Boulder City has been cleansed after tests revealed the presence of legionella, the bacterium that causes the pneumonia-like symptoms of Legionnaires' disease, according to the Nevada Department of Veterans Services.
A resident of the home who died in late April tested positive for the presence of legionella bacteria, but public health officials are not certain the resident contracted legionella at the home, department Director Kat Miller said.
Water samples revealed trace amounts of legionella, common in many environments in Southern Nevada, including soil and aquatic systems. The incident in April was the first time legionella had been detected at the vets home, Miller said.
Staff isolated areas that tested positive, evaluated residents with pneumonia-like symptoms and took steps to purge the bacteria from the home, including disinfection of all aquatic systems. A low-chlorine solution was injected into the water supply, new water filters and sink aerators were replaced and installed, Miller said.
The person who died in late April succumbed to a disease not related to legionella, Miller said, and no other cases have been discovered.
Legionella got its name in 1976, when attendees of a Philadelphia convention of the American Legion suffered from an outbreak of a type of pneumonia. Between 8,000 and 18,000 people are hospitalized each year with Legionnaires' disease in the U.S., but many infections are not diagnosed or reported, so the number might be higher. Legionnaires' disease can cause death, but most cases can be treated with antibiotics, and healthy people usually recover from symptoms such as fever, chills, cough, fatigue, weakness, muscles aches and headaches.
Legionella occurs naturally, usually in water and especially in hot and cold water taps, hot water tanks and water in air conditioning systems, according to the Southern Nevada Health District. People acquire legionella when they breathe in a mist or vapor contaminated with legionella.
People most at risk of getting sick are older people, those who smoke or drink heavily, or those who have a chronic lung disease.
Cases of Legionnaires' disease are common and often investigated only to confirm the diagnosis and rule out an outbreak. When an outbreak occurs, an investigation is conducted to look for a possible environmental source so that additional illness can be prevented.
Contact Steven Moore at smoore@reviewjournal.com or 702-380-4563.