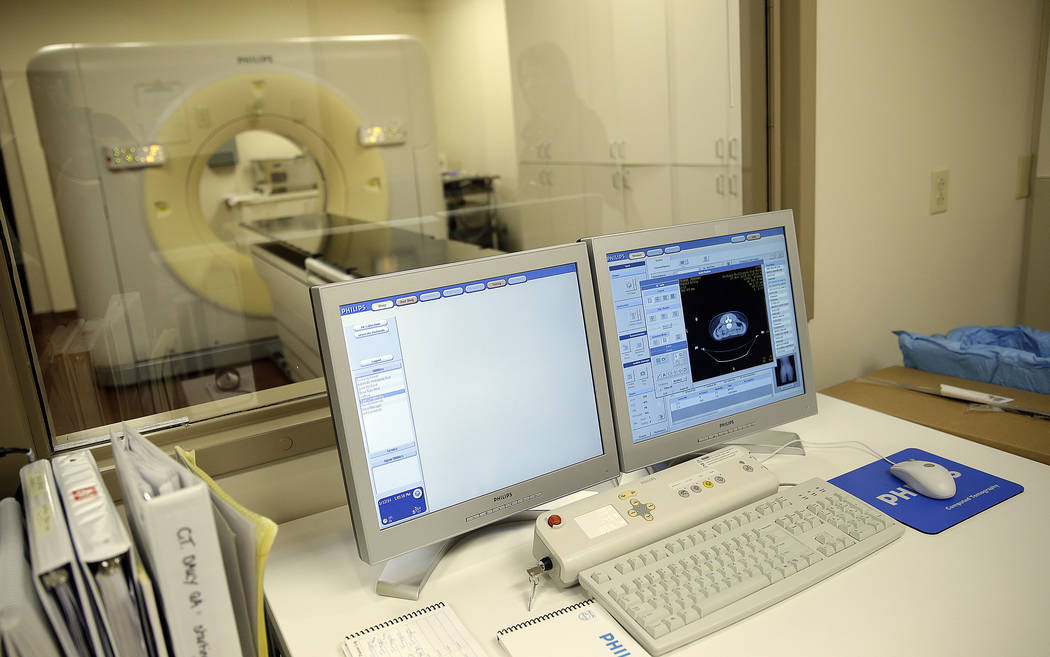 Breast cancer death rates have dropped 39 percent over the past 26 years, according to an Oct. 3 report from the American Cancer Society. Much of that is due to the measures taken for early detection and follow-up prevention to detect cancer and keep women cancer-free.
For most women who have never had breast cancer, a mammography is all that is needed. A mammography is a screening tool that uses X-rays to create images of the breast.
For women at higher risk, an MRI may be used in breast cancer screening. It may also be used as a follow-up test after an abnormal finding or for staging breast cancer.
An MRI or magnetic resonance imaging scan creates detailed images of the breast and surrounding tissues using a strong magnetic field and radio waves. It offers a more detailed view of the intended area than an ultrasound, X-ray or CT scan.
About 15 percent of MRI patients have had a panic attack, according to the National Institutes of Health. Educating yourself on how you'll be placed in the machine, how to alleviate the noise level and possible claustrophobia before you get an MRI can help you and your doctor.
The majority of patients don't experience much anxiety when prepping for an MRI, but it isn't highly unusual for claustrophobia to creep in once the test is underway, said Josette E. Spotts, a general surgeon at Comprehensive Cancer Centers of Nevada.
"Patients often don't really complain about the breast MRI," she said. "It's not like an X-ray. You are not being exposed to radiation, which makes them a little more comfortable."
The noise, space and length of time the scan can take can be daunting for patients, Spotts said.
A distressed patient will tend to move once the machine begins to hum, which can lead to a poor quality scan and a possible return for a second MRI, leading to more anxiety for the patient.
"You don't want to have to come back twice," Spotts said.
The patient enters the impressively large machine through a narrow tube, feet first and more than likely on her stomach for a breast scan.
"The hard part for patients is that a lot of people are claustrophobic," Spotts said. "There are no open-sided MRIs that we use. It is troubling from that point of view."
Digital pictures from open MRI machines tend not to be as good as those a standard MRI machine can produce. Sometimes an MRI is paired with a contrast material, such as a dye of iodine, gadolinium or barium. These contrast substances are safe and make specific types of tissue and blood vessels more visible.
An IV is placed before the scan begins. Once injected, the patient may feel a chill from the dye entering the bloodstream.
"We scan them first without the dye," Spotts said. "Then the dye is injected, and we scan them again because the dye (can better) find an abnormality."
Some patients worry about the noise, a sort of rapid-fire banging sound due to the current of the magnet being switched on and off to make the image. The noise is amplified for the patient inside the tube, but it is not unsafe. Noise-canceling headphones or music can diminish the somewhat obtrusive sound of an MRI and make it a little more pleasant.
Spotts recommends taking a mild sedative for those who question their ability to enter the MRI and lie still for the length of time it will take so that they don't need to return for a second pass over the site.
MRIs are mainly used for high-risk patients after they have already received breast-conserving surgery, such as a lumpectomy.
"In general, in high-risk patients, we would choose a breast MRI over X-rays," Spotts said.
Patients with large tumors may benefit from an MRI before surgery to better treat the cancer.
"Instead of surgery first, we may send her to see a medical oncologist first," Spotts said. Drug intervention can shrink the tumor before surgery in some cases.
"The MRI gives a much more accurate size of the tumor, even a before and after, which is helpful," Spotts said. "And MRI after chemo allows us to see whether or not we need to remove the breast entirely."
Once a patient has been deemed high-risk for breast cancer, either through gene testing or a family history of breast cancer, an MRI becomes a part of the preventive medical routine.
"The BRCA mutation or other family risks that makes them a high-risk patient, we alternate the MRI every six months with a mammogram," she said.
An MRI with mammography in patients who had previously been diagnosed with cancer found returning cancer at stage 0 or 1 better than other combinations of preventive screening methods, according to a June article in the Journal of the American Medical Association Oncology.
However, an MRI is not always better than an X-ray or other early-detection methods for those who have no history of breast cancer.
"An MRI is very sensitive, but it is not specific, so when you are doing a breast MRI it picks up benign things in the breast," Spotts said. "An MRI is not sensitive in picking up very early breast cancer, so you could have early breast cancer that would not be detected on MRI."
An MRI is not always the best choice; for instance, it is not good for evaluating lymph nodes.
"You have to be very selective with who you give an MRI to," Spotts said.
For younger women, hormonal changes can affect the outcome of an MRI.
"They need to know that if they are told something is there, and it's within 10 days of their cycle, it could be (wrong)," she said.
This can lead to more drastic measures that may be excessive.
"The poor patient has been through a lot of this stuff and, in my opinion, it could be unnecessary to get an MRI," she said. "There is stress from what you will find out, much less than the MRI itself."
If you aren't sure, get a second opinion.
"Getting an MRI, it's up to the doctor," Spotts said. "And since it's up to the doctor, it's up to you."