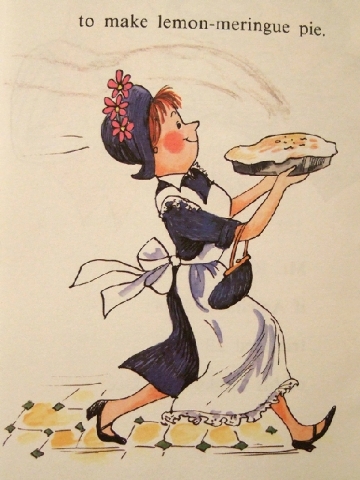 The signs outside certain business establishments on the seediest Vegas streets make no secret of the customers to whom they cater: Gentlemen's Club, they deceptively declare.
While driving past one on Monday, I wondered if anyone ever wandered in, looking for an actual gentleman. If you've lived in Las Vegas five minutes you know better. But maybe, just maybe, there exists a naive husband-hunting woman who expects to find men inside, pulling out chairs for dinner companions, holding doors open for old ladies.
"Man," I thought, "it's a good thing Amelia Bedelia didn't live in Vegas."
My favorite literal-minded character from childhood hasn't left my thoughts after all these years. This past week, Children's Book Week, was as good of a time as any to remember and celebrate her. In doing so, I further pondered how Amelia might get along today in a city such as Las Vegas.
For anyone unacquainted with my old friend, here's a quick meet and greet. She works as a housekeeper for Mrs. Rogers and takes her to-do lists literally. Dressing chicken results in fashion-forward poultry. Bridal showers leave the guest of honor soaked. Drawing curtains requires sharp pencils.
From first to third grade, I found her lost but lovable. If she popped into my life now, though, I might just think of her as a liability.
For starters, how would she handle a visit to the Strip? Surely, the iconic street's name would lead Amelia to enthusiastically shed every last stitch of her old-school maid uniform. That would, obviously, result in a side job at one of those gentlemen's clubs.
Poor Amelia would never get paid, either. She'd shake her thong sandals in patrons' faces and get thrown right out of there.
But, she'd take it like a champ. Dollarless, she'd claim she got lots of tips, such as "Lose the bonnet!" She'd still be confused, though, about all the men claiming to "make it rain."
She never felt a drop, she'd exclaim (characters in children's books always exclaim). And they were indoors for crying out loud! An expression she only uses when, well, crying. Out loud.
"Gentlemen," she'd conclude, aren't very smart. Or gentle.
And back she'd go to Mrs. Rogers' house in Summerlin, where she'd find a whole new list of tasks to screw up, starting with this one: Go to Amazon and purchase a children's book for little Suzie next door.
A trip to South America would be the least of her worries; Amelia would have to explain what a book is to Suzie.
According to a 2009 National Assessment of Educational Progress report, only one-third of students entering high school were proficient in reading. That could have something to do with this First Book statistic: Forty-two percent of children in this country live in low-income households, most of which have no age-appropriate books at home.
If you know any kids ages 4 to 8, introduce them to Amelia Bedelia. They'll fall in love with her and sustain that sentiment through adulthood because she'll make them feel smart. It will have little to do with her constant confusion and more to do with the skill that leads kids to discover her shenanigans: reading.
Those books were my first exposure to entertainment via knowledge. The better my reading skills, the quicker I got through the books, the more I laughed at silly Amelia.
She taught me to value words. So much so, a few months ago, when dictionaries started including the informal and incorrect definition of "literally," it disgusted me.
Unless you're saying it at the pearly gates, you didn't literally die laughing. If your kids have no rubberlike properties to them, they probably didn't literally bounce off the walls.
Including the new "for emphasis" definition in dictionaries is accommodating illiteracy.
Amelia Bedelia, created by Peggy Parish, turns 50 this year. Happy birthday to the character who made me literate enough to appreciate the true meaning of "literally."
Contact Xazmin Garza at xgarza@reviewjournal.com or 702-383-0477. Follow her on Twitter @startswithanx.