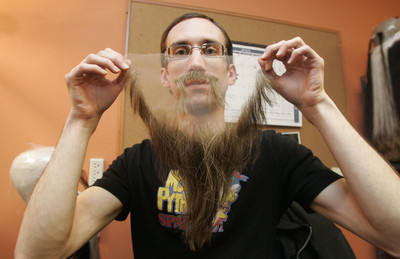 Scott Mortimer doesn't like splitting hairs at work.
Especially when it's on a $5,000 wig.
"Once this hair falls out it doesn't grow back," Mortimer says, only half-joking, as he gestures to the wig in his hands, one worn by the narrator of "Monty Python's Spamalot."
Mortimer, the lead hairdresser for the Wynn Las Vegas show, states the obvious — the Styrofoam head used to store the wig isn't about to sprout hair follicles — but his point is one that guides his hairbrush, and those of his small but enthusiastic crew of three, through brunet manes, brown beards, blond wigs and salt and pepper mustaches every day.
The point? Taking care of expensive wigs is hairy business.
"There's an art to it," says hairdresser Thomas Richards, who, on this recent Tuesday, is in the process of repairing a set of eyebrows for the character Tim the Enchanter, a wizard with a long, pointy beard and a thin, wispy mustache.
Mortimer, Richards, Meghan Garvey and Jesse Phillips are caretakers of 107 hairpieces used in the Monty Python stage production, including mustaches, beards, eyebrows and wigs.
The hairpieces are featured prominently in the show, although a viewer wouldn't know it. They're the silent co-stars, grabbing the spotlight only when they fall off or fail to work. All but one character — King Arthur — wears at least one of the 68 wigs used in a performance; several actors change their wigs multiple times during one show.
A vision of a wig being slapped on an actor's head and pinned in place may come to mind but there's more to wig wrangling than one might think.
The hairpieces, which cost anywhere from $1,500 to $5,000, are made of real human hair and must be cared for like real human hair. That means they must be washed (men's wigs once a week, women's every two weeks) and styled (every performance) like human hair.
The art to being a wig caretaker?
Knowing how to slow the hair loss process even when the wigs are being assaulted nightly by their two biggest enemies: hats and sweat.
"They go through a lot during the show and when they come off, they're a mess," Richards says.
Mortimer and his crew come in every day at 4 p.m. to set up for the first show at 8 p.m. On this Tuesday, they came in early to prepare a few new replacements they received.
Richards weaves extra hair into eyebrows while Garvey ventilates a wig.
Ventilating is the process used to build a wig. It's much like hooking a rug, says Mortimer, who has been doing theater hair since 1979. While they don't have the time or skill to build a wig from the beginning, the crew can make repairs to existing pieces.
Garvey uses a hooklike tool to pull strands of platinum blond hair through the holes of a mesh cap. It takes her about three hours to thicken the hair on one temple of the wig.
The wigs were custom made for each actor so it looks more natural onstage, says Julie Taber, an ensemble performer who changes her wig eight times during each performance.
The crew handles that, too. Before a performance the actors' hair is pinned up and a cap placed over their heads. Microphones are pinned inside so they stay on at all times, Taber explains. When a performer runs offstage for a costume change, one of the wig crew works on the hairpieces, swapping a wig, or adding a mustache and beard.
That process is called "running the show" and both Garvey and Richards enjoy the excitement of it, the pressure of having to get an actor ready to go back onstage within seconds.
Sometimes, mishaps occur. Recently, when Richards was putting the wig, beard and mustache on the actor portraying the Knight of Ni, the mustache band broke. Because the men have to remove the mustaches so often, bands or tape are used instead of glue. It's easier on the skin.
With 30 seconds to get him back onstage for his cue, Richards had to fashion a knot in it and hope that it held.
"That's just part of the live theater experience. Things happen," Richards says. "You have this strange pressure to get it done, no matter what."
Garvey and Phillips each do about 25 wig changes per show while Richards and Mortimer handle the rest.
At the end of the last performance for the night, the crew gathers all hairpieces and blocks them, or places them on their Styrofoam heads. The hair is then set for the following day, either with curlers or pins, Mortimer says. Each one has a specific look that can't be changed. Sometimes, though, the hair starts to look alike, and they forget how to style it.
If that happens, they consult the hair bible, which has pictures of the wigs in their proper styles.
"After you do something for a while, you can think, 'What is that supposed to look like?' " Mortimer says.
Contact reporter Sonya Padgett at spadgett@reviewjournal.com or (702) 380-4564.