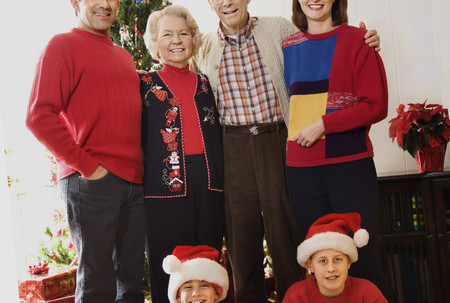 It's about that time of year for amateur photographers to take on the family portrait.
Kids next to the Christmas tree. Family by the fireplace. Mom and her sisters baking cookies or wrapping gifts. The entire family together for the first time in 20 years.
Whatever the subject of your photos during the holiday season, you want to make sure they turn out. Professional photographers Barry Galagos and Linda Quackenboss offer basic tips so that your portraits don't end up on awkwardfamilyphotos.com.
Read your manual before you take the pictures. That way, you're not thumbing through it while everyone stands around groaning and getting impatient. Photos are supposed to be fun.
Relax your definition of a portrait. You don't want people posing like they're right out of a Civil War era daguerreotype. Candid is the new staged.
So you have the entire family in the same room for the first time in 20 years and you want to do a posed portrait. Before you have everyone say "cheese!" make sure the people in the picture are wearing something similar. For instance, you don't want Grandma in a dress that looks like a sofa pattern while everyone else wears sweat shirts. Go with a theme — dress shirts, casual, ugly Christmas sweaters — or similar (not the same) colors.
Frame your subject appropriately. For instance, shorter people in front. Make sure those in the back don't look like floating heads, though. Also, group everyone together; it looks much more natural than putting them in a firing line.
Oh, look. A picture of your sister on Christmas morning, 1987. It's the perfect photo, taken in focus and with good lighting and your dad captured the perfect moment. Too bad he was standing in the other room when he took it. That's a common mistake amateurs make: standing too far away. This is the time to get up close and personal. You want to capture the emotion; who cares about the kids' new patent leather shoes?
Focus, focus, focus. In more ways than one. Your digital camera probably has an auto-focus feature but they're not always perfect. Check your work on the camera's screen to ensure your subject isn't blurry. And, while we're at it, just what is your subject, anyway? Is it the kids or the decorations? You must choose one. A setting should enhance the photo, not overtake it. This is where standing closer helps.
Amateurs tend to take portraits head on but experts know shooting at an angle can add depth to a photo. Try taking a knee or standing on a step stool for a new take on a standard portrait.
Lighting is a problem even for professionals. A flash won't always rescue a picture from the dark edges surrounding your subject, so try to let in as much natural light as possible. Or, consider taking the portrait outdoors.
Ever wonder what makes people have red eyes in photos? And what is that red stuff? Well, it's blood. And it's caused by the flash being too close to the lens. When it goes off, the flash illuminates the retina in the eye, making the blood visible. Luckily, most digital cameras have a function that eliminates the dreaded devil eyes, so make sure you turn it on. Or, have your subjects look slightly to the side.
Snap your photo and you're done, right? Not necessarily. Uncle Buck closed his eyes and your mom yawned. That's why you should take several shots. Professionals take hundreds of photos to get a handful of great shots. Since it costs you no money, you should take at least two, preferably more, to get your perfect portrait.
Contact reporter Sonya Padgett at spadgett@reviewjournal.com or 702-380-4564.
1
2
3
4
5
6
8
10
7
9
9