April 17, 2010 - 11:00 pm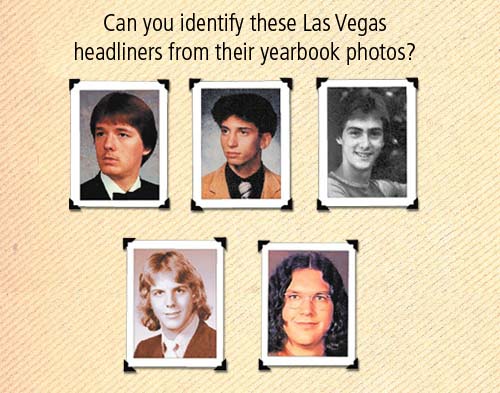 Show business is like high school with money, satirist Martin Mull once said. We wondered what real high school was like for the current class of Las Vegas headliners.
Most of those who responded to our query were average students, excelling more in English than math. No surprise there. The more interesting angle was the crowds that defined them socially.
Would these future stars have hung out with you back then?
Would you have hung out with them?
Penn Jillette, the talking half of Penn & Teller, admits to being a total geek. In fact, if his recollection is accurate, he was a geek god. Unlike Bill Gates, Jillette didn't have to wait until adulthood for the respect of his peers. Despite rolling with the comic book crowd, the future Rio headliner rocked with the ladies.
"I had this idea that, as far as I know, no one had ever thought of before," Jillette says. "You (expletive) the smart girls."
Unlike the cheerleaders, Jillette explains, the smart girls read Charles Bukowski.
"They were ready to (expletive), they knew everything about it, but nobody was asking them," he says. "You just take off the glasses and the baggy sweaters and guess what? There's a cheerleader's body."
Jillette — who says he had the highest SAT scores "ever seen" at Greenfield Public High School in Greenfield, Mass., yet graduated at the bottom of the 1973 class because of senior slacking — also earned respect because of frequent pat-downs and car searches from school officials.
"I have never had a sip of alcohol or any drug in my life," Jillette says, "yet I was the most drug-looking kid in school. So they spent so much time busting me unsuccessfully, that the children who were on drugs — which was most of them — just walked."
Magician Lance Burton was already using misdirection on his peers at Butler High School in Louisville, Ky.
"They didn't know what to make of us," the Monte Carlo headliner says of his theater clique. "We were in that gray area where they'd go, 'Hey, that guy's cool,' and the next they'd go, 'Oh no, that guy's a geek.' "
Voted most talented — in a tie with 1978 classmate Lisa Potts — Burton played the lead male role in two plays ("Star Spangled Girl" and a Western production he can't recall the name of). But by senior year, he showed a clear preference for avian co-stars. Most Friday and Saturday nights found him prestidigitating at a Louisville nightclub called Peter O's.
"I wasn't old enough to be in there," he says.
Burton doesn't know what ever happened to Lisa Potts, or her talent.
Somewhat un-amazingly, Amazing Johnathan describes his high school self as a burnout likely to be found "smoking pot in a van" in front of Fraser High School in Fraser, Mich.
Like Burton, Johnathan started a magic career in high school. However, he ended his there — onstage during the senior talent show in 1976.
"I did six tricks and six tricks went bad," says Johnathan, who back then answered to the last name Szeles.
The show started with the lack of a bang because of a misfiring flashpot. It featured a levitation with an improperly covered steel pole and an assistant who exited Johnathan's sword box, midtrick, because of a leg cramp.
It culminated in the actual killing of a dove.
"It ran from me and I chased it," Johnathan explains, "and it stopped and I trampled it."
The end of Johnathan's magic act, of course, was the beginning of what eventually became his self-deprecating Harmon Theater act. In fact, Johnathan's entire career can pretty much be described as a perpetual attempt to re-create that tragic night.
"My relatives were there, my friends, my parents," Johnathan recalls, "and nobody ever said a word to me about it afterward. That's how bad it was."
Imperial Palace headliner Frank Marino may have been a drama queen at Long Island's Oceanside High School, where he starred in "Pippin," "A Midsummer Night's Dream" and "The Fantasticks." But the 1981 grad says he didn't hang with the drama crowd. Thanks to popular sisters one and two years older, Marino had an in with the jocks and cheerleaders.
"My sisters might not have wanted to hang out with me," Marino says, "but their friends were very nice to me."
The "Divas Las Vegas" star says he preferred the cheerleaders to the drama kids because "their outfits were better." But he notes he didn't come out of the closet until college.
"It was very obvious, though," he says. "I would dress up for school every day with my disco attire and my John Travolta haircut."
The entire 1983 class of Corsicana Christian Academy in Corsicana, Texas, consisted of seven graduating students. So the young Terry Fator was forced to fulfill not one but three traditional high-school roles.
"I was definitely a geek," The Mirage headliner admits. However, because of a shortage of locker-stuffing bullies, Fator says, "I don't know if I knew I was a geek."
Fator also was active in the theater department. In fact, he was the theater department.
"I would direct and sometimes wrote plays, just to keep us involved in the arts," he says.
Finally, the future ventriloquist used his unusual skill to play the role of class clown.
"I called people into other classrooms by throwing my voice," Fator says. "They would go over and look and there was nobody there.
"It never got old."
Contact reporter Corey Levitan at clevitan@reviewjournal.com or 702-383-0456.
INTERACTIVE: Can you identify the headliner from his yearbook photo?