Hofbrauhaus sends our reporter up a creek with a paddle (Paddle Boy)
February 6, 2011 - 2:03 am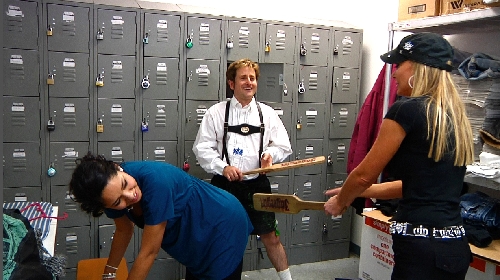 Ryan Riddle from Costa Mesa, Calif., bends over the dining table. He shakes his head as he eyes the two-foot-long paddle then, as instructed, spreads his tree-trunk arms and legs.
Whether one wants a spanking at Hofbrauhaus Las Vegas is, ostensibly, a question posed by shot girl Judy Jaffe. However, it's never really a question because Jaffe only approaches males in large groups. (Riddle's is a birthday party.) Inevitably, the male's friends scream for the sound of wood on flesh until submission is achieved.
"Face forward!" Jaffe commands Riddle over the oompah band music.
Unbeknownst to Riddle, the beautiful blonde fraulein who negotiated to administer his undeserved punishment is about to be replaced by an even less deserved punishment: an annoying little dummkopf dressed like the Dutch Boy paint label.
"You do it like this," Jaffe told me in a back office shortly after I arrived for work at 9 p.m., using the outstretched buttocks of highly sporting waitress Olga Storla for target practice.
There is a technique to Hofbrauhaus spanks-giving. First, you have the spankee empty all back pockets of potential breakables. (You frisk afterward, to be sure.) Then you spread both arms and legs and take a practice swing, like Tiger Woods on the green — or off, as alleged by alleged mistress Josyln James.
"Harder than that," Jaffe said as Storla concurred.
Officially, Jaffe's title is Jagergirl. However, judging from the comments posted online below my 2008 adventure as a "Folies Bergere" showgirl, Nevada never wants to see me cross-dress again. And Jagerboy is out because I let my state Techniques of Alcohol Management card expire. So tonight, Jaffe continues to serve her $5 Jagermeister shots while I serve the accompanying complimentary butt shots.
Spanking at the Hofbrauhaus is a German tradition stretching nearly as far back as Jimmy Buffett's Margaritaville. Seriously, many assume it must be imported, like the Bavarian beer, from the 422-year-old Hofbrauhaus in Munich (which the one on Paradise Road is built to replicate). But nein. The Hofbrauhaus Las Vegas invented its spanking shot service a couple of years after opening in 2004.
"In Germany, we sometimes serve the shots on paddles," explained co-owner Tony Sinzger. "So we made some paddles and served some shots."
One night, a short waitress served a paddle of shots to a man, twice her size, who made a flirtatious comment.
"She said, 'If you are not well-behaved, I will spank you,' " Sinzger said.
He bent over and dared the waitress. She vigorously accepted.
"Then everybody wanted to be spanked after that," Sinzger said.
Riddle's friends convulse with laughter as Jaffe steps aside and I man my paddle station.
The damage inflicted by a Hofbrauhaus spanking is primarily emotional. Sure, it stings physically. But that wears off much faster than the memory of being in the center of a growing circle of voyeurs hungrier for humiliation than for bratwurst.
"It's fun because I like interacting with different people," Jaffe said.
It's fun for me because I imagine that Riddle is Charlie Greenvald, the elementary-school bully who could very well be a millionaire today if he invested my milk money wisely.
Jaffe nods her approval at my first of three thwacks.
Raised in both New York City and Wiesbaden, Germany, Jaffe ­– who gives her age only as "old enough to paddle" — came to Las Vegas looking for a cosmetology career that never materialized. She instead found the Hofbrauhaus.
"I was very homesick for Germany," she said. "My aunt and I had lunch here one day and I just asked if they had an opening." (The fluent German in which she asked didn't hurt her prospects.)
Jagergirl, which pays minimum wage plus tips, is a job that exists only Friday and Saturday nights. (From Monday through Wednesday, Jaffe tends the bar in front of the restaurant.)
"Turn around!" I scream to Riddle in a fake German accent that sounds either like Hans or Franz from "Saturday Night Live," whichever one was girlier.
As he swivels, my face readies itself for a punch. Instead, a laugh and giant outstretched hand are offered.
This is so much fun, it borders on Fahrvergnugen.
Another patron reacts to our switcheroo by demanding harder spanks.
"Is that all you got?" asks Joe from Los Angeles.
Afterward, in the quieter beer garden, Joe critiques my form like a baseball color announcer: "I felt like it lacked hip action. It was more like hand speed than it was actual torque of the hip."
By 9:30 p.m., I am paddling R-J videographer Michael Quine and random male waiters. By 10 p.m., I have lost all fear of enclosed spaces run by Germans.
I cannot believe what I'm getting away with!
Uh-oh. I spoke with a bad German accent too soon.
"You're not getting away with anything," Jaffe says, displaying her paddle and an eye twinkle. "Spread those legs!"
The ensuing crack produces seismic waves that ripple to the walls and back. It is followed by 10 full seconds of applause and guffaws and, the next morning, a body part that aches as though I were imprisoned for a crime with the word "minor" in it.
"Now that was fun!" Jaffe says.
Watch the video at www.lvrj.com/paddleboy. Fear and Loafing runs the first Sunday of every month in the Living section. Levitan's previous adventures are posted at www.lvrj.com/corey and fearandloafing.com. If you have a Fear and Loafing idea, e-mail clevitan@ reviewjournal.com or call 702-383-0456.