Hollywood veterans left TV, movie careers to teach in Las Vegas
December 5, 2010 - 12:00 am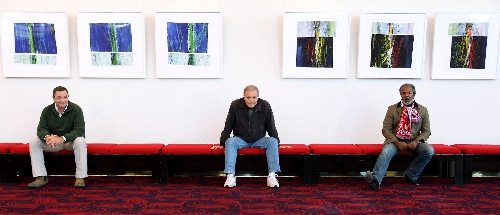 Headline of the Variety variety:
"Ditch Glitz, School Cool."
Translation? "Reject Hollywood, Choose Academia."
Admittedly, no "Sticks Nix Hick Pix," the showbiz bible's iconic, 1935 story-topper declaring that rural audiences reject films about rural life. Yet if you tack "Flee With Glee to UNLV" onto our faux-headline, you've pegged three University of Nevada, Las Vegas professors.
Screenwriter/producer Sean Clark ("Northern Exposure," "Coach") and actors Michael Tylo ("Guiding Light," "All My Children") and Clarence Gilyard ("Walker, Texas Ranger," "Die Hard") discarded toiling in Tinseltown to prep students for industry careers.
Here, they discuss Hollywood, teaching and trading one for the other:
Sean Clark
"I love the business, I miss a lot of it, the shake and bake."
Shake and bake? That a TV industry term? "When you're doing a feature movie, it takes them a year to do a hundred pages," Clark says. "Television, you're doing 50 pages every eight days."
The man should know after a dozen-plus years baking prime-time pastries such as "Northern Exposure," "Coach" and "Evening Shade," among others. "I always knew that I would someday leave the business," says Clark, associate professor of film since 1999 and creator of the graduate screenwriting program, as well as a playwright.
"It's always a world of term employment. I don't mind that part of the gamble, but statistically, your average career is 10 years, especially for a writer. By the time I decided to come here to be a professor, twice I'd left jobs where I was replaced by five people because I'd worked myself up the totem pole to where my salary was that of five people. It makes everybody less employable."
While employed, Clark had his Hollywood highs – "Northern Exposure," "Coach" and "Evening Shade" were all hits – but he most fondly recalls "Early Edition," the 1996-2000 drama about a man who gets tomorrow's newspaper today, which he says he helped rescue when it was "on the bubble" at CBS.
"Every episode, even ones that might not be our home runs, we got something in there that was a smart joke or a great line," says Clark, who nonetheless knew TV trends didn't tilt in his favor.
"I'm a character-based comedy writer. That's a niche, but all the shows being developed were nitty-gritty cop stuff, which I would've loved to write, but nah, they're not gonna hire me. 'He's the guy who wrote "Northern Exposure." ' "
Still entrenched in TV's upper ranks as "Early Edition's" supervising producer, Clark says, he wanted to try a more domestic life and drop 12-hour days and "last-minute flights to Chicago to talk idiot actors out of their trailers."
Previously an instructor at the University of California, San Diego and occasional UNLV guest lecturer, he received an offer from Jeffrey Koep, dean of the College of Fine Arts, to create a screenwriting program. "I love something new, and it allowed me to move here with a young daughter, and my son was born here. I tell people I moved here for the family values. Hey, I am a comedy writer."
Oddest Hollywood encounter? Meeting a new Paramount exec. "I was just supposed to shake hands and meet someone new, but instead he says, 'Start pitching,' " Clark recalls. "I always have a pitch in my hip pocket, but he didn't want to meet me, he didn't like me, and he goes, 'This is the worst pitch I've ever heard.' He reaches over and pushes a button on his desk and his door automatically opens for me to leave. I said, 'Well, I guess this meeting is over, dude.' "
Advice for Tinseltown newbies? "It's all the rules of kindergarten. If you work well with others and you're friendly, you receive kindness and pass kindness on. Camaraderie. Help each other." Altruistic, yes. Practical, too. "The person who is your assistant today," Clark adds, "will be running a network in two months."
Michael Tylo
"I still get the occasional call to do television and films, and I keep my stuff sharp, that way I can inform my students of the latest developments," says Tylo, journeyman actor, soap star and artist in residence and professor in the film and theater departments since 2003. Also a staple on UNLV stages, he'll appear in Nevada Conservatory Theatre's "The Fantasticks" next month.
"There was a time when I worked just for money, but now I'm enjoying what I'm doing, I'm happily married and there are other considerations. I don't just go out and say, 'Well, that's paying so many dollars. It's a piece of crap, but I'll do it.' I'm not in that mindset."
Nor need he be in a three-decades-and-counting career highlighted by a reign as one of daytime TV's prime dudes, notably as "Guiding Light" archaeologist Quinton Chamberlain (aka Quint McCord), as well as stints on "All My Children," "General Hospital," "The Young and the Restless" and, briefly, "The Bold and the Beautiful," starring his ex-wife, Hunter Tylo. Prime-time-wise, numerous series appearances and the miniseries "Lonesome Dove" are among his credits.
Initially geared toward an academic career — he earned a master of fine arts degree in theater in the early 1970s and was eyeing a Ph.D. – fate took him toward the do it rather than teach it route.
"Once I fell into the professional arena, I thought, 'This is exciting. I'm working on and off-Broadway, and I'm going to run with this awhile because it can only help me as a teacher.' But somebody said, 'Do you want to try a soap?' and that worked for 17 years."
Like many New York-based soap actors, Tylo took advantage of the city's theater scene to do plays at night after daytime taping, appreciating the flexibility and security of his steady gig.
"I played an Indiana Jones type, a fashion photographer, all kinds of stuff on daytime, and I liked it because it gave me the opportunity to do other things," Tylo says. "When I came on 'Guiding Light,' Kevin Bacon was taking off, he was on before me, and Chris Walken. Some people use it as a steppingstone, and some say, 'Listen, this is the closest to a 9-to-5 I'll ever have, and I like it.' "
Once a student of legendary Uta Hagen, Tylo says he was impressed by her passion for discovering fresh talent, a satisfaction he says he also cherishes now that he has made his way to UNLV, where he teaches four classes a week.
"There are people I have taught since 2003 who are out there working and enjoying it and calling me saying, 'Thanks. You were right, it's a tough business, but I love it, and I can't do anything else.' And it doesn't necessarily mean actors and actresses," he adds.
"A good example is a kid who is at AFI (American Film Institute) getting his degree in producing, and I have another who is going to work at USA Network. I've got nothing to prove to anybody, but I sure like discovering new talent."
Clarence Gilyard
Yippee ki-yay, holiday viewers. Tis the Christmas season. Which means Christmas-y movies on cable. Which means "Die Hard." You know, that classic actioner set at a company Christmas party crashed by terrorists, where Bruce Willis dispatches Alan Rickman and nearly every baddie except Theo, the computer genius who is merely clocked into unconsciousness by Willis' limo driver.
"The students really get a load out of the 'Die Hard' movie,. They really respond to that," Gilyard says. "I'm really distanced from that work, but it's still influential work."
Year-round — for 13 years straight – Gilyard was a perpetual prime-time presence in back-to-back runs in "Matlock," portraying Andy Griffith's private investigator, Conrad McMasters, then as Jimmy Trivette on "Walker, Texas Ranger," opposite Chuck Norris.
"I didn't make a change as much as take an extended sabbatical because my family needed me – not to be disingenuous, but it's grueling to be successful there. You have to make a choice," says Gilyard, who joined UNLV in 2006 as associate professor in film and theater.
"I was part of a lot of great television projects. I started out on 'CHiPs' with Erik (Estrada). It was really consuming with Andy and Chuck. I do intend to go back, but not to the demise of the quality of life that I have now with my wife and five kids. And I always wanted that collegiate component in my life. It was one of those ("Godfather" author) Mario Puzo things. They made me an offer I couldn't refuse at a good university that's becoming a fine university. It's a great fit."
Likening his Hollywood hiatus to sports – "it's like a pitcher at the end of the season, only another pitcher knows how important it is to really rest," he notes – Gilyard says he hopes for one more series gig and has been told by Koep that it could be accommodated.
"My manager-agent is not happy that I'm not working, but the university is just too much fun. And once you start a semester and meet those students, it's like doing a TV series. You're plugged into them. How can you leave them once you see in their eyes that they're depending on you? They have aspirations for their own growth for those 15 weeks."
College life often is described as cloistered – the snobby "ivory tower" image — but Gilyard cites an opposite vibe for students and himself, ironic given Hollywood's reputation as a closed-off community as well.
"My students are real people with real rhythms of speech, real rhythms of life. I can help them take that real rhythm and apply it to what we're working on," he says. "Television is always going to be centered in Los Angeles and New York, and the actor needs to be in touch with the world. They don't realize they're helping me stay on top of my game."
That showbiz siren song may one day seduce Clark, Tylo and Gilyard back through the gates of Hollywood. Yet right here, right now, this theoretical Variety header applies:
"Can the Glam, Class a Blast."
Contact reporter Steve Bornfeld at sbornfeld@ reviewjournal.com or 702-383-0256.