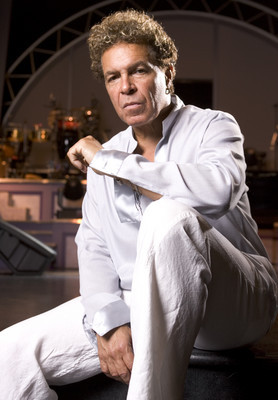 Former Harrah's Las Vegas headliner Clint Holmes returns to the Suncoast stage, where he last performed in April, for a three-night engagement beginning Friday.
The 61-year-old singer brings with him a new CD of original songs. He also continues work on his autobiographical musical, "Just Another Man." (He previewed it last May, under the name "Breathe," at the University of Nevada, Las Vegas. And he plans to take it back there for a benefit performance in mid-August.)
We caught up with Holmes as he ran errands around the town he still calls home, and hopes to for a long time to come.
Q: The Suncoast is a locals hangout. When you play there, do you feel like you're playing for a different audience than you did on the Strip?
A: We get some tourists when I'm out there, but it is largely a local following, so it is a reconnection. It's a funny thing, though. Of the people who live here, some still say, "I'm coming over to see your show at Harrah's in a couple of weeks." And I haven't been there in a year and a half. But we all get like that. We live here. So it's kind of like asking someone who lives in Buffalo, New York, "When's the last time you went to Niagara Falls?"
Q: Are the "& Friends" the same musicians?
A: I'm not using the same band, although the rhythm section is the same. Every time I go to the Suncoast, I do a different thing. This time, I'm doing more of an acoustic set. I have a new CD that's going to be released during the Suncoast engagement. It's called "Simple Song," and we're going to be doing probably at least four of the songs in the show.
Q: What does the album sound like?
A: It's six original songs that I wrote with Davy Nathan, who will be my keyboardist at the Suncoast. He came to town as Toni Braxton's keyboard player. In complex times, simplicity can be comforting. That's the idea of the album. All the songs are like comfort food. We intentionally went after songs that are uplifting — and I don't mean in a corny way. I just mean spiritually uplifting — although they're not spiritual songs.
Q: You're known primarily as a song stylist. Did you get tired of singing other people's songs?
A: I've been going toward doing more original material for a while now. And these were a good shift for me because they're more like fun story songs.
Q: What's your favorite song to sing?
A: "If Not Now When." I wrote it after I had cancer. (Following surgery, Holmes recovered from colon cancer in 2005.) And it's about living your life now. If you're not going to do the things you want to do in your life now, when are you gonna do them? It's a very personal song to me and people seem to find inspiration in it.
Q: What's the latest on "Just Another Man"?
A: We're doing the show as a benefit here in mid-August and then we're going to take it to the Kennedy Center in Washington (D.C.) from Sept. 4 to 6. Everything is geared for us to get to London with it by the spring. It's the hardest thing I've ever done, by far. So many elements have to come together, it's almost impossible. If you ever watch the Tony Awards, and you see people accept awards, they almost always say, "This is the end of a five-year journey." It just takes so long for everything to come together.
Q: So that's where you want to take your career?
A: In a perfect world, I'll do this show and I'll do it on Broadway. And then I'll come back to Vegas and work here.
Q: So you see yourself in Vegas in the future?
A: I would hope so. I feel like I'm a part of the musical scene here, and I haven't explored a new situation because my efforts are in the play. But it's certainly something I would do if the play doesn't go where I want it to go, or after the play does what it does. And that could be as soon as three months from now or as late as two years from now.
Q: Have you been offered other headlining gigs?
A: Oh, sure. I've had a couple of conversations with hotels. But I can't commit. I would have to give them a year or two of commitment, so the thing can make money. And I can't do that while my focus is on the show.
Q: Has the Strip become a harder place to make a living if you're not Cher or Better Midler?
A: I don't know. I feel very fortunate that Steve Wynn brought me to the Golden Nugget in 1999. We ran there for almost a year and then Harrah's offered me a deal, which lasted for the next seven years. It was a different climate, a really good climate for me because there weren't many singers on the Strip. So I kind of had a niche. But I think it's a little bit different now. I think most things are being four-walled, which means that there's money underneath it.
Q: The hotels were still financing the shows back then, as opposed to independent production companies.
A: Exactly. So it's conceptually very different now.
Q: Do you think that's a good or a bad thing?
A: I think it's a harder thing for us as entertainers. I guess it's working for the hotels or they wouldn't be doing it.
Contact reporter Corey Levitan at clevitan@ reviewjournal.com or 702-383-0456.
Preview What: Clint Holmes & Friends When: 7:30 p.m. Friday through Sunday Where: Suncoast, 9090 Alta Drive Tickets: $29.95-$55