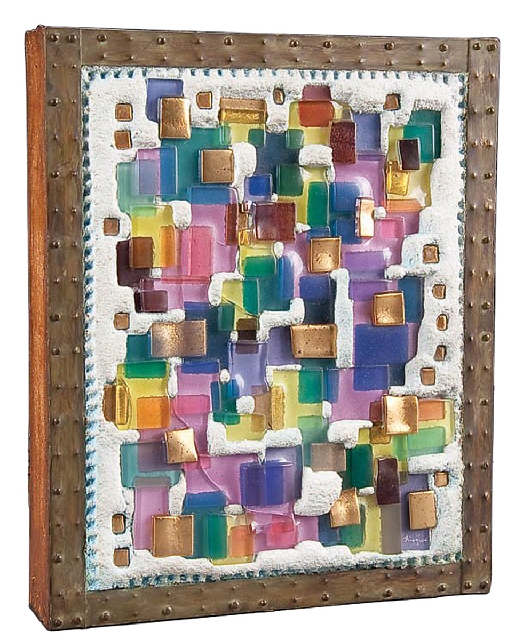 Frances and Michael Higgins both went to art school, taught art and created art before they met at the Chicago Institute of Design. They were married in 1948. The couple decided to open their own studio to make fused (not blown) glass, a technique used in ancient times. Their pieces were marked "Higgins" to represent both artists.
Their glass was like a glass sandwich — one piece coated with enamel decoration, the other placed on top and heated until both pieces were fused together. Their work created a new type of colorful, well-designed glass that immediately became popular in gift shops.
Each of the artists had a personal style. Frances liked to hand-paint designs; Michael used small pieces of glass to make designs. Michael was born in England in 1908 and died in 1999. Frances, born in 1912, was still working when she died in 2004.
Higgins Glass Studio of Riverside, Ill., continues the couple's tradition of making fused glass. It is run by artists trained by the Higginses .
Vintage Higgins pieces are popular today with collectors, but because the studio still makes glass for department stores and gift shops, pieces can be found for moderate prices. The work is unique and recognized as artistic, yet early pieces are undervalued .
Q: My ceramic angelfish is a little more than an inch high. It's gray with a blue base and is embossed on the bottom "Wade, England." When was it made?
A: The Wade Group of Potteries was founded in 1810 near Burslem, Staffordshire, England. Your fish is one of the "Wade Whimsies," little figurines no more than 2 1/8 inches tall.
More than 100 different Whimsies were made. The first were little animal figurines, sold from 1954 to 1958 in sets of four or five to a box. Ten different sets were made. During the 1960s, Whimsies were made only as promotional items. Best-known are the figurines given away with Red Rose Tea and other products. Another 12 sets of animal figurines were made from 1971 to 1984.
Your angelfish is part of Set Nine, made in 1978 as part of the second series of Whimsies. Whimsies are popular with children and teenage collectors. Each Whimsy sells for about $5 to $15.
Q: I bought a house built in the 1890s, and when I renovated the kitchen I found a jug inside a wall. No telling how long it had been there. It's 8 inches high and still has part of the label, which reads "Mohawk Green Creme de Menthe, Made & Bottled by Mohawk Liqueur Corporation, Detroit, Michigan." I would like to know if the company is still in business.
A: Mohawk Liqueur Corp. was formed in 1933. In 1966 it was sold to 21 Brands, which became a subsidiary of Foremost-McKesson in 1970. Mohawk was still in business until at least the 1980s.
Q: We have an old violin that my husband's father played. It has a label inside that says "Giovanni Paolo Maggini, Brescia, 16(60)." The first two numbers are printed but the last two look like they were added in pencil. How old is the violin and where was it made?
A: Giovanni Paolo Maggini (1580-c. 1630) made several different kinds of stringed instruments and was one of the most important makers in Brescia, Italy. His instruments are known for the quality of the woods, unusually large sound holes and mellow tone. Some have a crest, medallion, scene or other decorations on the back.
His later instruments are considered his best. They usually have a double row of purfling, a decorative inlay, around the edge.
Maggini made at least 60 violins. An original violin made by Giovanni Paolo Maggini could sell for several hundred thousand dollars, but reproductions have been made and sell for low prices.
Q: I have a beautiful rock-maple dining set given to me by my husband's grandmother. The set includes four chairs, and the table has pullout extensions at each end. The table is 40 by 60 inches without the extensions. It's 96 inches long when the two extensions are pulled out. The bottom of the table is stamped "Consider H. Willet, Manufacturer of Fine Furn., Louisville, Kentucky." I would like to know more about this company and what my table and chairs might be worth.
A: Consider H. Willett founded his furniture company in 1934. The company made bedroom sets, bookcases, cabinets and other furniture in maple and cherry, as well as upholstered furniture. Pieces are marked with a metal tag or stamped with the name of the company.
At one point, Willet was one of the largest producers of maple and cherry furniture in the United States. The company went bankrupt in 1962.
Mass-produced furniture from the 1930s is low-priced. The value of your table and chairs may be about $400, $200 for the table and $50 per chair.
Terry Kovel's column is syndicated by King Features. Write: Kovels, (Las Vegas Review-Journal), King Features Syndicate, 300 W. 57th St., New York, NY 10019.