Autopen probably used for identical Eisenhower signatures
February 20, 2014 - 6:00 am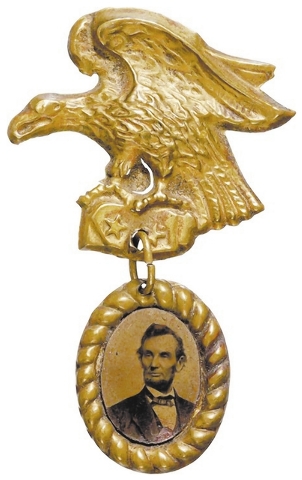 Presidents Day this year was Feb. 17. It's set by law as the third Monday of February. But it's officially called "Washington's Birthday" by the federal government.
George Washington's Birthday, a national holiday, used to be celebrated on Feb. 22. Abraham Lincoln's birthday was Feb. 12 and was not a federal holiday. Washington's Birthday celebration was moved as part of 1971's Uniform Monday Holiday Act, an attempt to add more three-day weekends to the annual calendar
The holiday was not officially renamed Presidents Day because Congress could not agree on changing the name, but the day was said to also honor Lincoln and other presidents. Although some states still celebrate individual holidays honoring the birthdays of Washington and Lincoln, most states stick with Presidents Day even though that's not the holiday's legal name.
For many people, the holiday becomes a day off work and one with great sales, especially of new cars. While there are virtually no souvenirs of Presidents Day, there are many pictures, pieces of pottery, textiles, pieces of furniture, medals, coins, signs and other advertising, sheet music, toys and much more to collect if the memory of George Washington or Abraham Lincoln is your focus.
Q: I have two birthday greeting notes mailed to my father-in-law by President Dwight Eisenhower. They shared the same birthday, Oct. 14. I have one of the franked envelopes the greeting was mailed in, too. The envelope, postmarked Oct. 17, 1967, was mailed from Gettysburg, Pa. Do the greetings have any monetary value? What bothers me is that the Eisenhower signatures on the notes are identical.
A: President Eisenhower sometimes used an autopen to sign his name before, during and after his presidency (1953-1961). If you have two signatures exactly alike, they were no doubt signed by autopen. After Ike left Washington, D.C., he retired to a farm in Gettysburg. If the note with the franked envelope had Eisenhower's real signature, it could be worth more than $400. A note signed by autopen is a nice family souvenir.
Q: We have a wooden filing cabinet that has a flat work surface with two cupboard doors below and drawers above. There are 15 small drawers over six larger drawers with brass plates for labels and a horizontal glass door on top. There is a brass plate on top that says "Yawman &Erbe Mfg. Co., Rochester, N.Y." The drawer pulls have a logo with "Y and E" on them. Can you give me an idea of the value of this piece?
A: Philip H. Yawman and Gustav Erbe started working in partnership in 1880. At first, they made microscopes, but they soon began manufacturing specialty equipment for other companies. In 1898 they began making and selling office equipment under the name Yawman &Erbe Manufacturing Co. The company held several patents for filing systems and other office equipment and was one of the largest producers of office furniture and equipment in the world in the early 1900s. Your filing cabinet would sell for $500 to $800.
Q: While cleaning out a storage area in the home where my husband and his brothers were raised, we found a box of old board games dating back to the 1930s and early '40s. Most are in good shape with all of their pieces. We wonder if they have any value. The games include Monopoly, Dog Race, Touring Auto, Game of Football and Baseball, and some card games like Pit and Rook.
A: Since the games are in good condition and have all their pieces, you have to take a look at their copyright dates and editions — an early date and edition is usually more valuable than later ones. Some games are rarer than others, too, and a game that relates to football and baseball also appeals to sports collectors.
You can find books on collectible games at your library and bookstore. You also can find prices and some photos of collectible games online, including on our website, kovels.com. And you can join the Association of Game &Puzzle Collectors, AGPC.org, which publishes a quarterly newsletter for collectors.
Q: I have an antique chandelier with lots of glass prisms. It is dusty and I am afraid to clean it. Any suggestions?
A: If you're worried about electric shock, turn off the power at the fuse box or breaker panel. A hair dryer set on low heat can sometimes be used to blow away any dust.
There are some liquid sprays on the market for cleaning glass chandeliers. Look for one at a nearby home improvement or hardware store. Follow the directions carefully. The spray drip-dries the glass and the dirt is gone.
If you're brave, you could take a picture of the chandelier, then remove all the prisms and other drops, as well as larger glass globes and parts and carefully load them into the dishwasher to be cleaned on gentle cycle. Use the picture as a guide to putting it all back together. We like to do jobs like this as part of a team because you'll need help taking things apart while standing on a ladder. Good luck.
Tip: Bakelite jewelry was cast, not molded, so there are never seams or mold lines.
Terry Kovel's column is syndicated by King Features. Write to: Kovels, (Las Vegas Review-Journal), King Features Syndicate, 300 W. 57th St., New York, NY 10019.