Belly up to the bar — in your home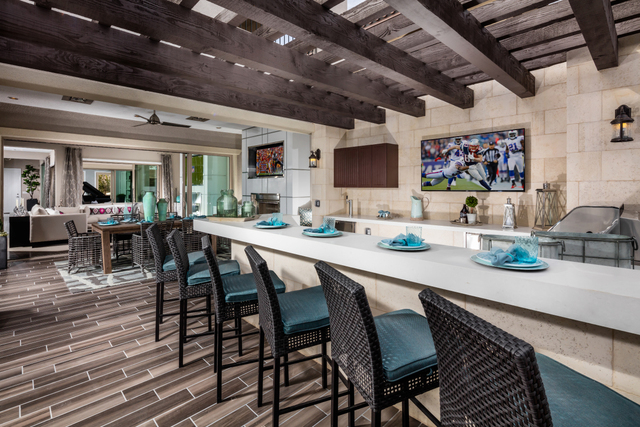 In Las Vegas, there's only one bar that can boast the "safest trip home" and pretty much guarantee that police won't be pulling you over and requesting a deep breath.
"Home bars have definitely changed over the years, however, things do come full circle and the 'Mad Men' television phenomena has helped do exactly that with the resurgence of the bar as a key staple," said interior designer Jane Cunningham, the CEO of Room Resolutions.
From the sanctuary inside your own home to the focal point of entertaining, home bars are as trendy as it gets in a city founded on booze and boobs.
"Pouring a specialty cocktail from our own bar gives attitude, confidence and flare as compared to having a drink slung across the long, sticky, worn counter at a local pub," Cunningham said. "Although the pub does earn its respect as a long-time staple."
Style
But you don't want a tiki bar in a Tuscan home. Be sure the style and theme of the new bar fits the home.
"Materials that complement the whole home style do best to provide that extension," Cunningham said. "In a home with marble flooring, majestic ceilings and columns, one might be best to outfit the bar with deep woods and lots of cabinets and usable counter in order to fill the space."
Bars can make use of unique, unused real estate all around — and outside — the home. Consider the man cave, the theater area, the lounge and even an outdoor space.
"Las Vegas weather affords us many months for outside entertaining, so take advantage of any outdoor space that can be converted to a bar and entertaining space," Cunningham noted. "Adding ceiling fans, misters and heaters can even lengthen the amount of days spent enjoying your outdoor space."
But don't limit the space to typical bar themes.
"If it's for family entertainment, add a soda fountain and popcorn machine," said Tammi Black, Toll Brothers Las Vegas Design Studio manager. "A man cave may have a beer tap and other kitchen elements."
The build
Start with the function and form of the bar. Be sure to add enough cabinetry, seating and the useful functions to ensure regular use of the space.
Don't forget about sinks, beverage fridges, and coffee and ice makers.
"Refrigerator drawers add the convenience of easily reached items and lots of cooling storage; no running back to the kitchen for a chilled olives, Perrier or juice," Cunningham said.
Fridge drawers range from $1,500 to more than $3,000 depending on size, brand and style.
Also consider the material for the actual bar. Metal and wood are always top picks and have staying power.
"Quartz surfaces offer durability and ease of maintenance. But glass countertops give a little extra pop and drama," Black said.
Specialty tiles for the walls and backsplash can range from $8 to $58 or more per square foot. These should accent the home but also separate and define the space.
But don't drop the drawers!
"Drawers help a bartender have ready access to all the tools necessary for that perfect martini," Cunningham said. "Drawers also keep you organized. Don't skimp on counter space and drawers. I can almost bet on the space being used to collect old magazines and junk mail if there's not enough room to be a fully functioning bar."
The details
Adding attitude and style is what makes any part of the home feel your own.
"I love texture, so adding sculptural tile, glass tile or three-dimensional wall covering will give the bar area it's own signature and you'll have the 'wow' factor," Cunningham said. She noted that a great wall covering could range from $18 to $200 per square foot.
"Make sure the finish materials you select are practical and suited to the space," Black said. "Selecting the correct material will give life and longevity to your custom bar."
Whatever the plan, don't make the bar too small. The biggest mistake is investing the time and money into a bar and making it too small to be useful.
And to make sure people put their butts in the provided seats, add computers, Wi-Fi and great televisions to the space (and bring the music).
And, Cunningham reminds, don't forget the nitty-gritty details: paring knives, small cutting boards, stirring sticks, toothpicks, shot glasses, openers, stoppers, and napkins.
"Don't skimp on glassware either — always keep enough for company."