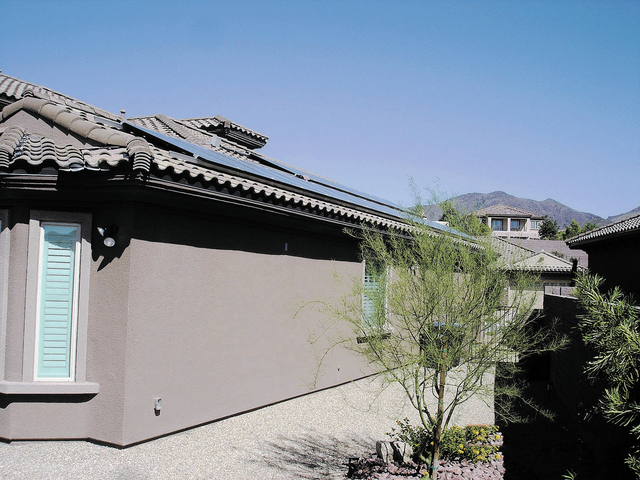 Solar NV is the Southern Nevada Chapter of the American Solar Energy Society. The organization formed in 2004 with the intent of promoting clean, renewable energy in our state and it has been doing so ever since.
In the interest of full disclosure, I am a founding member of the group and have served on the board.
The group holds monthly educational meetings that are free and open to the public, featuring interesting presentations on a wide range of topics relating to renewable energy, efficiency, incentives and so forth. They also produce several notable events each year, including an annual Nevada Renewable Energy Leadership Award banquet and present a $2,500 scholarship to a deserving UNLV undergraduate or graduate student who is pursuing a future in the solar/renewable energy industry.
Many would agree that Solar NV's signature event is the Southern Nevada Solar Home Tour, now in its ninth year. It is part of a nationwide event called the National Solar Tour, coordinated by the American Solar Energy Society (www.ases.org), which is the catalyst for tours that take place simultaneously in hundreds of towns and cities across the nation, normally during the first weekend in October. This year's tour date is Saturday.
Solar NV has tried several formats for the tour throughout the years but one common theme is that it is self-guided. That means from 10 a.m. and 4 p.m. (tour hours), participants can choose which stops on the tour they want to visit and in any order they wish. Here is how it works:
Registration at www.solarnv.org is the first step. It is first-come, first-served since participation is limited and past tours have often sold out. A modest fee of $20 per vehicle means that several friends can carpool for the day while saving fuel, having fun and at minimal cost per person. But wait, there's more! If you drive a fuel-efficient hybrid or electric vehicle, registration is only $15.
No matter what you drive, if you are already a Solar NV member, registration is just $10. If you are kicking yourself for not joining sooner, here's the best part: You can register for the tour at the regular or hybrid price and become an annual member of Solar NV for just $1.
A tour guidebook will be provided electronically and registered attendees will be provided with the addresses before the date of the tour.
This year's tour will feature approximately 10 homes in various locations across the valley, including the east, northwest, Summerlin, downtown and as far south as Anthem. I've been told the tour also will include a solar-friendly homebuilder, too.
The focus is obviously on renewable energy. I'm not sure about specifics this year but tourgoers can expect to see a variety of systems and technologies. Past tours have featured solar electric and water-heating systems, daylighting, green buildings, examples of energy efficiency, passive solar design, alternative materials including adobe and straw bale construction, electric and plug-in vehicles, water and landscape efficiency, and solar cooking.
One of the best things about the tour are the wonderful people involved. The homeowners deserve special thanks as do the numerous volunteers who help them. Some locations will include experts who can provide detailed explanations about various systems. The overall experience is always fun, interesting, upbeat and educational.
This is the time to embrace solar energy. Prices are at all-time lows, incentives are strong and the benefits have never been greater. Become part of the clean energy revolution. There is nothing like a local solar home tour to demonstrate the benefits of green living.
Steve Rypka is a green living consultant and president of GreenDream Enterprises, a company committed to helping people live lighter on the planet. For more information and links to additional resources relating to this column, or to reach Rypka, visit www.greendream.biz.